News
Accelerating Startups in the Shenandoah Valley
---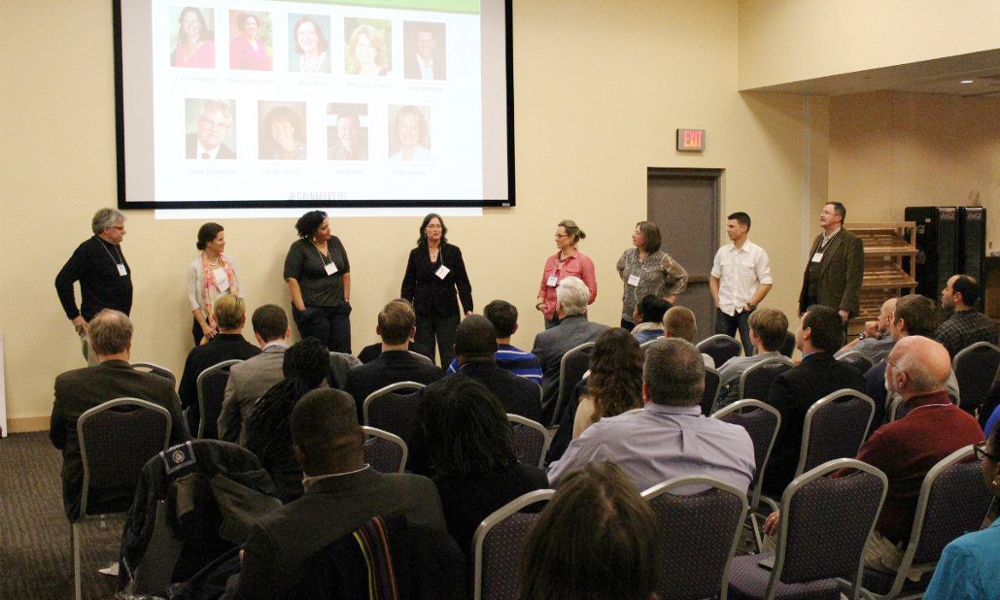 Shenandoah Valley Startup Weekend, February 7-9, 2014
Tentative greetings escalated to energized pitches as participants in the second Shenandoah Valley Startup Weekend gathered on Friday, February 7 at James Madison University. Nearly 40 makers, designers, hustlers and champions met for a barbeque dinner to kick off the weekend. Aaron Ludwig, owner of Jack Brown's and Billy Jack's in downtown Harrisonburg, welcomed the crowd and shared his entrepreneurial journey. Volunteer Startup Weekend facilitator, Nick Such, from Louisville, Kentucky, led the regional group in brainstorming activities. Startup enthusiasts exchanged Innovative ideas and resources, fueling imaginations and energizing the 54-hour pursuit for a viable business model. Over 16 ideas evolved into eight business concepts by popular vote; participants formed teams and outlined a plan of attack to launch a business.
Newly formed teams moved into individual classrooms on Saturday morning to brainstorm, plan, and create a business model. They conducted online surveys and built prototypes. Since successful businesses are customer-driven, teams canvased downtown Harrisonburg to test their proposed products and services. Seasoned business coaches entered the fray, sharing insights and challenging assumptions. Peter Denbigh, Kevin Dubs, Jim Martin, Jim Roman, Tony Smith, and Megan Williamson counseled the teams. Revived by pizza and energy drinks, teams sketched diagrams, charts, and lists on chalkboards, white boards, posters, and notebooks. The building buzzed into the early morning.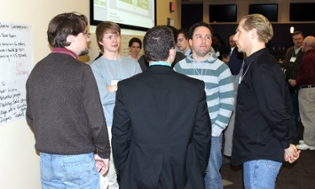 Sunday dawned to weary, but focused, entrepreneurial teams with goals in sight. Careful research and serious debate translated into visual slide decks for the evening presentations, judged by Jody Keenan, Director of the Virginia Small Business Development Centers; Allon Lefever, serial entrepreneur and investor; and Patrick Asplin, an intellectual property attorney with Lenhart Pettit. Eight teams, Hunter Valley, Task Rascal, The Exhibition, International Bakery, Next Level Performance Foods, Fair Chairs, Code Colony and PoWear, presented five-minute pitches. Concepts ranged from baked goods to eco-friendly furniture to wearable technology. High quality plans produced in such a short timeframe surprised the 50+ crowd of onlookers. Amazing what can happen in 54 hours!
Task Rascal, a chore management application, took first place. The team won annual memberships to both the Harrisonburg-Rockingham Chamber of Commerce and the Shenandoah Valley Technology Council; startup legal and accounting services from Lenhart Pettit and PBMares; and a WHSV ad campaign. International Bakery was recognized for the best business plan, Hunter Valley earned an honorable mention, and PoWear demonstrated the greatest potential. Following the competition, participants celebrated this step of their startup journeys at Corgan's Publick House--each entrepreneur following a unique path with a bright future.
The Shenandoah Valley Startup Weekend was organized by the Shenandoah Valley Innovation Coalition. Special thanks to sponsors: Center for Innovative Technology, Friendship Industries, Harrisonburg City, Rockingham County, Cottonwood Commercial, Candlewood Suites, and JMU College of Business. To learn more about the Shenandoah Valley Innovation Coalition or Startup Weekend, contact Carol Hamilton in the Center for Entrepreneurship at James Madison University. Hamil1cw@jmu.edu
To view more pictures from this event, click here. 
Published: Monday, February 17, 2014
Last Updated: Wednesday, November 9, 2016