News
Student Diversity Council (SDC) Holds Second Annual Diversity Conference
---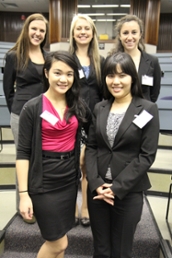 Enhancing diversity in the workplace was a primary focus of the recent "Strengthening Leadership through Diversity" conference.  The Student Diversity Council (SDC) event gave participants the chance to exchange ideas on leadership in regard to diversity, as well as gain a deeper understanding of the importance of diversity in the workplace.
Additionally, the conference also provided excellent professional networking opportunities to the participants.
Representatives from the following companies/organizations were on hand to share their insights with the students:
     Deloitte
     Grant Thornton
     KPMG
     Protiviti
     Madison Collaborative
Several breakout sessions were held throughout the conference, giving students the opportunity to learn about the companies and their cultures. 
Tidbits of advice included:
If you don't like travel, don't be a consultant
More diverse companies perform better from a revenue standpoint
When working internationally, be sensitive to other cultures (e.g., don't call a client in Spain during the afternoon "siesta")
Before you accept a job with a particular company, research the company culture to be sure it's a correct fit for you
Interviews are two-way streets; the company and the potential hire should be compatible
Ethics are important in decision making; the eight key questions of the Madison Collaborative provide a framework in which to make decisions
Conference participants networked with company representatives during lunch. The students were encouraged to learn about the company culture, the hiring process, and the opportunities for advancement within the company.
Student Emanuela Kusi says, "This is my second time to attend this conference. This year, there were more activities, and more opportunities to be involved. This year was more of an eye opener. My favorite part of the day was the DeLoitte group project, when we talked about communications challenges in operating an international hotel chain."
Freshman Olivia Appiah adds, "This is my first time to attend the conference. I also thought it was eye opening, learning more about companies and what they offer."
Wrapping up the day's events was Dr. Matthew Lee, assistant professor of psychology at JMU. He talked about the importance of being inclusive, which can assist in one's ability to communicate with those from different backgrounds.
SDC President Elaina Heslin was pleased with the conference. She says, "The Student Diversity Council was very excited with the success of the conference; the entire day ran smoothly. Without the student participation, engaging companies, enthusiastic keynote speaker, and support of the entire College of Business we would not have been able to host such a successful conference. Diversity is such a prominent component of the business world currently, it is important for us to start conversations about diversity now and the conference allows us to do just that." 
The SDC is already planning the third annual diversity conference, to follow on the success of this year's conference.  The CoB is very appreciative of the companies who participated, the students who attended, and the committee that planned the event.
To view pictures, visit our Facebook page.
Published: Wednesday, February 12, 2014
Last Updated: Wednesday, June 8, 2016