College of Business
Paul Holland Explores Investing in the Power of an Idea
---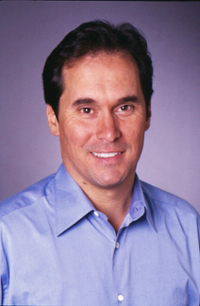 On Wednesday, Nov. 6, 2013, JMU alumnus Paul Holland returned to JMU to speak about his professional experiences working in the financial investment industry. During his presentation, Holland explored the current venture capital environment as well as big trends in financial investing right now. He also discussed his firm, Foundation Capital, and its successful investments during the formative stages of companies such as Chegg, Netflix, and LendingClub. 
Foundation Capital is a venture capital firm dedicated to building great companies. Founded in 1995, Foundation Capital's mission is to bring great ideas to life by investing in start-up companies that have impact. Now, the firm's net worth is nearly $3 billion—and continues to grow.
Holland admits that, even as a seasoned venture capitalist, success is not a guarantee. He says, "Working in the venture capital environment, you fail a lot. You take chances, and sometimes you fail quickly. But hopefully you fail creatively with limited financial loss. Just remember, if you learned something, it wasn't a complete failure."
Throughout his presentation, Holland encouraged JMU students to generate good business plans in order to potentially set the groundwork for creating future companies. He explains, "You must have a vision and execute it. Think aggressively about what you can start. The only barrier is your own imagination—you must unlock it."
Holland is a general partner of Foundation Capital, and he currently serves on the board of directors for Averail, CalStar Products, Coverity, InsideView, and Serious Energy.  To learn more about Foundation Capital and its investments, click here.
To view the entire presentation, please click here. 
Published: Wednesday, November 6, 2013
Last Updated: Monday, November 28, 2016