College of Business
Jayson Lusk Presents Research from "The Food Police"
---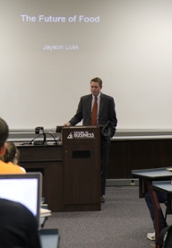 Jayson Lusk, Oklahoma State University, visited campus on Oct. 15 to present research from his book "The Food Police." He shared some often-heard  comments about today's food environment:
We live in a "toxic food environment" and "Americans have a national eating disorder."
The prescription often offered is for consumers to buy local, organic food.  Lusk says it is more expensive to produce food without mass technology. He examined the following:
Are local foods good for the environment?
Are local foods good for the economy?
We should promote local foods because they are healthier.
Lusk's conclusion is that today's food is of a higher quality and safer than food from years ago.  He says, "We seem to have forgotten the benefits of mass food production."
To view the complete video, click here.