College of Business
JMU Alumnus Doug Moran Provides His Perspective on Leadership
---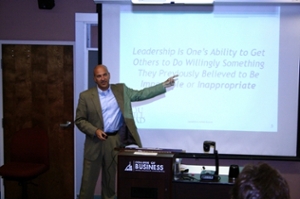 On Monday, Oct. 7, 2013, Gilliam Center host speaker and JMU alumnus Doug Moran returned to JMU to present on his book "If You Will Lead." With more than twenty-five years of leadership experience, Doug shared some of his extensive knowledge and experience about what it means to be an effective leader.
Doug has worked in a variety of industries—in addition to working for Verizon and Capital One, Doug has also served as the deputy secretary of health and human resources, the telecommunications director, and the chief operating officer of the department of social services for the governor of the commonwealth of Virginia.
Thanks to these rich and diverse experiences, Doug has a unique perspective on leadership that he wants to share with others. His leadership consultancy, If You Will Lead LLC, has helped to develop some of the primary leaders involved in corporate, government, and even volunteer operations.
The lecture began with Doug describing how his book came to be—a concept he developed thanks to the poetic efforts of his mother and his grandfather. Doug explained that his mother first showed him the poem "If" by Rudyard Kipling when Doug was just a young boy; she explained to Doug that it was his grandfather's favorite poem because it describes the ideal way to live life. Years later, Doug encountered the poem again and realized that he had to write a book that would relate the poem "If" to leadership. Taking some poetic liberties, Doug decided to base his leadership framework on the poem "If"—the result being his "'If' 16 Leadership Framework," as described in detail in his book.  
For Doug, leadership is based primarily on four steps—knowing who you are, knowing what you want, attracting others, and retaining others trust.  According to Doug, "You have to know yourself before you can lead anyone else…and you must know where you are going before you can get people to follow you." 
To view the entire lecture, please click here.