Inaugural Student Diversity Council Conference Successful
---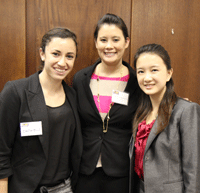 Almost 150 hardy souls braved the cold weather on Saturday, Feb. 9, to attend the inaugural SDC Diversity Conference.  The day kicked off with a welcome message by Special Assistant to the President Art Dean.
The remainder of the morning included breakout sessions, covering the following areas:
How Am I Diverse?
Diverse Perspectives Within Corporate Levels
Minorities in the C-Suite
Understanding Realities of Diversity
How To Be Successful in a Diverse Workplace
Diversity Dilemmas
President Jon Alger was the keynote speaker at the luncheon.  He said, "I want you to remember this idea that diversity and excellence are not two competing  concepts; the two go hand in hand, they fit together."  
He went on to say, "All of us have a lot to contribute, but we also have a lot to learn from each other.   You'll often be surprised when you interact with others, what they bring to the table."
Click here to listen to his entire speech.
After the luncheon, participants had the chance to attend one final workshop. 
Some takeaway messages from the conference include:
Different is not wrong, different is just different.
The world is changing; you should be on the transition team.
Stereotypes imply that all people in the group are the same; they contain a judgment; and they are inflexible.
Co-chairs Tiffany Fung and Elaina Heslin would like to thank everyone who helped out, and especially the company representatives from Deloitte, IBM, Grant Thornton, and Good Wealth Management, as well as Stefan Peierls and the JMU Teach Diversity Class.  They also thank Professor John Guo and Professor Fariss Mousa for serving on the panel discussion.
The conference was made possible through the generous support of eBay. Conference organizers and attendees appreciated the sponsorship. Click here to view more photos from the event. 
Published: Friday, February 8, 2013
Last Updated: Wednesday, June 8, 2016