News
Democracy Matters - Episode 35: #LetHerSpeak
---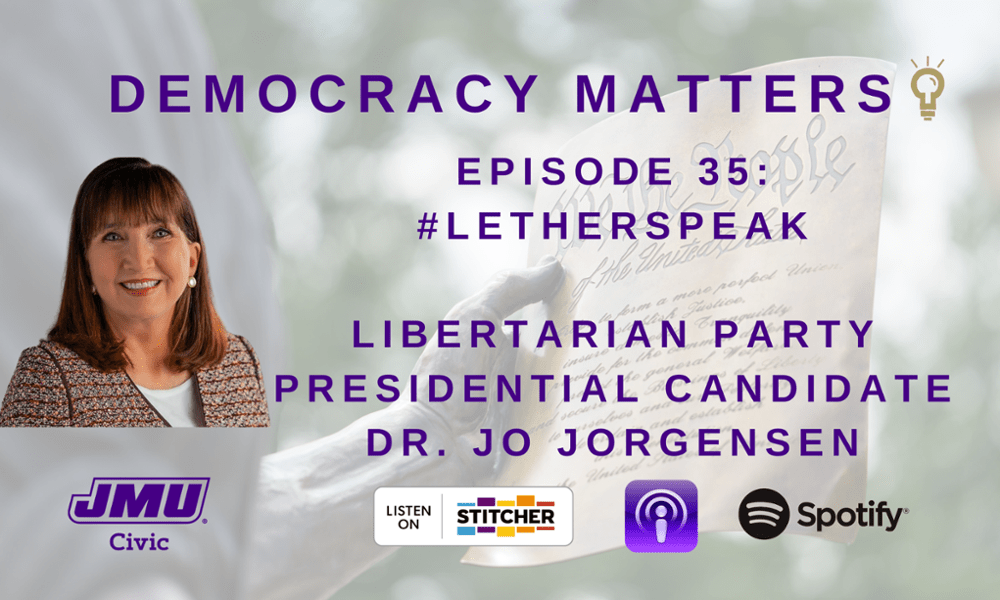 SUMMARY: Elections 2020 Town Hall with Libertarian Party Presidential Candidate Dr. Jo Jorgensen
---
This episode features the audio from JMU Civic's virtual town hall with Libertarian Party presidential candidate Dr. Jo Jorgensen. We discuss a range of issues including the size and role of the federal government, military and national defense, healthcare, immigration, COVID-19 pandemic, criminal justice reform, the environment and more. 
Dr. Jo Jorgensen is a Senior Lecturer in Psychology at Clemson University. She holds a Ph.D. in Industrial/Organizational Psychology (Clemson, 2002). In 1992, she was the Libertarian Party's candidate for South Carolina's 4th Congressional District and was the Libertarian Party Vice-Presidential Nominee with Harry Browne in 1996.
Links in this episode:
Discussion Questions:
Should presidential and vice presidential debates include nominees of all parties? What are the effects of limiting debate participation? 

How do Dr. Jorgensen's views and positions on issues differ from those of other presidential candidates? 

What are the effects of the two-party system on democracy?