//www.jmu.edu/_images/civic/big-jimmy-lead-full-width-image.jpg
The Civicist

Our mission is to educate and inspire people to address public issues and cultivate a just and inclusive democracy.

Share your civic work and opportunities with us!
We are thrilled to announce our new podcast, Democracy Matters, featuring interviews with academics, practitioners, students and community members exploring themes related to civic learning and democratic engagement in order to build a more just and inclusive democracy. Listen and subscribe in iTunes or Spotify.
The Madison Center and Dukes Vote can provide trained volunteers to conduct voter registration during a class. Please complete this form to schedule a voter registration visit. It takes approximately 7 minutes of class time. If you have any questions, please email whaleycl@jmul.edu. Visit our website at jmu.edu/vote for answers to frequently asked questions about voter registration and voting.
The Madison Center and Dukes Vote now have a public Canvas site we are populating with resources, events & happenings. Modules include voter education & registration, resources for Constitution Day and the Census, and upcoming events with graphics. Have suggestions? Let us know!
2019 Virginia elections are coming! The Madison Center and Dukes Vote are partnering with faculty, students and staff on voter education and engagement. On National Voter Registration Day, which is September 24, we'll be all over campus with fun and educational activities to celebrate. Join us at Festival, the Quad and UREC! Stay tuned for details about the Traveling Town Hall featuring candidates for the Virginia House of Delegates and Senate in partnership with the Office of Residence Life. We will also host a party at the precinct and election night watch party, as well as post-election analysis with faculty experts on state and local politics.
Constitution Day: Celebrating the 19th Amendment & Women Breaking Barriers
For Constitution Day 2019, JMU students, faculty and staff are organizing activities around the theme "Women Breaking Barriers" as part of the 100th anniversary of the 19th amendment to the U.S. Constitution. Sign up here to reserve a time slot and location to participate in Constitution Day activities with a reading of primary source documents, poetry, prose, playing music or another activity to celebrate successful activism, but also to envision what we want women's rights to look like.
Kearstin Kimm, a senior JMU Computer Science major at James Madison University, spent her summer as a Democracy Fellow at the James Madison Center for Civic Engagement researching the history of women's rights in what we now know as the United States and the 19th amendment. Using her knowledge and technical expertise, she created this comprehensive timeline beginning in 1619 up to present day. The timeline includes entries related to progress and challenges to the status of women, with photos and links to primary source documents. Check out this remarkable project on our website and contact Kearstin if you have suggestions for additional entries. You can also listen to our podcast interview with Kearstin here.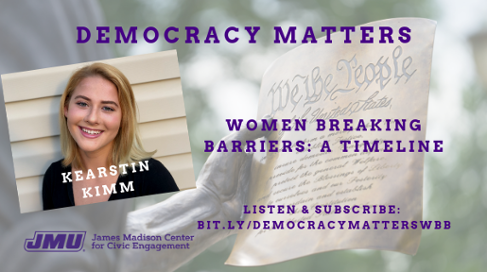 In observance of Constitution Day, plan to go back in time and witness first-hand a debate surrounding the 15th Amendment. JMU debaters Danielle Kratowicz and Kristin Rhodenizer will present a scripted "debate" featuring the actual words of our country's foremothers regarding issues of suffrage and the 15th Amendment. A facilitated discussion featuring faculty experts will follow the debate. Straight to the Ballot Box: Suffrages Debate the 15th Amendment, 4:00 pm - 5:15 pm in Madison Union, Room 405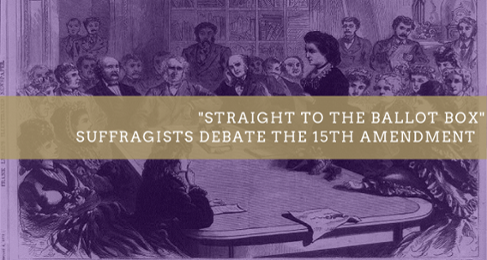 Constitutional Jeopardy with JMU Libraries! 
How much do you know about the supreme law of the United States of America? Celebrate Constitution Day with a game of Constitutional Jeopardy in the lobbies of Carrier and Rose Libraries. Drop in, test your knowledge of US History, get a cookie and other free giveaways! Tuesday, September 17, 2019 in Carrier Lobby from 10:00 am - 12:00 pm and Rose Lobby 2:00 pm - 4:00 pm.
Constitution Day Keynote Speaker
Join us in JMU Festival Ballroom A from 5:30 pm - 6:30 pm on September 17 for a discussion with Delegate Jennifer Carroll Foy (D, HD2) about what we can do to achieve a more fully representative and equal democracy and society. More info here.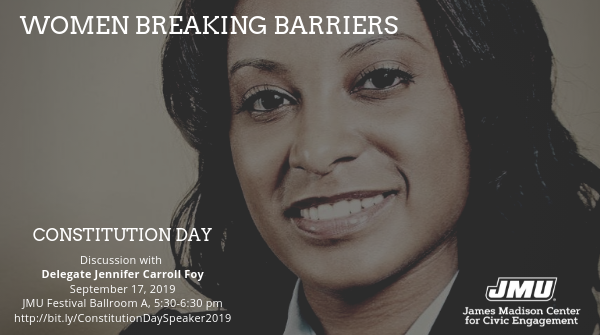 Further Reading
Democracy, Civic Engagement, and Citizenship in Higher Education: Reclaiming our Higher Purpose takes a hard look at the state of American democracy today through the lens of one of the nation's most important actors: colleges and universities. Democracy is more than voting: it includes a wide range of democratic practices and depends on a culture of civic participation. Critical for strengthening democracy is the role that higher education leaders play in educating their constituencies about their responsibilities of citizenship. The book features a chapter by JMU President Jonathan Alger and Madison Center Executive Director Abraham Goldberg on the many ways in which civic learning and democratic engagement are embedded in the campus experience at James Madison University.
On September 10, there will be a dialogue about the book with higher-ed leaders about strengthening democracy and gathering ideas for potential collaboration at the National Press Club in Washington, DC. Click here for more information.
---
Reclaiming Higher Education's Leadership in Support of Civil Education is a recent advisory statement from the Association of Governing Boards of Universities and Colleges (AGB) that urges higher education leaders to recommit to the ideal of promoting democratic values and making direct, pragmatic contributions to the local and national community. The report underscores concerns about several trends that affect both the nation and higher education: a lack of civic literacy and growing skepticism about democracy as a system and way of life; racism, xenophophia, and other forms of intolerance threatening the sense of E pluribus unum; growing income inequality that threatens social mobility; heightened distrust in institutions and about evidence and facticity; and serious challenges to civil discourse. Read more on our blog here.
---
A recent case study from the Harvard Kennedy School Ash Center for Democratic Governance and Innovation finds that companies' civic engagement strategies not only helped get voters to the polls in 2018 but created additional business value. Read the study on the impact of corporate civic engagement: Civic Responsibility: The Power of Companies to Increase Voter Turnout. Among the examples highlighted in the case study is the work of Jennifer Stout, head of global policy at Snap, Inc., Madison Center Advisory Council member and JMU alum. Snap, Inc. helped 400,000 users register to vote in a two-week period before the 2018 election.

Civic Coffee Donut Discussions are back! Join us Friday mornings at 10 am in Burruss 243. Weekly topics announced on Twitter, Instagram and Facebook.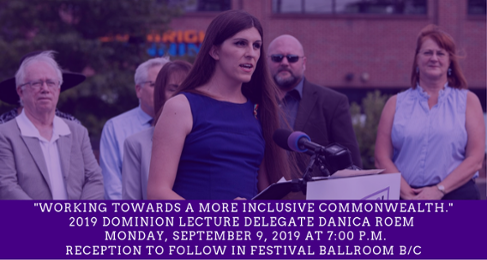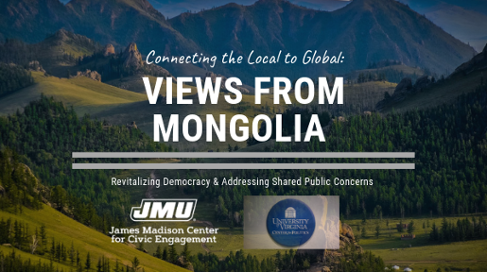 Join us for a conversation connecting local and global issues and governance, and engage with a delegation of business professionals, elected officials and members of civil society from Mongolia. Light refreshments served. September 10, 2019, 5:00 pm - 6:30 pm in Madison Union, Room 405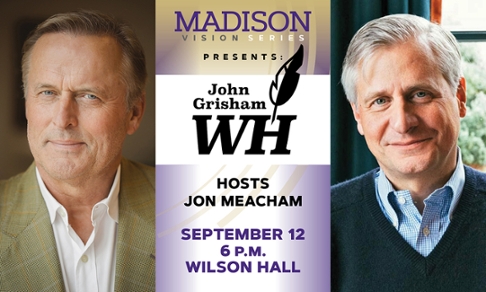 John Grisham will conduct his third Writers Hour at JMU with Jon Meacham, noted author and historian. In this biannual series sponsored by the College of Arts and Letters, Grisham and a fellow writer discuss books, current events and the artistic process. Previous guests include National Book Award winners James McBride and Alice McDermott. The event with Meacham on September 12 will take place in the Wilson Hall auditorium at 6:00 pm.
CFI Workshop: Teaching Civic and Political Engagement Across the Curriculum. Review high impact practices for teaching civic engagement in the classroom. Thursday, September 12, 8:30 am - 10:00 am in SSC or Friday, September, 13, 12:30 pm - 2:00 pm in Rose Library.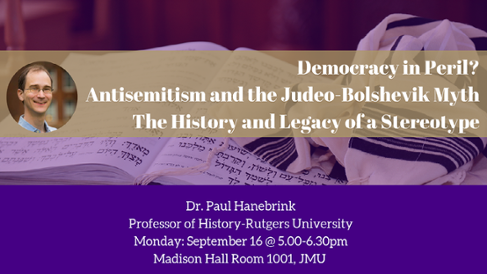 In recent years, we have witnessed a resurgence of antisemitism in the United States and across the globe. Dr. Paul Hanebrink, a history professor at Rutgers University and the author of A Specter Haunting Europe: The Myth of Judeo-Bolshevism, will discuss the history and legacy of antisemitism over the last century, focusing in particular on the Judeo-Bolshevik myth that linked Jews with socialism and was used to justify disenfranchisement, persecution, and genocide. Hanebrink will discuss the historical causes of antisemitism and the reasons for its recent resurgence.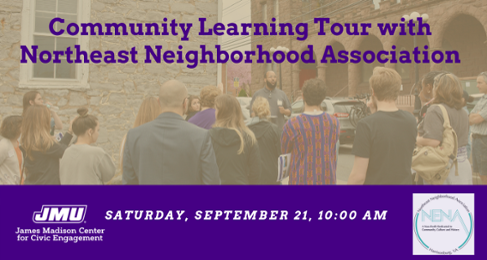 Led by Steven Thomas of the Northeast Neighborhood Association, we will engage in a community walking tour to different sites to learn about slavery, lynching, racial mass terror, segregation, and urban renewal in Harrisonburg, but also the stories of resilience and community remembrance. For more information, email whaleycl@jmu.edu.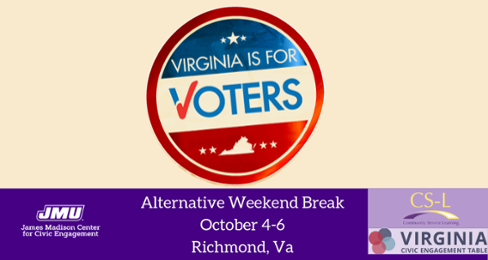 Join the Madison Center and JMU Community Service-Learning and travel to our Commonwealth's capitol to learn about the census and voting rights! We're partnering with Virginia Civic Engagement Table (VCET) to help with voter and 2020 Census education and engagement at the State Fair in Richmond. We will also meet with the Secretary of the Commonwealth to hear about how the Virginia Complete Count Commission is working as a trusted voice and resource to educate, empower, and engage all communities for the purpose of ensuring that everyone who lives in the Commonwealth of Virginia is counted in the 2020 Census. Drop by Community Service-Learning in SSC 2100, M-F 8am-5pm to apply.

The Madison Center and the Office of the President are providing JMU students and their families with an opportunity to engage at James Madison's Montpelier on Saturday, October 12 during Family Weekend 2019. As the university named for the "Father of the Constitution," JMU students and their families have a special obligation to know something about the Constitution and our namesake because, as philanthropist David Rubenstein noted in a speech on Constitution Day 2018 at JMU, "people who are more knowledgeable about our government, more knowledgeable about our Constitution, will be better citizens, vote more intelligently and be more engaged in our country."