Department of State's Quick Reaction Force: Twenty-three Years of Service
By Charlie Holloway [ Golden West Humanitarian Foundation ]
CISR Journal
---
This article is brought to you by the Center for International Stabilization and Recovery (CISR) from issue 27.3 of The Journal of Conventional Weapons Destruction available on the JMU Scholarly Commons and Issuu.com.
---
For the past twenty-three years, the United States has provided rapid responses to landmine and munitions/explosives related emergencies in some of the most vulnerable populations around the world. Initiated with a group from Mozambique, the Quick Reaction Demining Force (QRDF) was designed by the US Department of State to rapidly respond to landmine emergencies. Presently, its response capacity has expanded to include experts in battle area clearance and physical security and stockpile management (PSSM). These professionals volunteer for deployments on short notice to address emergencies globally. The Department of State Quick Reaction Force (QRF), managed by the Political/Military Bureau Office of Weapons Removal and Abatement (PM/WRA), provides an effective capability to respond in forty-eight hours to any type of request for assistance.
Quick

 

Reaction Force
This article focuses on two different deployments in response to very different challenges. The US Department of State's QRF team managed to focus subject-matter expertise and unique technologies and skills to safely resolve the immediate problems. 
Today's QRF evolved from the QRDF created by PM/WRA in 2000 as a humanitarian mine action (HMA) response for emergencies related to landmine contamination. The QRDF, operated by RONCO Consulting Corporation, consisted of teams of experienced deminers from Mozambique, organized and equipped to respond to urgent needs worldwide. The QRDF conducted WRA-directed demining operations in Mozambique, Sri Lanka, Sudan, and Iraq between 2000 and 2007. In 2008, PM/WRA created the QRF with an expanded mission beyond landmines to encompass urgent and emergent unexploded ordnance (UXO) and ammunition stockpile emergencies. The new QRF contract was awarded to DynCorp International who oversaw the program from 2008 through 2013. 
Since 2013, execution of the Department of State's QRF has been provided by Golden West Humanitarian Foundation. A US-based non-profit, nongovernmental organization, Golden West maintains a full-time dedicated QRF planning cell to deploy within forty-eight hours. Additional tailored resources can be on the ground within fourteen days, prepared to sustain operations for three months or as long as required. Goals of the program are the rapid provision of expert assistance to any type of explosives-related accident or incident and access to a variety of skills tailored to the requirements of the task. Golden West has access to a global list of experts in a variety of disciplines who can be deployed on very short notice. In addition to full- and part-time Golden West employees, the QRF Task Manager maintains a list of experts in explosive ordnance disposal (EOD)/PSSM who have volunteered to join a QRF deployment with minimal notice.
A typical mission is initiated with reports of an explosive accident or hazard, and an offer of support by the United States. When accepted, PM/WRA sends a warning order to Golden West's full-time QRF managers in Washington, DC. Ideally the QRF will deploy a planning team within forty-eight hours of notification or sooner when diplomatic details and transportation are available.
This QRF planning team assesses the situation on the ground and recommends follow-on actions to WRA. Golden West's global footprint often makes additional EOD or PSSM experts available internally, but the QRF also maintains lists of qualified technical personnel who volunteer to deploy as part of the QRF on short notice. The QRF is prepared to add additional resources within fourteen days, equipped to stay in the field for an extended period when directed by the Department of State.
On the ground, QRF managers interact with US Embassy and Department of State officials, foreign and US military officials, and the host nation's leadership. The result is often provision of technical information and advice, but also when requested, involves hands-on mitigation of threats and on-site training of response forces.
Federated

 S

tates

 

of

 

Micronesia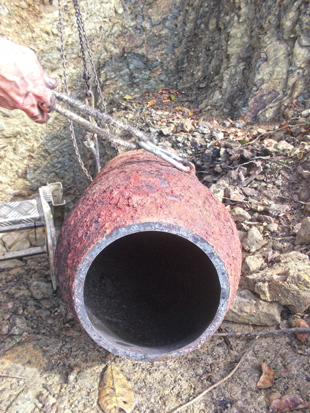 In June 2017, the Department of State deployed the QRF to Yap in the Federated States of Micronesia at the request of the US Embassy. While constructing a wind farm to generate electricity for the island, crews encountered a US 500lb. WWII aerial bomb located near the base of a windmill tower site. The QRF team assessed the bomb as fuzed, potentially dangerous, and recommended it be destroyed, but no demolition materials were available on Yap. 
The bomb was temporarily secured in a deep pit dug on the site pending resolution. Subsequent QRF efforts to obtain explosives to dispose of the bomb were frustrated by a lack of commercial air or surface vessels that would transport explosives to Yap. Golden West was prepared to deploy nitromethane based binary explosives, but could not obtain the blasting caps needed to initiate the main charges nor find a vendor willing to ship primary explosives to Yap, short of a cost-prohibitive dedicated flight or vessel. Every conceivable solution was tested and found to be untenable. The inability to obtain explosives prompted Golden West to use their proprietary mobile cutting system (MCS) to accomplish the mission.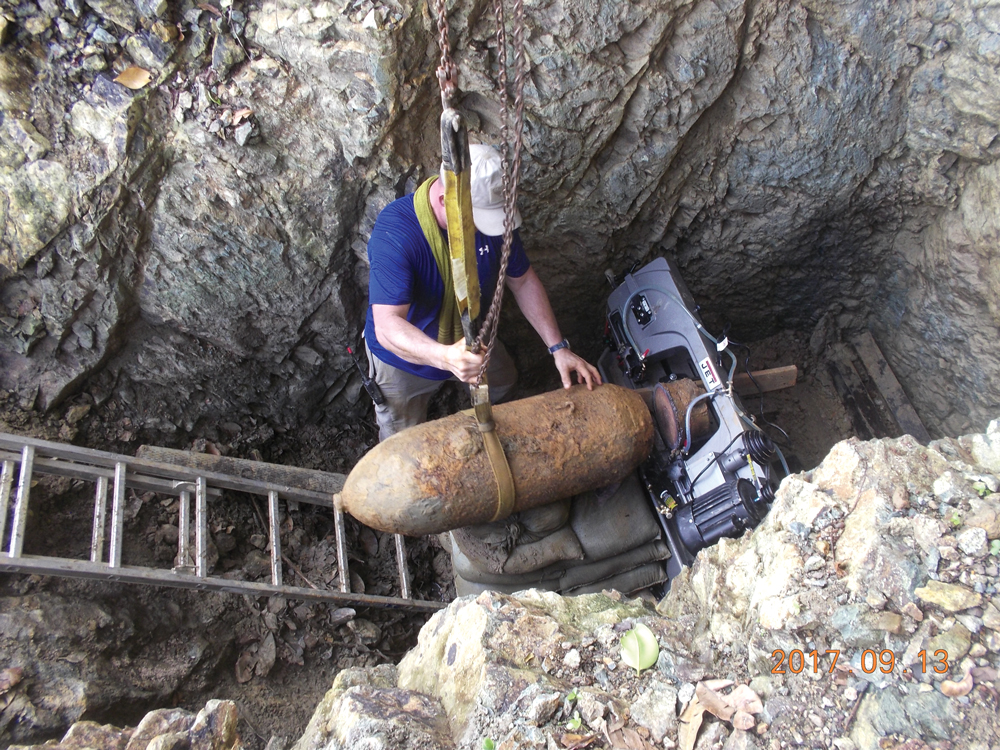 By September 2017, the QRF returned to Yap with a Golden West MCS. The MCS had the capacity to safely cut the Yap bomb and a Golden West cutting expert was deployed as part of the QRF team. The 500lb. M-64 US bomb was remotely cut in the pit, the fuzes removed, and the bomb filler was successfully burned. The empty bomb casing was turned over to local authorities as a souvenir of a successful mission. With the bomb destroyed and the hazard removed, the wind farm construction continued, providing critical infrastructure and electrical power to local citizens.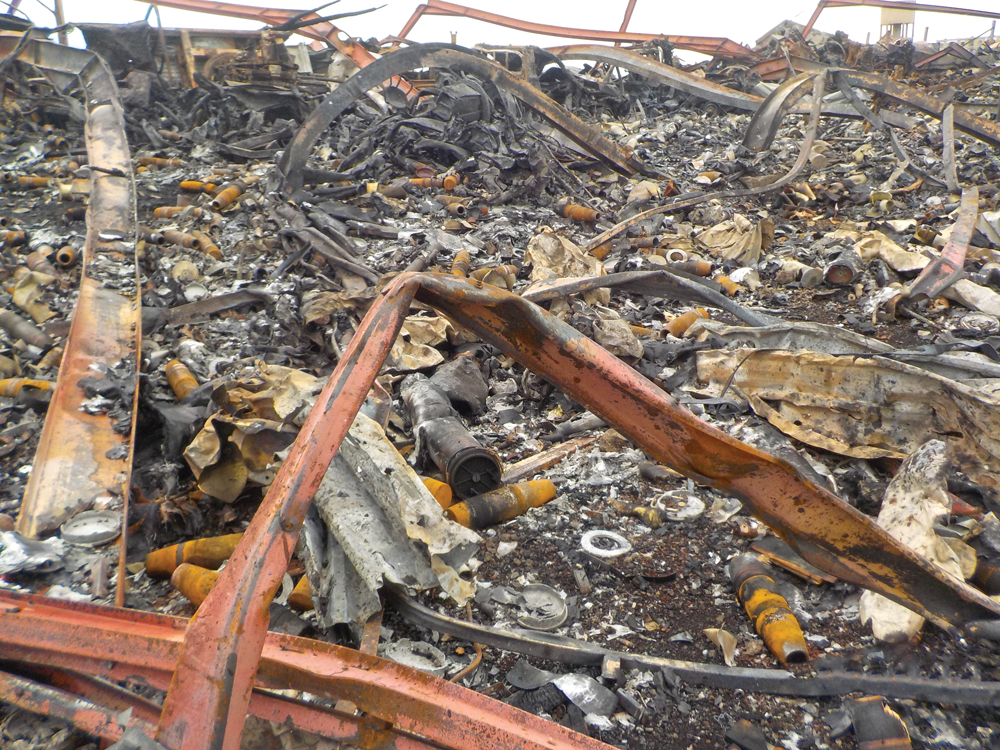 Equatorial

 

Guinea

In March 2021, the Nkoa Ntoma military ammunition depot and military barracks in Bata, Equatorial Guinea, suffered a series of devastating explosions, causing 107 deaths and more than 700 injuries. Damage extended beyond the military compound and involved residential communities in the area. The Government of Equatorial Guinea immediately requested international assistance for what they termed a catastrophe. Two days later, the Department of State offered assistance and directed the QRF to prepare to deploy an advance team of EOD experts.   
The QRF deployed an advance team to Equitorial Guinea on 12 March 2021, joining an international response that included contingents from France, Qatar, Cameroon, and a team of PSSM specialists from the Geneva International Centre for Humanitarian Demining. Existing defense agreements put the French EOD team in charge of supporting Equitorial Guinea forces inside the military base; for the next two weeks the QRF team assisted the Qatari EOD team in search and rescue UXO sweep operations in the surrounding civilian community.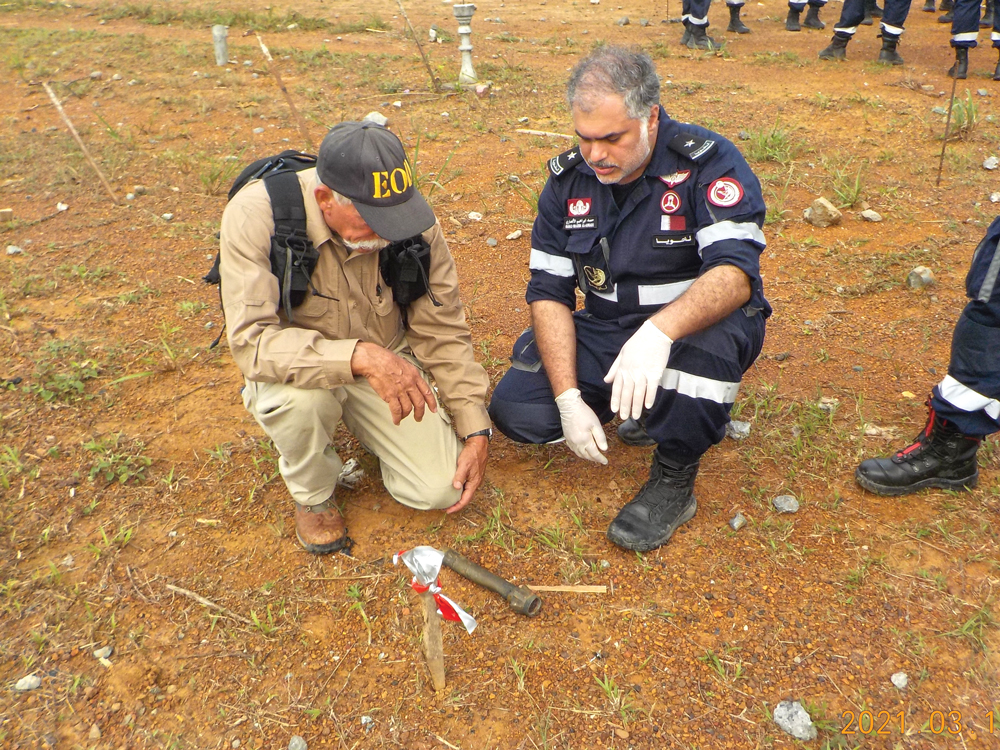 Following departure of the Qatar EOD contingent, the QRF focused on assisting the French EOD team working the armory perimeter. The team collected UXO and searched a heavily damaged building being constructed to serve as a hospital across from the Armory main gate. After completing a sweep of area surrounding the damaged hospital, the QRF was approached by a local civilian who reported a UXO had landed next to his church. A single Chinese 107 mm Rocket warhead was recovered at 1.6 km from the blast site. 
These and dozens of other QRF deployments over the past twenty-three years validate the need for a rapidly deployable team of experts representing the United States and addressing explosives or munitions related emergencies. Golden West is proud to apply our skills and unique technologies to support the Department of State PM/WRA's QRF program. We continue to work with our technical partners and the academic community to innovate and develop new tools and techniques that will support the QRF mission and the HMA community.

Charlie Holloway has been a key member of the Quick Reaction Force (QRF) since 2008 and joined the Golden West Humanitarian Foundation in 2013 as the QRF Task Manager. He is responsible for managing, planning, and deploying teams of fully trained and certified explosive remnants of war technical specialists. He and his teams mobilize within forty-eight hours and rapidly implement short-term conventional weapons destruction and mitigation solutions designed to reduce or eliminate threats posed by explosive hazards to civilian populations.