Ammunition Identification Guide for Ukraine: A Collaborative Project Amidst War
By Lieutenant Perederii,* Tony Salvo,** and Drew Prater*** [ *National Police of Ukraine, **Bomb Techs Without Borders, and ***Relyant Global ]
CISR Journal
---
This article is brought to you by the Center for International Stabilization and Recovery (CISR) from issue 27.3 of The Journal of Conventional Weapons Destruction available on the JMU Scholarly Commons and Issuu.com.
---
During explosive hazard clearance operations, identification of munitions is of the utmost importance. Once the munition is positively identified and its filler and safeties are known, it can be dealt with in a safe and controlled manner. While clearing Fallujah, Mosul, and surrounding areas in Iraq, abandoned explosive ordnance (AXO) and explosive remnants of war (ERW) from twenty-three different countries was encountered, challenging even the most ardent explosive ordnance disposal (EOD) technician. To this end, an ordnance identification document based on the munitions encountered was compiled, the latest version containing more than 340 different munitions.1 Those working diligently to clear explosive ordnance (EO) in Ukraine, as well as first responders, are facing a similar problem, encountering munitions from twenty-six different countries, some of which are newly identified munitions. An informal group of experienced, international EOD technicians help with identification including former military personnel. Identification is also done through manufacturer websites and publications as well as open source.
Ukraine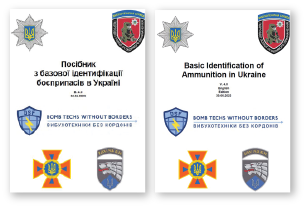 According to the Geneva International Centre for Humanitarian Demining (GICHD), in the first year of the conflict alone, more than 305,000 explosive munitions were located, recorded, and removed in Ukraine, yet approximately one-third of the country remains affected by EO, endangering millions of Ukrainian citizens as they attempt to go about their daily lives.2 One US government official stated that the current dud rate among Russian munitions is approximately 40 percent, which only exacerbates this deadly issue.3
Ammunition Guide
To deal with such a large number of diverse munitions, the US-based nongovernmental organization (NGO) Bomb Techs Without Borders (BTWOB),4 has co-published the Basic Identification of Ammunition in Ukraine5 (https://ukr.bulletpicker.com/id-guides.html), which is in its fourth version and is available in Ukrainian and English. Initially, the guide was exclusively available in Ukrainian to cater to the target audience—Ukrainian security services, sappers, and EOD personnel. However, an English version of the 3.0 edition was subsequently published on 22 March 2023.
The English version directly mirrors the Ukrainian edition and is mainly intended to assist international partners and international NGOs (INGOs) working with Ukrainians.
Users are able to place entries side-by-side in order to mitigate the language barrier. The guide is free and is published as a .pdf document for maximum compatibility with electronic devices. The target audience is Ukrainian EOD, sappers, deminers, and first responders who, by the very nature of their work, are exposed to these explosive hazards (EH) on a daily basis. The level of detail contained in the guide is deliberately limited to allow for maximum distribution without compromising operational security. The guide is known to be in widespread use with Ukrainian forces, as well as local NGOs and INGOs. The authors are aware of foreign militaries using the guide to identify and track explosive munitions found in Ukraine.

BTWOB started with a base document of munitions they knew to be found in Ukraine in the summer of 2022, then initially partnered with the National Police of Ukraine EOD. Since then, 8th SOF Regiment EOD and State Emergency Services of Ukraine EOD have joined as major contributing partners. Contact information is provided in the guides, and numerous other agencies, units, and departments contribute in an ad hoc unofficial capacity, as well as individual sappers and EOD operators. The major contributing partners are readily identified on the guide's front cover. These partners provide credible, first-hand information directly from the frontlines with information, pictures, and measurements as time and situations permit. 
Version 4.0 contains more than 500 different munitions and is divided into twenty headings with numerous sub-headings and hyperlinks, enabling the user to navigate quickly through the 914-page document. Basic dimensions and related munitions accompany pictures to assist the user in positive identification of the explosive hazards.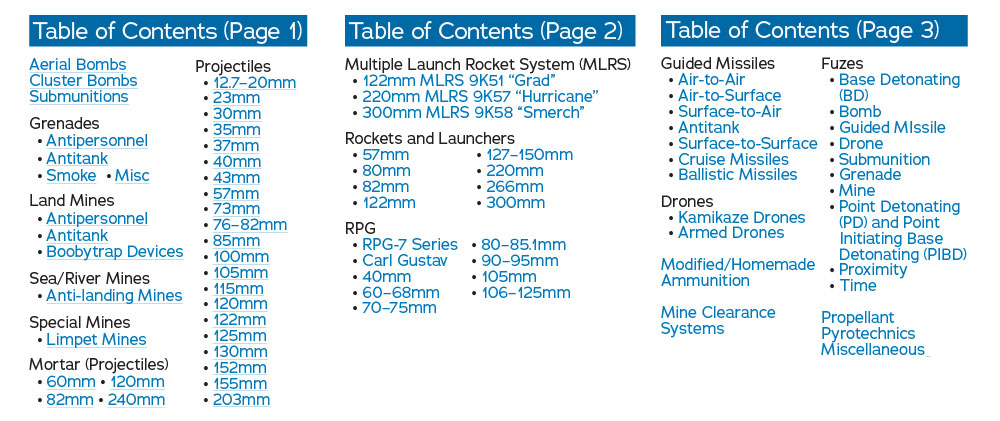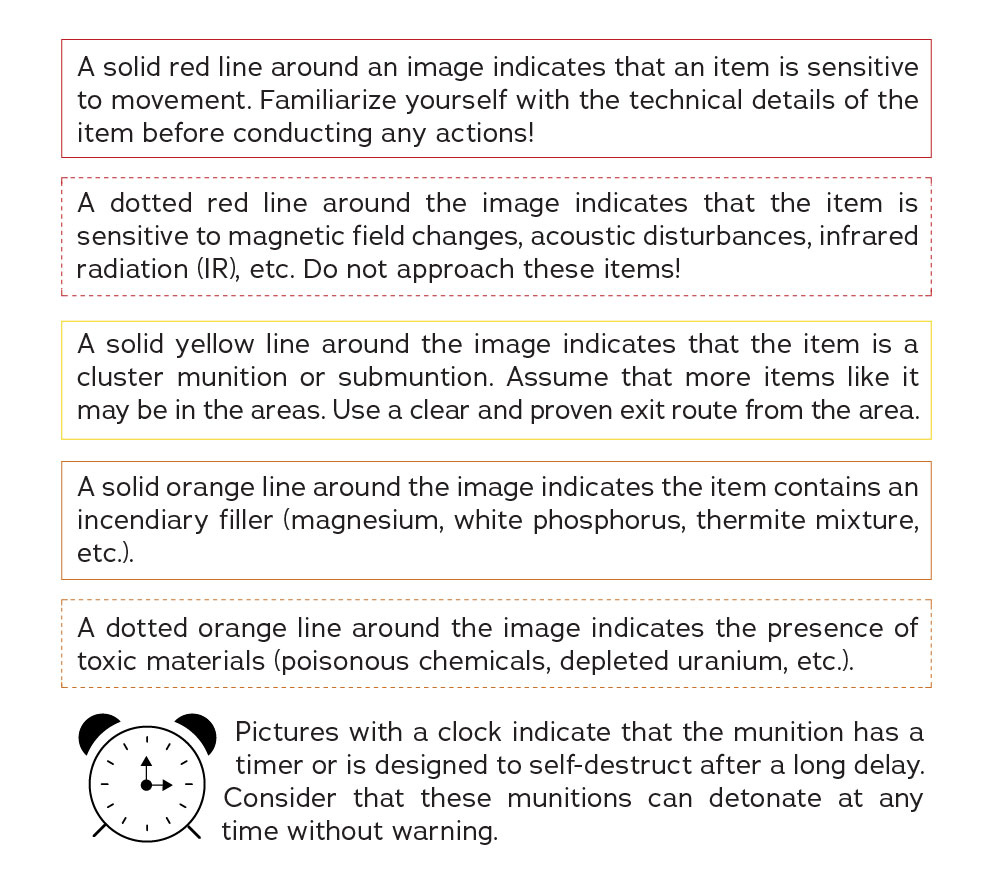 To highlight munitions with additional safety concerns, simple color coding warns users of particular hazards such as incendiary fillers or magnetic fuzing. There are five different color/style lines, which are placed around munition pictures to ensure the user is aware of additional hazards. Additionally, a clock icon is added to those munitions with a time delay hazard.
The editing and publishing of the identification guide is a massive undertaking, involving the collation of incoming information and meticulous verification of its accuracy. The authors understand the vital importance of ensuring the information is correct and go to great lengths to ensure its accuracy and legitimacy. The primary sources used by the authors to check the accuracy of information are field reports, manufacturer websites, brochures, and publications, as well as military manuals (of varying languages) and texts. Secondary sources of information are intelligence publications, press/media, an informal network of subject matter experts, and open sources (Twitter, Telegram, Facebook, etc.). This information is collated and analyzed for accuracy before being entered into the guide to ensure the highest possible standards.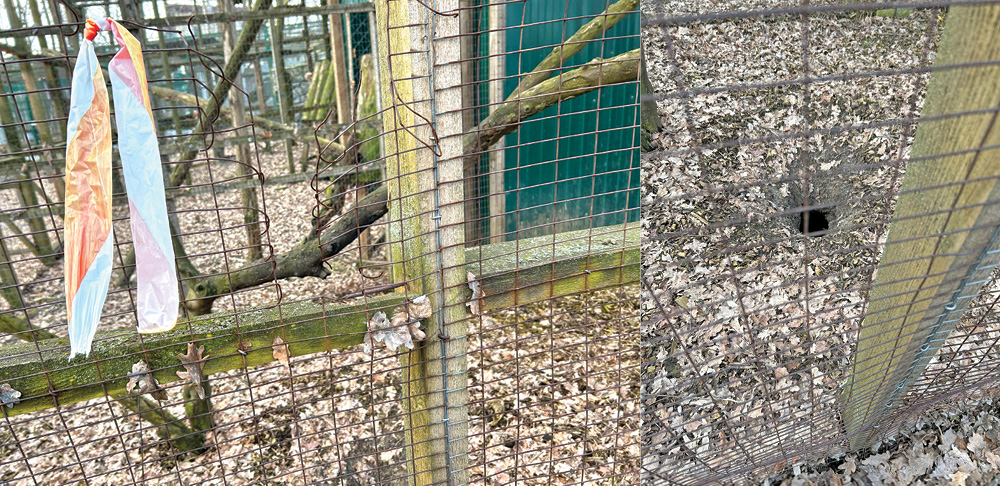 Feedback from the field has been positive and the identification guide is known to be used by the different agencies which provide input, as well as local commercial companies, local NGOs, and INGOs. The identification guide has quickly become the "go-to guide" for personnel clearing unexploded ordnance (UXO), those needing to identify the discovered items for accurate reporting to the proper authorities, and for training teams. Continually updated with new additions, corrections, and images added to existing content, the guides maintain their relevance and utility. Updates are announced on BTWOB.org and Facebook.
Conclusion
This guide is possible due to the many people who have shared and contributed information about EO found in Ukraine, and we are pleased it is helping to protect the men and women clearing their homes, cities, and fields, as well as helping to keep Ukrainian citizens safe from the indiscriminate hazards of EO.

Lieutenant Perederii currently serves in the National Police of Ukraine (NPU) and has been  the primary NPU representative for the ammunition ID guide's development since the first edition. He has been in law enforcement for over eight years and an explosive ordnance disposal (EOD) officer for four years. He graduated from the EOD school in Merefa, Ukraine, in 2020, and has also attended numerous training courses overseas throughout his career.

Tony Salvo is a former US Army enlisted EOD technician (eight years) with extensive combat experience in the Iraq and Afghanistan conflicts. Previously, he has worked in the humanitarian sector in Iraq and Syria clearing explosive hazards left from the ISIS conflict. Currently he serves as the Branch Director and Senior Technical Advisor for Bomb Techs Without Borders in Ukraine.

Drew A. Prater is a former US Army EOD Technician (nineteen years) who has worked internationally for the past eighteen years conducting humanitarian and commercial clearance and training operations throughout Afghanistan, Burkina Faso, Cambodia, Iraq, Jordan, Mali, Nigeria, Pakistan, Thailand, Ukraine, and Vietnam. He has also authored and co-authored numerous articles for professional journals and publications. He is currently the International C-IED SME for Relyant Global and a volunteer with Bomb Techs Without Borders.