CISR Journal
Mine Mark Digital EORE: Being Innovative as a Small NGO in the Mine Action Sector
Nils Hegel and Jonathan Walsh [ Mine Mark Foundation ]
---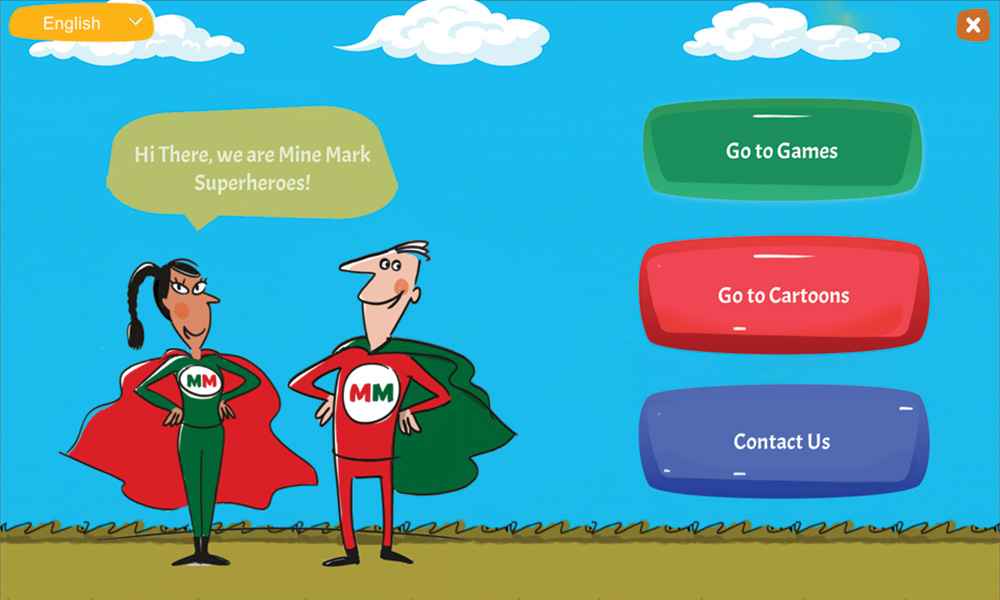 This article is brought to you by the Center for International Stabilization and Recovery (CISR) from issue 27.2 of The Journal of Conventional Weapons Destruction available on the JMU Scholarly Commons and Issuu.com
---
Children account for approximately one-third of all civilian casualties caused by unexploded ordnance (UXO), yet explosive ordnance risk education (EORE) for young people is often outdated, dry, or too technical.1 In this article, the Mine Mark Foundation outlines the promising potential for digital EORE, the challenges and opportunities faced by smaller nongovernmental organizations (NGOs), and the benefits they can offer the global mine action community.
Introduction
Running a small NGO in a field where access to funding is as competitive as mine action is both the main challenge and the driving force behind the Mine Mark Foundation. Providing engaging and informative digital EORE solutions on a limited budget is difficult. However, doing so in an organization composed entirely of volunteers highlights the importance of soft skills—such as adaptability to uncertain situations, and interpersonal skills for building relationships with partner organizations—in running an NGO.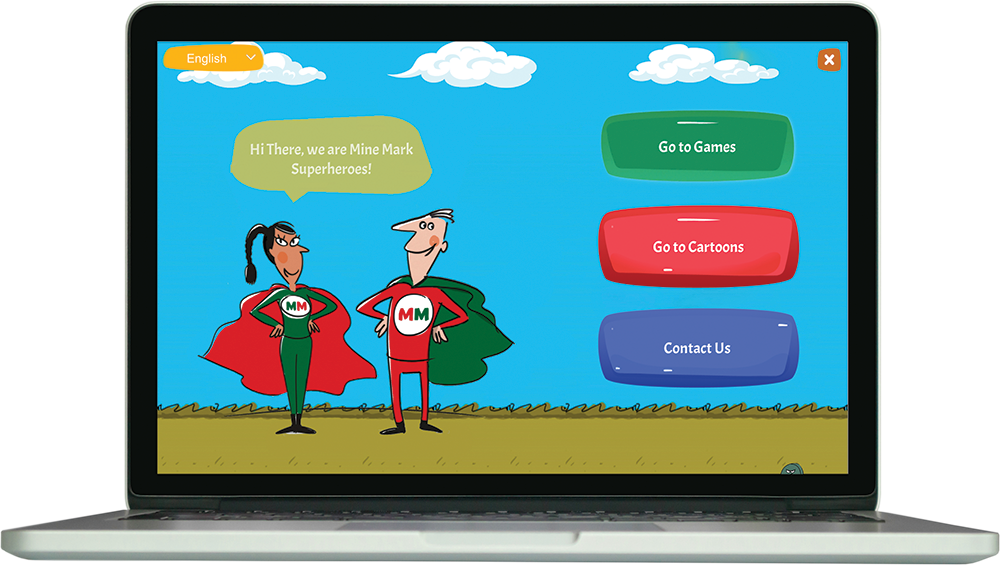 Mine Mark was first conceived by Nils Hegel and Lala van der Kolk in 2018 to provide physical, game-based activities for children living in areas afflicted by landmines and explosive remnants of war (ERW) left behind by conflict. It has functioned as a grassroots movement as much as it has as an NGO over its lifetime. Securing the necessary funding, volunteers, expert insights, and support has required the ability to create interest and build relationships with a variety of local and national academic, political, and civil society actors.
From Fenix Insight's EORE Card Game2 for Ukraine to Mine Mark's Gaming Application for Mine Education (GAME), mine action organizations have found ways to respond innovatively to the needs of communities globally. As Mine Mark operates with a small team with minimal operating costs, conflicting priorities, and affiliations, we have found ways of fostering cooperation with community-based partners and schools and achieving shared success through a flexible, collaborative approach. Engagement in publications such as The Journal of Conventional Weapons Destruction and gatherings held by mine action organizations such as the Geneva International Centre for Humanitarian Demining (GICHD) Innovation Conference play an important role in fostering this collaboration; creating a platform where successes and challenges encountered in various contexts with different approaches can be shared.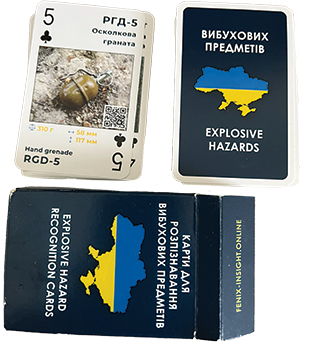 The first iteration of the interactive risk education game that Mine Mark Foundation created required game collaboration among designers, child psychologists, teachers, and mine action specialists to ensure a quality product that would promote behavioral change. Mine Mark considers children's mine risk education a complicated and multi-faceted problem. Developing a perspective on the balance between how informative and engaging the product is and what is considered "child appropriate" when the risks are so high, has required close collaboration between these experts, and an iterative field-testing approach.
Paper-Based to Digital:
The Evolution of the Mine Mark GAME
The Mine Mark Foundation was initiated with the creation, testing, and improvement of traditional (in this case, printed, paper-based) cartoons and games. This allowed us to learn about which content resonated most with children, and how their comprehension of mine risk awareness and safe behaviors could be sustainably increased.
To create effective and engaging educational materials, we conducted a comprehensive literature review on existing EORE standards, guidelines, organizations, and possible pilot countries. Subsequently, we consulted with EORE experts to ensure that the content was accurate and relevant to the needs of children living in areas affected by landmines and ERW. This led us to base our paper-based games and cartoons on United Nations Mine Action Service guidelines. Finally, we tested the first games and cartoons with children in Azerbaijan, Ukraine, Germany, The Netherlands, Norway, and Italy.
After the sessions, feedback was collected on how the children interacted with the content, how long they would keep playing, and which games they enjoyed the most. It was discovered that the age of the children heavily influenced their interests regarding the games provided. Younger children liked playing the coloring or the find-the-memory games, whereas older children preferred playing find-the-differences and jigsaw puzzle games. Following data analysis, the games and cartoons were adapted accordingly. Subsequently, the first large-scale tests within several schools in Azerbaijan were conducted to gather more reliable and robust quantitative data to further improve the educational materials.
Since analysis of the feedback showed that the games and cartoons were successful in effectively engaging and educating the children, we decided to scale to other countries with past and ongoing conflicts. Furthermore, the focus was shifted to creating and publishing digital content to reach more children and lower costs since printing and distributing the materials was costly and resource intensive. This production and medium shift led us to create the GAME.
Creating, coding, and publishing our GAME brought challenges requiring entirely different skill sets than that of producing paper-based content. Fortunately, recruitment efforts on social media and leveraging our connections within the NGO sector in The Netherlands, as well as internationally, enabled us to onboard web developers, graphic designers, and programmers, who provided their services pro-bono.
For the first version of the GAME, it was decided to structure it into three parts: 1) cartoons providing the necessary educational information to the children; 2) six games to test their knowledge and to continually reinforce what they have learnt; and 3) educational videos supplementing the learning experience in an entertaining, accessible manner. Currently, the GAME is available in four languages: Azerbaijani, Bosnian, Croatian, Serbian (BHS), Ukrainian, and English.
Digital content presents significant opportunities that are not available with paper-based content. We can tailor and update the content remotely for each country or even regions, with IOS and Android app stores enabling developers to publish games for specific countries. So far, we have not embarked on this localization strategy as it is a massive undertaking. However, we are optimistic about acquiring the necessary funding to further develop and improve the GAME, as well as create tailor-made games to account for regional differences and municipal needs. 
Case Study: 
Azerbaijan
Implementing projects as a smaller organization is never easy, and there can be multiple obstacles to partnering with bigger, sector-leading organizations. Mine Mark has found the most success overcoming this issue by forming relationships with various embassies located in The Hague, Netherlands. After establishing initial contact with the embassies, we had ongoing dialogue to discuss synergies and areas for potential collaboration. Out of those first contacts, Mine Mark chose Azerbaijan as a country to conduct its first pilot project in April 2019.
Azerbaijan has been grappling with landmine contamination for over thirty years since the Nagorno-Karabakh conflict erupted between Azerbaijan and Armenia from 1988–1994. As a result, the Armenian forces took over the Karabakh region and seven neighboring districts of Azerbaijan. Although Azerbaijan regained control of parts of Nagorno-Karabakh and surrounding areas in 2020, explosive ordnance (EO) contamination remains a distressing reminder of the war and continue to pose danger to civilians. Plans are in place to help displaced families resettle in their hometowns. However, due to the challenges of detecting and removing landmines, it could take more than ten years for the territory to be fully cleared, so EORE will be critical for Azerbaijan to facilitate this resettlement.
On its first visit to Azerbaijan, the Mine Mark team held several meetings with Azerbaijani state bodies. During these meetings, views were exchanged on issues of mutual interest and prospects for cooperation with the Azerbaijan National Agency for Mine Action, the State Committee on Diaspora's Affairs, the State Committee for Affairs of Refugees and Internally Displaced Persons, and the Azerbaijani Chapter of the International Campaign to Ban Landmines.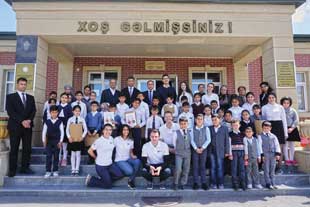 Mine Mark also met with internally displaced persons (IDPs) in the Masazir settlement near Baku, and Jojuq Mehjanli village in Karabakh to gain insights into the living conditions of children co-existing alongside the risks of UXO. The opportunity to engage with secondary school pupils, and to gain feedback on the effectiveness of learning materials, was invaluable for the incremental development of the game.
As for so many NGOs, the COVID-19 pandemic made it difficult to build upon our work undertaken in 2019. We addressed this challenge in Azerbaijan by hosting Training of Teachers (ToT) workshops online. This was carried out through partnerships that were established prior to the pandemic. It helped us to build a broader network, ensuring more consistent implementation of the EORE materials and a clearer feedback system that allowed teachers to inform us of what did and did not work.
In June 2022, the Mine Mark team conducted another field visit to Azerbaijan to test the recently developed GAME in several schools in the regions of Aghdam and Baku. Following the field tests, fruitful meetings were held with governments and NGOs to discuss project opportunities.
The team was also able to travel to the abandoned town of Aghdam to obtain first-hand accounts of the scale of the EO contamination, the status of Azerbaijani National Agency for Mine Action's demining efforts, and the proposed schedule for constructing vital infrastructure and relocating IDPs. The sheer extent of the contamination reinforced the team's belief that EORE is essential in safely relocating IDPs. In addition, the project implementation in Azerbaijan further demonstrated that there is an urgent need for updated EORE that is also tailored to the specific needs of each target group.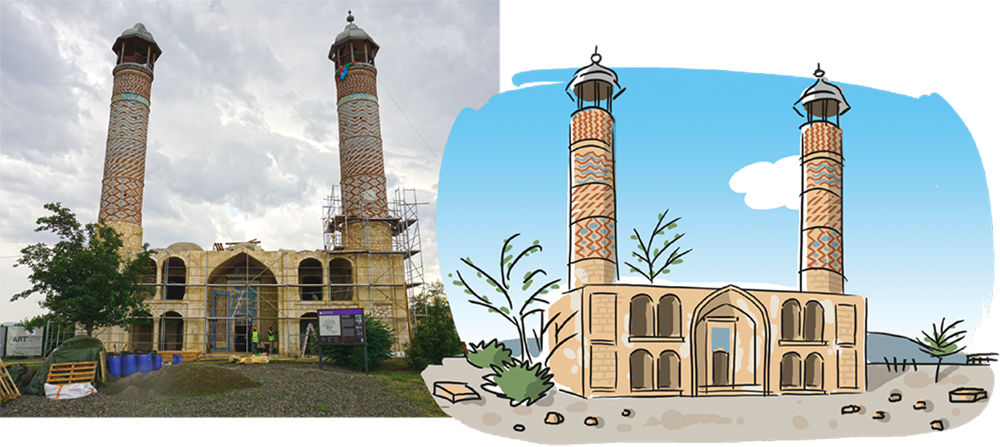 Next Steps: Scaling EORE to Reach More Children
One of the main issues encountered in Azerbaijan has been the disparity between different schools' access to computers needed to provide digital EORE. We are currently partnering with Computer Aid and the State Committee on Diaspora's Affairs to ensure the provision of laptops to several schools across Azerbaijan and are hoping to host more ToTs and educational sessions for schools together with the State Committee for Affairs of Refugees. 
Our next milestone to reach our vision of a world where not a single child gets killed or maimed by UXO is to scale collaboration with more organizations globally to introduce the GAME in other countries that are contaminated by EO. In the medium term this includes acting upon an agreement signed in April of this year with the Bosnia and Herzegovina Mine Action Centre to provide the Bosnian language version of the game to schools, as well as laptops where they may be needed.
Over the long term, we have the capacity to translate the game into various languages, create additional content, and gather knowledge about the best practices in various cultural contexts. We will continue to seek to create long-term partnerships with donors, companies, and other organizations to make our project even more financially resilient. 
Conclusion
The development of digital EORE for children in the form of interactive games is a crucial, impactful step in protecting children living in areas affected by landmines and ERW. As a small NGO, we have been able to create an effective and engaging tool that directly addresses the needs of the community we serve. We believe that small NGOs have an important role to play in the mine action community, as they can be more creative, responsive, and flexible in developing solutions to complex problems.For Mine Mark, the next steps are the distribution and development of additional content for the GAME, to gather structural funding, and to cooperate with other mine action organizations. 
Nils Hegel
Co-founder
Mine Mark Foundation
https://www.minemark.org
nils.hegel@minemark.org
Nils Hegel is one of the two co-founders of the Mine Mark Foundation and chose to get involved in the topic of explosive ordnance risk education after his military service where he was deployed to several conflict areas. After finishing his Bachelor of Science in international relations and Master of Science in transition management studies, Hegel currently works as a Consultant for Climate Protection in the Corporate Research & Development department of a multinational corporation.
Jonathan Walsh
Research Officer
Mine Mark Foundation
https://www.minemark.org
jonathan.walsh@minemark.org

Jonathan Walsh met Mine Mark at the GICHD's Mine Action Technology Workshop (Innovation Conference) in 2021 and now volunteers as a Research Officer, working to identify new opportunities and sector developments. Walsh is currently enrolled in a Master of Science program in Earth Observation and has a special interest in the application of remote sensing to humanitarian and environmental problems.