ISAT alumnus inspires students at Broadway High School
News
---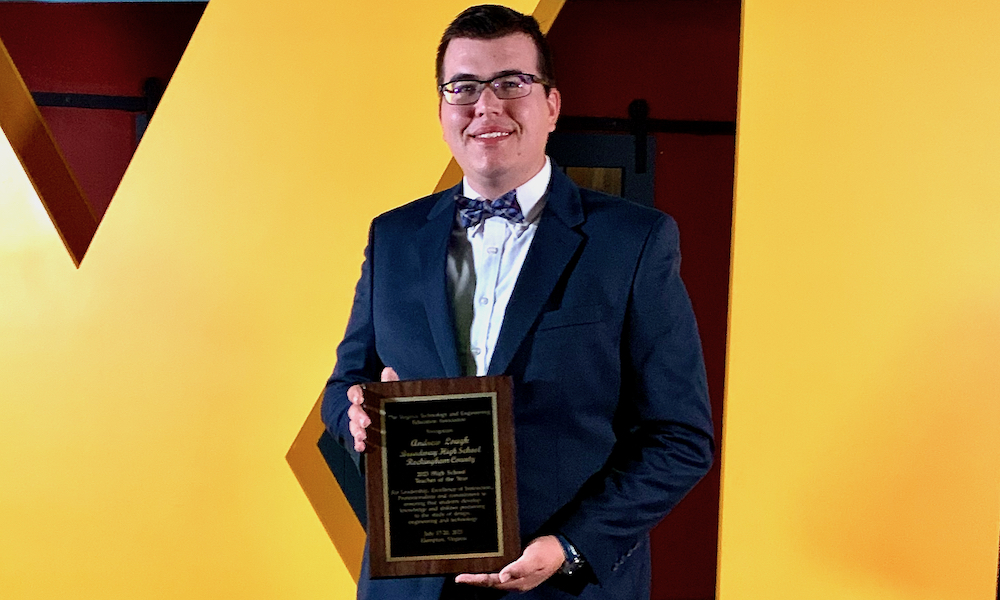 In education, some teachers excel at innovating, encouraging, and helping students discover their unique passions. Andrew Lough ('19), an Integrated Science and Technology alumnus, is a prime example. His exceptional contributions to the students at Broadway High School earned him the VTEEA Teacher of the Year Award.
Lough holds a Bachelor of Science in Integrated Science and Technology, a minor in Pre-professional Secondary Education, and a Master of Arts in Teaching for Secondary Education from JMU. He teaches technology education at Broadway High School, covering courses such as Engineering Explorations, Engineering Analysis and Applications, Unmanned Aircraft Systems, Basic Technical Drawing and Design, and Music Industry. 
In high school, Lough was interested in history and music but was uncertain about his academic path. Nevertheless, his desire to teach remained constant. He found his calling in technology education, a decision he attributes to his teacher, Jerry Ridgeway, at Turner Ashby High School. Lough joined Ridgeway's chapter of the Technology Student Association as a freshman, competing in technology and science competitions at the regional, state and national levels throughout high school, including the "Future Technology Teacher."  
"Through these experiences, I found that technology and engineering was the best path for me, and I began looking for a college program to support my goal of becoming a technology teacher," Lough said.
Lough accredits JMU's ISAT program for significantly shaping his journey. He values the program's emphasis on developing strong communication skills across diverse subjects and applying his knowledge in real-world scenarios. Classes in all the concentration areas enhanced his broad understanding of technology and science. For example, Lough completed a series of holistic problem-solving courses, allowing him to create a capstone project that integrated manufacturing engineering with his education aspirations. 
"Through the ISAT program, I was able to structure my major and work with excellent and supportive faculty to help me pursue my goals of teaching engineering and technology," Lough said. 
Lough maintains an ongoing collaboration with ISAT professor Rebecca Simmons, who is also an adviser at Broadway High School. Simmons provided valuable guidance to Lough on his capstone project while in ISAT. Recently, they've been exploring ways to incorporate Lean Six Sigma exercises, a team-focused approach to improve academic and scientific efficiency by removing waste and defects, into his advanced engineering classes. 
"Lean Six Sigma principles and exercises from the two-course series, Lean Six Sigma, and Lean Six Sigma Applications are incorporated in my teaching methods, resource management, and curriculum for the engineering analysis and applications class," Lough said. 
While at JMU, Lough participated in a study-abroad program in Bessbrook, Northern Ireland. During this experience, he gained field experience and worked with engineering teachers at St. Paul's High School.
"This study-abroad program and the cross-content area nature of ISAT had a significant impact on me and greatly influenced my approach to technology and engineering education," Lough said.
In addition to studying abroad, Lough was involved in many other programs, which influenced his career goals and learning experience. He was also involved with the Marching Royal Dukes and The Archery Club.
Music has always been a source of inspiration for Lough. Some of his past experiences have allowed him to seamlessly integrate music into his scientific studies. His involvement with the MRDs helped him maintain a strong connection with music and provided opportunities to collaborate with students in secondary education courses such as history and math.
Today, Lough leverages these skills in his Music Industry class, a unique course that combines music technology and technology foundations. He co-teaches this class with Band Director Candice Flake, combining a core music elective with an engineering curriculum. 
"Much of my time is dedicated to creating learning experiences for students that connect what they are learning in their core content classes and connect them to the engineering world," Lough said.
"My favorite part of teaching is seeing a student's initial discovery and subsequent growth in a topic they are passionate about," Lough said.
By sharing his passions with his students, he forges connections and leaves a lasting impact with his innovative teaching approaches — inspiring students in music, science and engineering.