CS professor transforms classroom with VR
News
---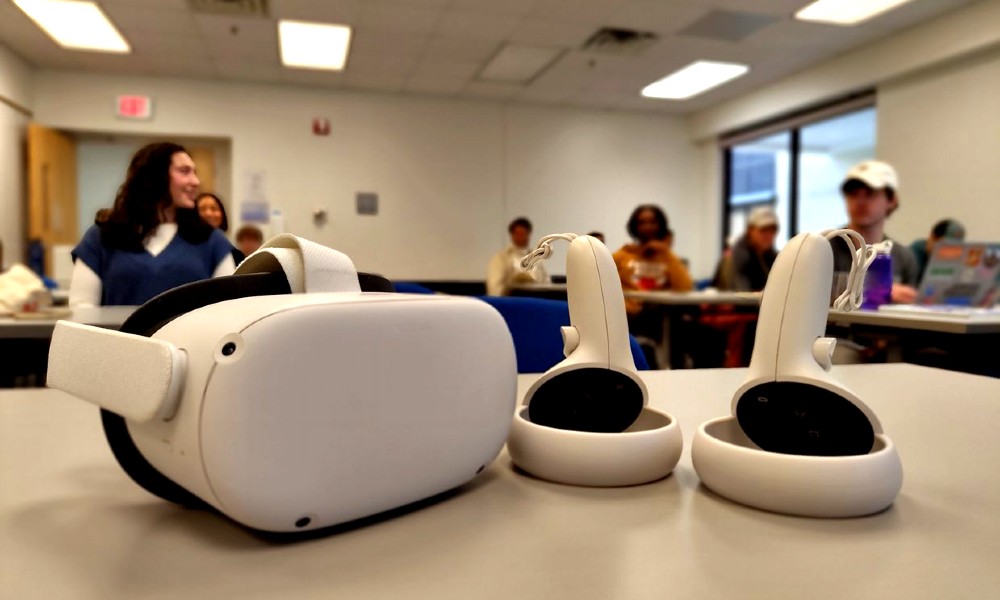 Computer Science professor Isaac Wang isn't just passionate about computer science; he is on a mission to bring the exciting world of virtual reality (VR) to the classroom.
His journey from graduating in computer science to earning a Ph.D. in human-centered computing (HCC) led him to JMU, where he has been able to blend his love for HCI, natural user interfaces, intelligent virtual agents, and gesture recognition.
As several large companies have been releasing virtual reality experiences for customers, researchers, students, and even kids, Wang became quickly inspired to start a VR class at JMU. "Virtual reality has been steadily gaining in popularity over the past decade and continues to do so," Wang says.  
"Companies such as Meta and Apple are actively releasing new hardware and software to consumers," Wang says. Apple, for example, came out with the "Apple Vision Pro," which is worn over the head and mimics ski goggles to an extent. Additionally, Meta has released a product called "Meta Quest Pro," which they refer to as their "system for a mixed reality."
 "I wanted to offer a VR course to bring value to students, both in terms of gaining applicable job skills and just having fun with the technology," explains Wang. He hopes the students learn how to utilize virtual reality development tools, a very beneficial skill to include on resumes.
In this new virtual reality class, Wang aspires for students to go beyond the design and actively create VR applications. "My goal is that students leave with an understanding of the physical and psychological factors that influence VR design and that they can apply those design principles to their applications," explains Wang. 
Outside of the design and creation process, the class will cover optics, human perception, movement, interaction, avatars, and spatial audio.
The essence of virtual reality is an "illusion," notes Wang. The purpose of virtual reality is to trick the brain into believing it is in a virtual world. With a VR headset, users are immersed in different ways that capture the vision through each eye, along with motion tracking. "Tracking and matching how the user moves their head and body around the real world can help create a sense of presence—the degree to which the user believes they are actually in the virtual world," he adds.
Wang is incorporating the concept of Sustainable Development Goals (SDGs) in the class to bring awareness to important global issues and encourage students to view them from a fresh perspective. In a recent assignment, students were asked to create a 2-3-minute VR experience centered around an SDG goal or another societal issue that held personal significance to them. The selected topics, including pollution, racial inequality, and oppression, all underscore VR's unique capacity to provide individuals with novel viewpoints on issues they might not have been able to grasp otherwise, according to Wang.
"Professor Wang's incorporation of the SDGs with VR is helping students connect technology to critical human problems," says Bob Kolvoord, Dean of JMU's College of Integrated Science and Engineering. "This work is at the core of what students do in our college, and we're excited to see their work," he adds.  "We're privileged to have faculty like Professor Wang in CISE."
Virtual reality has been used in many areas, such as healthcare, training, games, and art production. "Anything real can be simulated in virtual reality, " explains Wang, "but where the technology shines is when we surpass the bounds of reality." As technology advances, virtual reality offers individuals a unique opportunity to experience the impossible.
The skills acquired while developing and using applications "give the students another way to consume media, have fun, or even relax," says Wang. "It is a game-changing experience when there is a level of immersion. The immersive nature of virtual reality can transport users out of the real world, creating an incredibly enriching experience for students.
Virtual reality has the potential to facilitate connections across geographical locations. Wang plays VR games online with his sister, who lives in another state. "It's just like being together in person," he says.
The most popular VR headsets on the market are the Meta Quest, the HTC VIVE, and PlayStation VR. Currently, the students use Meta Quest 2 headsets made primarily for VR.
Wang is excited to offer a virtual reality class and hopes it will reach a broad student audience.
Virtual reality's capability to immerse users offers fantastic opportunities for people to interact as if they were physically together, engage in activities within the same space, and explore the world firsthand through virtual travel, all without the need for expensive flights or time-consuming travel.