Record-breaking turnout at the CISE Career Fair
News
---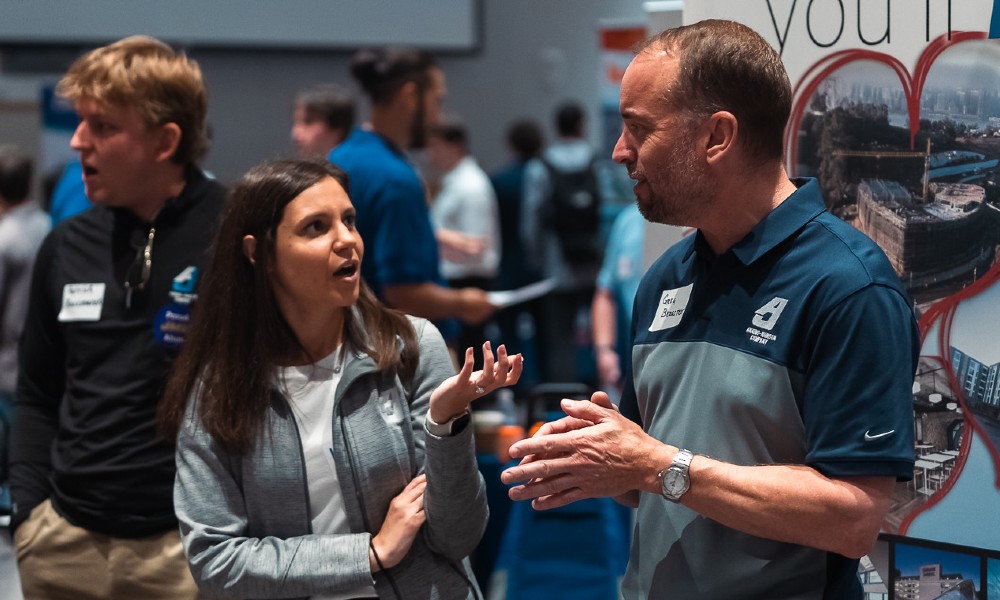 The College of Integrated Science and Engineering (CISE) Fall Career Fair on September 12 at JMU's Festival Conference and Student Center was a resounding success. A record 921 students attended, engaging with 58 businesses and organizations, including Verizon, GEICO, Mitre, and ManTech.
The Fair began in 2018 and has grown dramatically, attracting more students yearly. It allows CISE students to "connect with employers, explore career and internship opportunities, practice networking skills, and receive guidance from experts in the field."
To ensure students get the most out of the fair, CISE also hosts a "Prepare for the Fair" week. From mock interviews to resume reviews, coordinator and organizer Lyn Chandler ensures students are prepared. The Pre-Fair Employment Panel featured CISE Industry Partners and alums sharing insights during a Q&A session. "The panel provides guidance on crafting resumes, perfecting elevator pitches, distinguishing oneself from others at the Career Fair, as well as addressing proper attire and strategies for post-Fair networking and communication," explains Chandler.
Students in Biotechnology, Engineering, Computer Science, Geography, Information Technology, Intelligence Analysis, and Integrated Science and Technology engaged in face-to-face conversations with representatives from various firms. While interacting with prospective employers and recruiters, students develop interpersonal skills and build networks with organizations eager to see what the latest generation of Dukes has to offer. Some attendees secured interviews during and after the Career Fair, delving into future career paths and making invaluable connections.
"Our students get to make great connections while they're here, secure meaningful opportunities, and return years later, attributing their job success to their participation in the CISE Career Fair," says Chandler.
The next CISE Career Fair will be held on Tuesday, February 6, 2024.