News
JMU attends Global Citizenship and Peace seminar in Hiroshima
---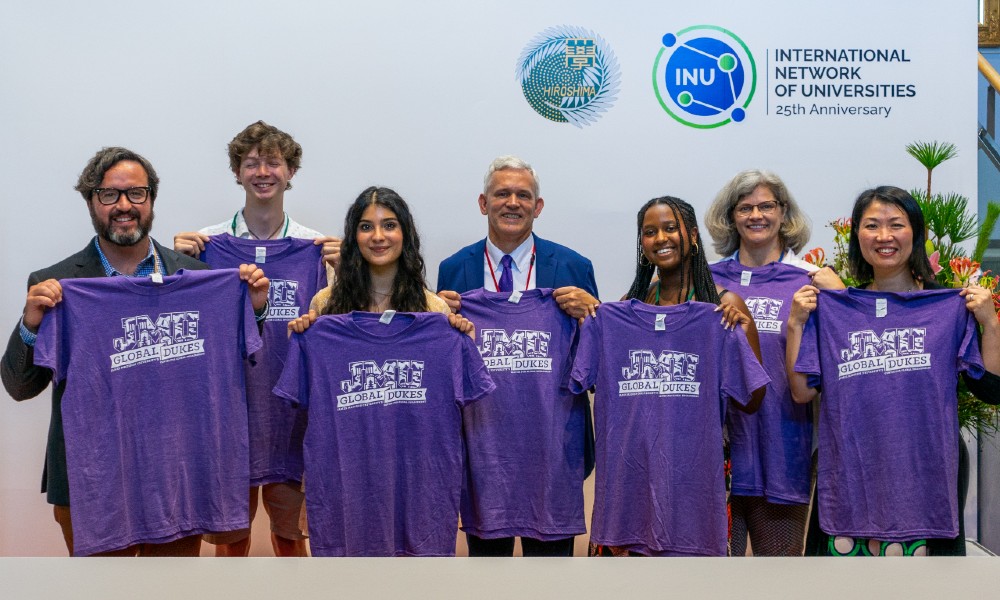 Three JMU students, Rylan Gildersleeve-Price, Engineering major, Elena Ogbe, Nursing major, and Bella Santos, Political Science and International Affairs majors, were selected to attend the International Student Seminar for Global Citizenship and Peace, hosted by Hiroshima University from Aug. 1-10. Justin Henriques, professor of Engineering, has also been selected as one of just four faculty members across 13 universities to give a workshop.
The annual seminar is held in early August to commemorate the atomic bombing of Hiroshima and focuses on issues affecting the global community. This year's theme was "Climate Emergency and Action." Approximately 60 students from the International Network of Universities attended, engaging in workshops, seminars, case studies, and field trips throughout the 10-day program.
The exploration into how nations across the world are reacting to climate change culminated in a role-play scenario in which students acted as members of the UN, proposing and voting on resolutions.
Gildersleeve-Price shared his perspective on the seminar, highlighting the value of practical experience and theoretical knowledge. He emphasized how engaging with diverse perspectives and problem-solving approaches during the seminar challenged his own views and expanded his understanding. "Reading about it doesn't really open your mind to those different possibilities in the same way actually experiencing it does," he remarked.
Henriques and three other faculty members from INU universities were privileged to lead workshops. Henriques, an expert in climate adaptation and resilience, guided students through design activities and approaches applied to climate-related challenges that also helped break down cultural and language barriers. The workshop aimed to empower students to become agents of change in addressing climate adaptation and resilience. "I get really excited about helping students feel empowered — to be changemakers," explained Henriques.