News
Tom Benzing's journey: From textbooks to trout streams
---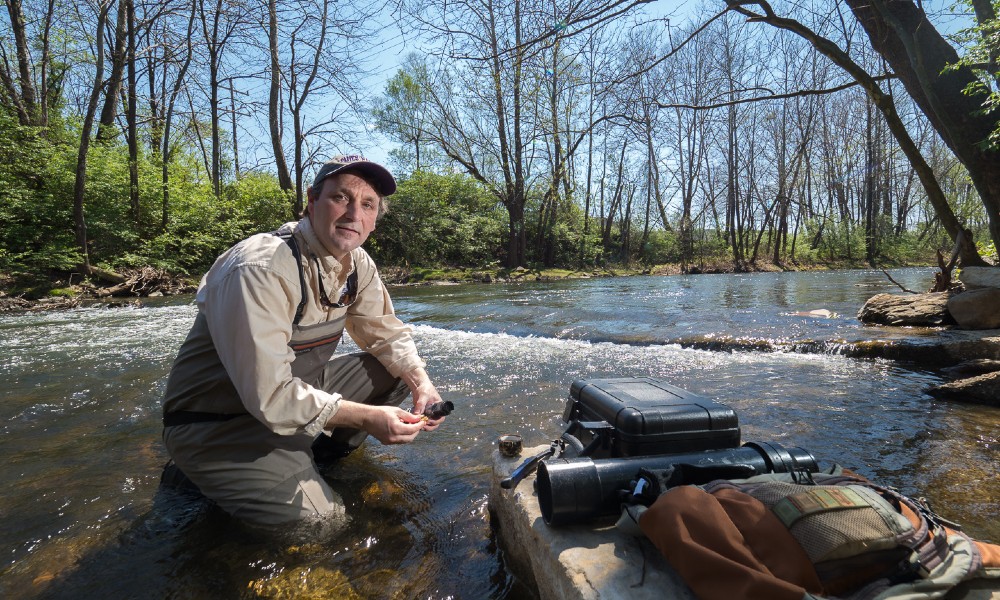 After nearly three decades, Tom Benzing, professor of Integrated Science and Technology (ISAT), will be trading in his textbooks for a fishing rod. With a rich academic journey that spans multiple disciplines, Benzing's career has been a testament to his dedication to education and the environment.
Benzing earned a Bachelor of Arts in Chemistry at Franklin & Marshall College, followed by a Master of Science in Organic Chemistry from the University of Pittsburgh, and his Ph.D. in Crop and Soil Sciences/Environmental Toxicology from Michigan State. His journey into academia began as an assistant professor at Hartwick College for three years before becoming an integral part of JMU's ISAT program during its early years.
Benzing shared his wealth of knowledge by teaching a range of ISAT courses, including Environmental Issues in Science and Technology, Natural Resource Management, Instrumentation and Measurement, and Environmental Hydrology – a course he held dear to his heart. His passion for these subjects and commitment to relevance in education left a lasting impact on his students.
Isabella Cerullo, a student in his Environmental Issues in Science and Technology class, says Benzing is a very passionate professor who cares so much about class content. "He tries really hard to make the coursework as relevant as possible, she says. "If we're talking about sustainability – he'll take us on a campus tour. If we're talking about water – he'll play a video about water from specific localities where we live." Additionally, Cerullo found the extra-credit assignment of planting trees to be a memorable experience. "It was a really cool opportunity." Cerullo appreciates that Benzing helped students develop the same level of concern for the environment that he has.
Benzing has been very involved in the community. He participated in various initiatives, including the South River Science Team, Shenandoah River Fish Kill Task Force, and Shenandoah Valley Pure Water Forum. His research focused on monitoring water quality to understand the effects of warming temperatures on trout and other fishes.
He also served as a Professor-in-Residence (PIR) at Waynesboro High School, focusing on supporting students who faced barriers to accessing higher education. As PIR, he collaborated with teachers and counselors to identify students and assist them with applications to college and for scholarships. Over his ten years at Waynesboro, many high school seniors were awarded scholarships to JMU through its Centennial Scholars and First Generation Scholars Programs.
In 2006, Benzing helped establish JMU's fly fishing club, Madison Flyfishers, and has served as the club's faculty adviser since its inception. Beyond fostering a community of fly fishing enthusiasts, the club engages students in conservation activities on local streams. Benzing takes pride in the club's official recognition and its continuing role in providing opportunities for students to engage in outdoor recreation, develop their leadership skills, and understand the importance of conserving natural resources.
"Everyone in the club really looks up to him as a fisherman," says Frank Driscoll, president of the Madison Flyfishers. "He teaches us how to tie flies, gives us tips for our big trips, and provides advice about managing the club. "He has a really good approach as an adviser – he gives us our space to act as a club, but when we need his help, he's there."
Benzing enjoys engaging with students both in and out of the classroom. "I'm going to miss interacting with the students more than anything," he says. "I enjoy working with students and being part of their success."
Benzing plans to stay active in the community and continue participating in the Valley's conservation organizations. He plans to spend more time fishing and serve in leadership roles with Trout Unlimited and the Virginia Museum of Natural History.