News
Celebrating Tim Walton's legacy
---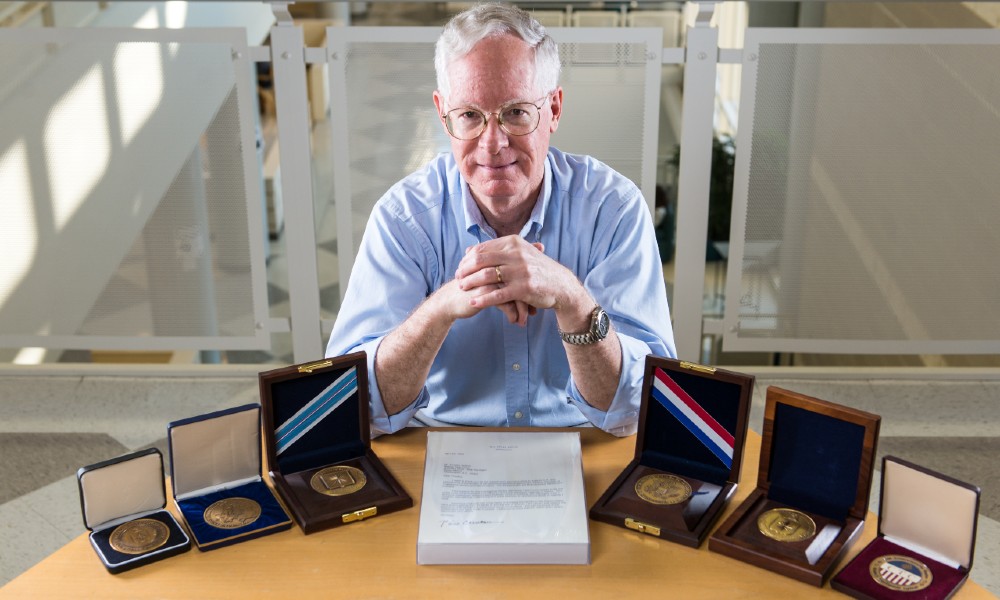 The College of Integrated Science and Engineering (CISE) waves a sad goodbye to Professor of Intelligence Analysis Tim Walton after 12 years at JMU. From the Navy to the CIA to JMU, Walton has lived a fascinating and rewarding life. He has positively contributed to his country and to CISE, especially the Intelligence Analysis Program (IA). With retirement at his doorstep, Walton reflects on his decades of service and the legacy of his late wife, Elizabeth Walton.
Walton graduated with a B.A. from William and Mary and shortly after volunteered for the Navy at the height of the Vietnam War. He was a communications technician who operated radio transmitters and receivers, cryptographic equipment, and the like. This meant he had top-secret security clearance, and his ship eventually served as the flagship in the Mediterranean.
Initially, he planned to become an educator, and achieving his doctorate was the first step. So, after six years in the Navy, Walton decided to obtain a Ph.D. in History from the University of Virginia. However, life rarely goes as planned, and Walton found himself working as an Intelligence Officer at the Central Intelligence Agency.
He was the perfect candidate for the CIA — he had been in the military, worked abroad and with big organizations, knew numerous languages, and had a top-secret security clearance.
Walton described his career at the CIA as the "best job on the planet. There's nothing like being an Intelligence analyst — you're protecting your country, but you do it with brains rather than excessive force."
He worked in the counter-terrorism and war crimes unit and received medals for his work in taking down war criminals and terrorists. His final assignment allowed him to work as an educator at the CIA's training academy. This position led him one step closer to his dream.
With six years in the Navy and 24 years at the CIA, he began thinking about his next steps. He started working at Science Applications International Corporation (SAIC), where several IA alums are employed. While at SAIC, he crossed paths with individuals who played pivotal roles in establishing the IA program at JMU. Walton's interest was instantly piqued upon learning about the program's need for faculty members. Soon after, he left the consulting firm and commenced his teaching career at JMU in 2011, realizing his long-held dream of becoming a professor.
Throughout Walton's career at JMU, the IA program expanded exponentially. It's rare for a school to have an IA program, "It has been a great pleasure and source of satisfaction to me – to see it grow and expand," says Walton. "The program now has 55-60 students graduating annually, with around 250 students in the program at any one time, and eight faculty positions."
The IA program requires the ability to solve mysteries and problems, which is just what Walton taught his students. One of the biggest challenges in IA is the ability to quickly and effectively assess complex situations and prepare for the inevitable unknown. Students must think outside the box and evaluate responses and actions aimed at successfully achieving a specific goal.
Walton's favorite class was satellite imagery. Students were taught to use satellite imagery for environmental monitoring and other problems— collecting valuable information on issues such as Iranian nuclear facilities to the Mexican border wall.
Walton met his late wife, Elizabeth, at the CIA in 1982, where she was an economic analyst and intelligence officer. Despite facing gender discrimination in a male-dominated field, Elizabeth persevered in her career. Unfortunately, she had to retire due to hereditary cancer and passed away in 2018, leaving a legacy of intelligence and determination.
"Elizabeth was a phenomenal human being, strong in both heart and mind," says Walton. "She was extremely intelligent and driven and continues to be an inspiration for all women." 
To honor her memory, Walton established the Elizabeth F. Walton Memorial Scholarship Endowment, providing two scholarships of $20,000 annually to female students in the IA Program --- continuing to inspire and support women pursuing careers in intelligence analysis. 
"It's my favorite time of year when we select the new scholarship recipients," says Walton. "I can't tell you how rewarding it is to see my students thrive." He is incredibly grateful for the opportunity to support smart, hardworking, underprivileged women passionate about intelligence analysis. In a world where gender bias is prevalent, helping female students overcome even one barrier is priceless.
Walton continues to donate to the permanent endowment to honor his wife's legacy and assist students in higher education. "Several IA grads have used this to say "thank you" to the program," notes Walton.
His career has made a tremendous impact on our country and his students. Walton plans to continue supporting and advising students and remain involved in the IA Program. He hopes to teach part-time and be an occasional guest speaker.
We wish him luck in his future endeavors, thank him for helping to grow JMU's IA Program, and for his contributions to the CISE. His tireless research on the challenges and future of intelligence analysis will inform students, professors, and analysts for decades to come.