News
CS camp inspires local refugee students to explore computing
---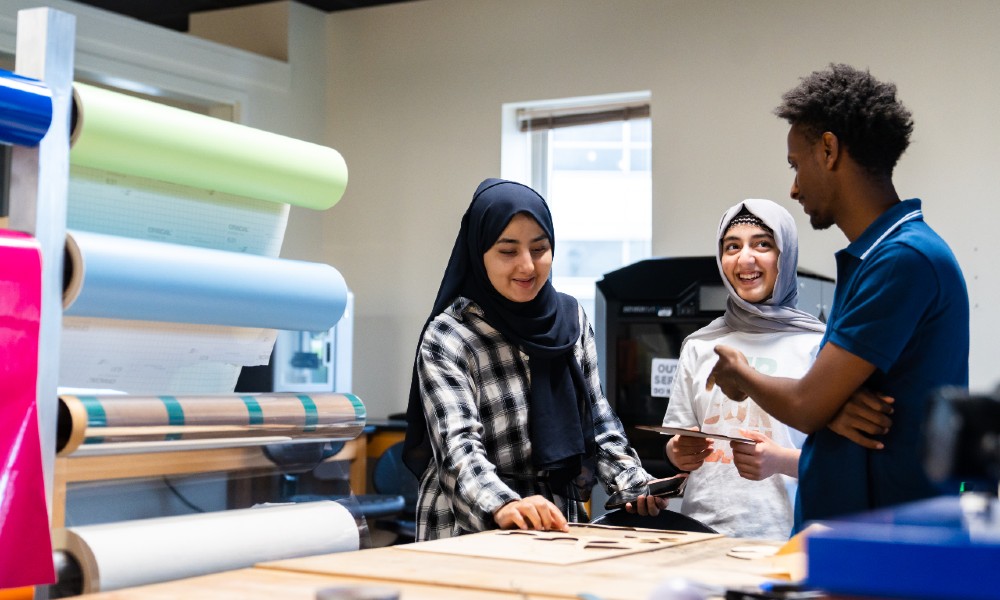 The Computer Science Computing Camp, now in its fifth year, successfully introduced a new Virtual Reality track, providing an exciting opportunity for local refugee students to expand their knowledge of computer science. Organized in collaboration with the Church Worldwide Service Harrisonburg Immigration and Refugee Program, the week-long camp empowers students and promotes computing education in the community.
This year, 24 local high school students from Rwanda, Eritrea, Democratic Republic of the Congo and Afghanistan attended the camp — seeking to broaden their horizons and explore the exciting world of computer science. CS and Information Technology professors, CWS interns and several undergraduate teaching assistants assisted with the camp.
Under the guidance of CS professors Issac Wang and Chandani Shrestha, the camp incorporated an HTML/CSS and Virtual Reality track, challenging students to immerse themselves in cutting-edge technologies. CS professor Chris Johnson taught his popular Twoville Track — a creative and innovative language he created to facilitate programming learning through coding and printing 2-D designs.
The Twoville Track introduced students to the fascinating mathematics and computation behind the two-dimensional design. Through a unique approach, participants sketched their designs on paper, translated them into Twoville code, and transformed them into physical artifacts using several fabrication tools. The students' creations included vinyl stickers, greeting card designs using a programmable sewing machine, and acrylic artifacts using a laser cutter.
"The students demonstrated creative ownership of their designs and often made artifacts that reflected their cultures and countries of origin," said Johnson, expressing his admiration for the students' enthusiasm and cultural expression through their work.
The Virtual Reality track, designed for students who attended the camp previously, built upon their knowledge of HTML, CSS, and web development. The students began with capturing panoramic campus images, creating a digital photo library, and later explored VR projects using HTML with the web framework A-frame. This allowed them to integrate personally chosen 3D models and panoramic images, resulting in immersive galleries that they experienced using VR headsets.
Shrestha applauded the students' inquisitiveness and creativity, "We encouraged individual contributions, fostering flexibility and the students' unique perspectives. One participant even developed a website for her hair business, showcasing remarkable entrepreneurial skills."
The camp culminated with a student showcase, where the participants proudly presented the work they created throughout the week. "It was clear that they had learned a lot and were excited to work with our faculty and staff," said Bob Kolvoord, dean of JMU's College of Integrated Science and Engineering. "This is the kind of engaged learning our college is known for, and it was a pleasure to witness it in action."
Rebecca Sprague, CWS Youth and Employment program coordinator, expressed her gratitude: "The camp was a tremendous success. The students were engaged and explored computing concepts while having fun and nurturing their creativity."
About the CS Computing Camp
The Computing Camp is an annual week-long program that introduces and engages local refugee students in computer science. The camp, hosted by JMU Computer Science, fosters learning, creativity and personal growth in a supportive environment through various tracks.