The College of Integrated Science and Engineering announces new Associate Dean
News
---
Afzal Upal will join JMU's College of Integrated Science and Engineering (CISE) this summer as associate dean.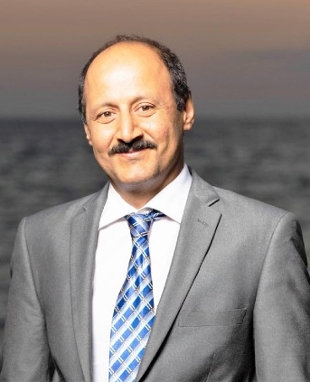 Upal has studied across multiple scientific disciplines, including computer science, physics and psychology. His cross-disciplinary background drew him to CISE. "I really feel like my whole life has prepared me for a position like this," Upal said.
Upal was born in Pakistan, where he completed his undergraduate degree in double math-physics at the University of Punjab before moving to Canada with his family. He continued his education in Canada, obtaining another undergraduate degree and a master's degree in computer science at the University of Saskatchewan. Finally, he earned a Ph.D. in computer science at the University of Alberta, writing his dissertation on machine learning.
Since completing his education, Upal has worked in academia, industry, and government roles. Some of his past jobs include working for a software development company in Arlington, Virginia, where he built artificial intelligence systems and working for almost a decade as leader of the Information, Influence & Effects Research Group at Defence Research & Development Canada. Upal has always sought out roles that allowed him to work across a wide range of disciplines, not wanting to limit himself to one field of study.
"I've always found interdisciplinary approaches," Upal said. "Any problem is multidisciplinary."
Upal has taught at several universities, but currently, he is a professor and the chair of the Computer Science and Software Engineering Department at the University of Wisconsin-Platteville.
Beginning in the spring of 2024, Upal will be instructing one course per semester at JMU. His primary focus will be teaching computer science courses while also contributing to the School of Integrated Sciences, leveraging his diverse academic background.
Upal will work alongside Jeff Tang, CISE associate dean, dividing responsibilities based on their unique strengths.
"Dr. Upal brings a varied professional background and extensive administrative experience that will immediately expand the range of what CISE can accomplish, says Tang. "Additionally, his people-first attitude gives us all confidence that he will quickly forge valuable working connections across JMU."
Upal is most excited about CISE because of its interdisciplinary nature. He said he looks forward to working with and learning from the diverse faculty in the program.
"It will be very refreshing to me to be in a place where all sorts of ideas flourish," Upal said.
Upal has witnessed an increased demand for interdisciplinary science programs among students as well as employers and sees JMU as a pioneer. He feels that the college has positioned itself well to appeal to students today who seek programs that teach a diverse set of skills. As similar programs begin to spring up across the country, Upal wants to focus on ensuring JMU's College of Integrated Science and Engineering remains in the lead.
"I think we are in a great position," Upal said. "Students now are looking for programs that are not bound to those traditional academic stovepipes — programs that give them all the skills they need to solve real-world problems."
"But that means we have a lot of competition we never had in the past," Upal continued. "We need to make sure we stay on that cutting edge. I think that would be something I would love to contribute to — making sure that our programs are up to date to continue attracting the best and the brightest from across the country and the world."
Bob Kolvoord, dean of CISE, is excited about the new hire. "We're thrilled that Dr. Upal is joining the leadership team. He brings a great deal of experience, especially in the interdisciplinary spaces where our programs live. He's an important addition as we support the faculty and students across our rapidly growing programs."