News
Professor Tony Chen never canceled a class in his 25 years at JMU
---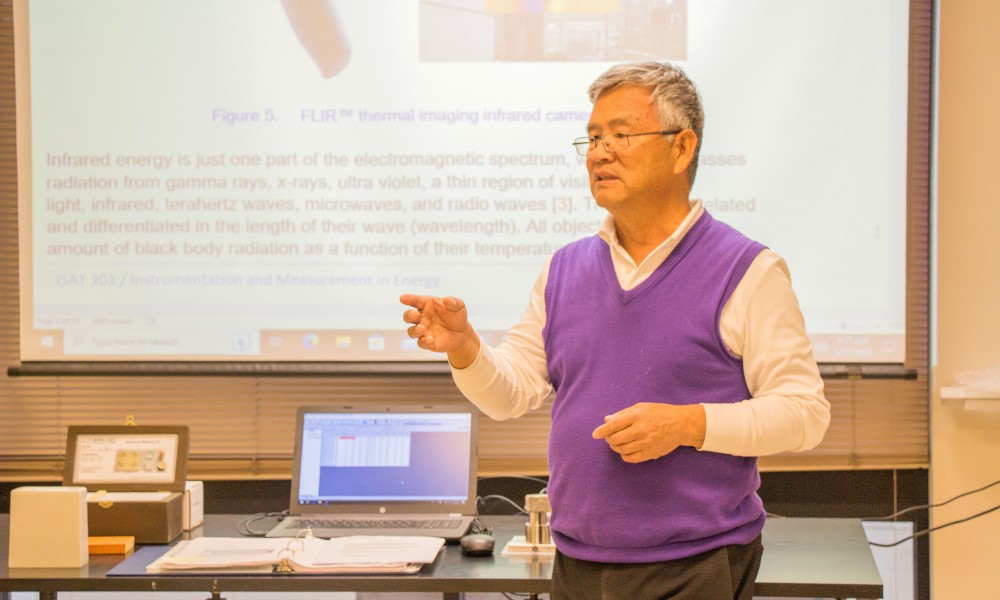 After dedicating 25 years to educating and inspiring countless students, Integrated Science and Technology (ISAT) professor Tony Chen will retire in August.
Chen earned his undergraduate degree in physics at Chung Yuan Christian University in Taiwan and moved to Iowa in 1981 to pursue his master's degree in mechanical engineering. Then, he made his way to Virginia to complete a Ph.D. in Mechanical Engineering at Old Dominion University. After that, he worked for six years as a research associate at Oak Ridge National Laboratory in Tennessee before joining the faculty at JMU in 1998. 
"It has been a long journey," Chen said of his time in academia.
At JMU, Chen taught calculus, physics, and thermodynamics. His favorite class to teach is Calculus 151. He said he loves seeing the eagerness of the first-year students in his introductory-level courses.
As for what he'll miss the most about JMU? It's the little things, like carpooling to work with his wife, who also works at the university.
"I think I will miss my daily routine," Chen said.
Chen has also been active with his academic research in heat transfer and thermodynamics while at JMU and has published several conference papers on the topic. But mainly, Chen focused on teaching and connecting with his students.
Lorelai Lamoureux, a sophomore ISAT and Sociology major, took calculus with Chen as a first-year student. Lamoureux said Chen was a thorough and enthusiastic teacher, making a challenging subject like calculus easier for everyone to learn.  
"Having a professor who really cared that we actually understood what we were learning meant a lot to me," Lamoureux said.
Chen advised the ISAT Honor Society and connected with students based on shared interests, particularly sports. "I play soccer, so often I chat with students on the club soccer team," Chen said. "I enjoy almost all sports, but especially soccer and golf."
Chen has a wide range of hobbies, including playing soccer and hiking, that he plans to continue with in retirement. He and his wife also grow a vegetable garden in their backyard and like to cook together.
One memorable aspect of Chen's time at JMU sets him apart from many professors.
"I never canceled any classes," Chen said. "Can you imagine?"
Chen never canceled a single class in his 25 years of teaching. The closest he got was once in 1999 when he met with the US Immigration Office and had a colleague sub for his class. But even then, he made it back for the second half of the lecture.
"I think I learned this from sports – you just have to have endurance," Chen said.
Lamoureux isn't surprised that Chen never missed a class at JMU.
"I wouldn't expect him to ever miss a class intentionally," Lamoureux said. "He likes [his students] too much."
Chen plans to split his time between Harrisonburg and his winter home in Florida. Even though he's leaving JMU, he isn't ready to leave Harrisonburg for good quite yet.
"Harrisonburg is where I've lived the longest, even longer than my hometown," Chen said. "So it's quite a memorable period of my life so far, and I'm very grateful for that."