JMU Beekeeping Club is back and yellow
News
---
To bee or not to bee?
Integrated Science and Technology (ISAT) professor Wayne Teel pondered this question when JMU's Beekeeping Club, initially founded in 2018, collapsed after the COVID-19 pandemic hit in 2020. Leadership members of the club graduated, and Teel was left to manage the club's beehives on his own, eventually hiring Siller Pollinator Company to help maintain the hives.
During the fall of 2021, Teel approached his Geography students to see if there was interest in reviving the beekeeping club. Three students — Eva Heller, Claire Sherwood and Taylor Mountjoy — responded. They were eager and excited to restart the club with Teel as their adviser.
In the summer of 2022, Eva Heller became the club's secretary, working alongside the President, Claire Sherwood, and Vice President, Taylor Mountjoy. Holly Wageley joined later and became the treasurer. The club now has more than 40 active members.
"I've always been a fan of anything involving the outdoors and the environment," says Heller, who is concentrating in environment, conservation, sustainability, and development and completing a minor in environmental science. "I always thought bees were really fascinating, but I never had the opportunity to try beekeeping before this."
"Pollinators are extremely important, and I wanted to get involved and see what we could do to make them more apparent on campus," Heller said.
But beekeeping would be a new challenge for her, as it was for most students who joined in the coming weeks and months.
"It's a high learning curve for the students because none really come with beekeeping experience," Teel said.
To gain more hands-on experience, the club has been diligently studying under the expertise of Allison Wickham ('12), who owns and manages the daily operations of Siller Pollinator Company. Even though the club has a full roster of members, Siller still helps maintain the hives and has happily added "teaching club members how to care for bees" to her duties.
"I'm excited that there's been so much interest," Wickham said. "It's been rewarding to see that folks are interested in what's going on with the bees and want to continue to learn more."
"We've been so happy with Allison because of her willingness to teach the students," Teel said.
The beekeeping club gathers for general meetings and social events so the members to get to know one another. But the most exciting aspect of being in the club is the hive meetings — where members join Wickman, dress in bee suits, go down to the campus hives and tend to the bees.
"We just throw on suits, go down to the hives, and we're able to observe them, touch them, see them interact with each other," said Heller. "It's just really cool."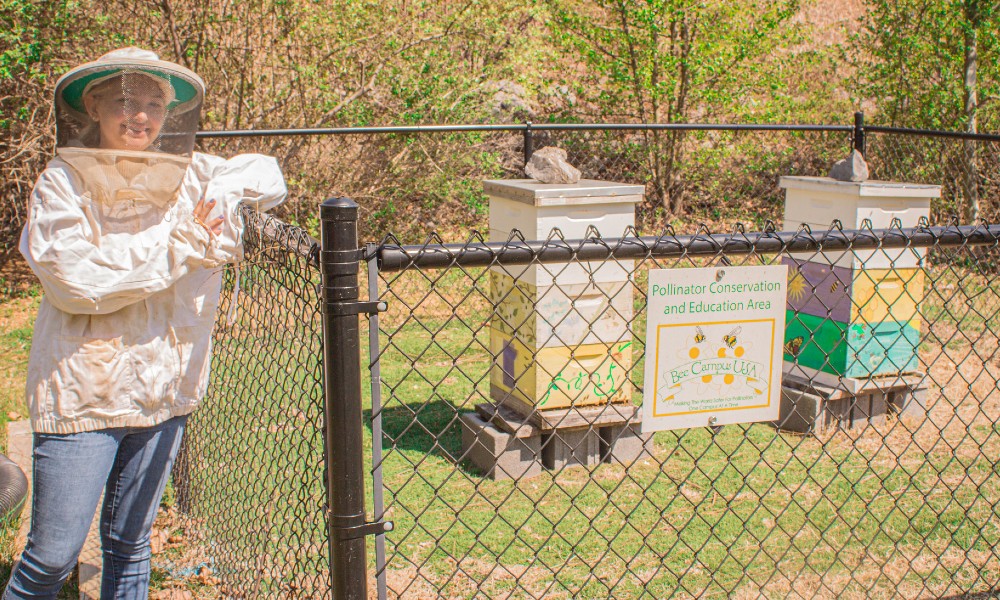 The beehives are located on JMU's East Campus below the retention pond — and with the new  Edible Forest Garden — there is plenty of plant life for bees to pollinate.
"The advantage of having bees where we do is that we now have fruit trees in an edible food forest, and we have the meadows," Teel explained. "So, we have all these sources of flowers for the honeybees to collect, along with providing habitat for native pollinators."
Although there are many positives to beekeeping on campus, the bees' yearly schedule doesn't align with the academic year. Bees are most active from April through September — when school is not in session — and slow down in October. "Sticking to it when you can't see the peak of the season is kind of hard," Teel said. "But the students do it, and they've done really well."
"Bees don't require quite as much maintenance as one might think," notes Teel. "Wickham and the students monitor the bees for parasites and mites, ensure the queen is thriving and that the hive is having reproductive success. Other than that, the bees do all the work."
Last fall, the beekeeping club used the bees' productivity to support their organization by having a "Honey Harvest." Bees store honey to use as their food during the winter months. However, they usually have an excess amount, so whatever they don't need for their food source is harvested and sold.
Wickham helped the club determine how much honey the bees needed to survive the winter. Then, club members gathered 90 jars of honey to sell as a club fundraiser. "We sold every single drop, and people were really excited to buy it," Wickham said.
For Heller and others, being a part of the beekeeping club is a way to be actively involved with environmental issues on campus and worldwide. "Even being a part of something small like maintaining two hives on campus makes me feel like I'm doing something for the greater good," Heller said.
The club will be expanding the hives. This will increase profits from potential honey sales, giving the club more room to grow.
While more hives are being added, many beekeeping club members will graduate in May. But that doesn't mean their passion for beekeeping will end.
"I'm looking right now to see if there are any part-time summer jobs that involve beekeeping because it's something I find really, really cool," Heller said.
Follow JMU's Bee Friendly Beekeeping Club on Instagram.