IA students present at the Annual Intelligence Studies Consortium Symposium
News
---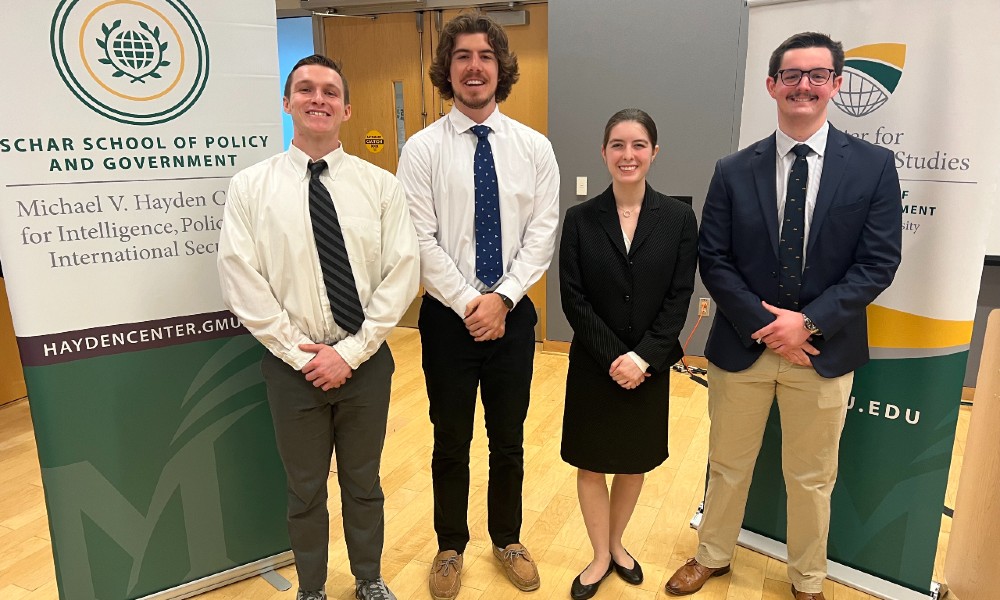 SUMMARY: (L-R): IA students Adam Scroggins, Matthew Snyder, Kylie King and John Fleetwood
---
The third Intelligence Studies Consortium Symposium, New Perspectives in Intelligence Studies, took place on March 24 and was hosted by George Mason University.
The event brought together students from intelligence analysis-related programs in the D.C. region to present their research on critical topics, including Russia and China, Violent Non-State Actors, Emerging Technologies, and Transitional Challenges.
"Three students, Kylie King, Adam Scroggins, and Maddie Walden, from JMU's Intelligence Analysis program were the only undergraduate presenters accepted to the symposium," says IA professor Philip Baxter. Students presented their research on "China's Economic Instability," "Civil Unrest in Chinese Investments," and "Pandemic Prevention Measures."
Scroggins' research focused on a crisis facing China started by a scam. "It felt great to represent the IA program, JMU, and my professors," he said.
King presented her team's work on possible threats of terrorism and civil unrest from overseas mining — an issue facing China. "I was incredibly nervous, but the question and answer section was my favorite part," she said. "It brought a lot of depth to the experience." She was excited to "dig into the intricate details" of her research for the attendees.
Walden presented his research on the impact pandemics have on the United States intelligence community. "There aren't any other universities with a dedicated IA program," she said. "It is something that "definitely sets JMU apart." Walden believes connecting at events like this is essential for every IA student because of the intensity of the intelligence field.
"The different types of high-quality analytical products our students were able to produce and then present in such a professional venue really demonstrates the strengths of the IA program. The students' work really stood out," said Baxter. 
Keynote speakers included Former Director of the Central Intelligence Agency General Michael V. Hayden and the Honorable Shannon Corless, current Assistant Secretary for Intelligence and Analysis at the U.S. Department of the Treasury. In addition, the event involved four panels, where attendees asked presenters questions about their research.
"I was asked a dozen questions about topics related to my project," noted Scroggin. "I was excited to share all that I learned." 
Walden, Scroggins and King are submitting their work to intelligence journals for prospective publication.