News
JMU hosts madiSTEM conference
---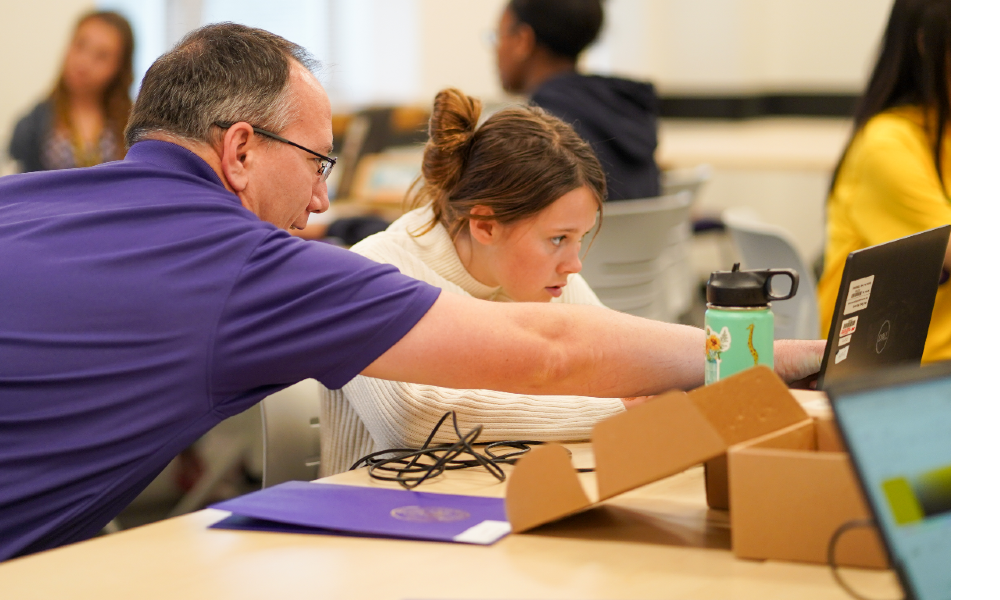 JMU hosted the 13th annual madiSTEM: Making a Difference in Science, Technology, Engineering, and Mathematics (STEM) conference on March 25. Formerly known as the Expanding Your Horizons (EYH) Conference, madiSTEM is a one-day STEM conference for girls in Grades 6-8. The free event encourages female participation in STEM and raises awareness about professional opportunities in STEM fields.
The event was directed by Celes Woodruff, College of Science and Mathematics Interim Assistant Dean, Colleen Watson, professor of Mathematics, and Mike Lam, professor of Computer Science.
Woodruff wants kids to leave the conference with a better understanding of STEM. "I want them to know [STEM] is an option."
Students selected workshops in various subjects such as programming with Finch robots, soap making, examining cells, and physics demonstrations. In addition, adults could accompany their child or participate in adult workshops such as a tour of JMU's Mineral Museum, a student panel on STEM, and an admissions and financial aid presentation.
Keynote speakers Leslie Dutt and Erin Johnson shared their career trajectories and current roles at Merck, while Ann Havasy discussed her work as the founder and Executive Director of The Center for Science Teaching and Learning, including her role as a consultant for the film "Jurassic Park."
In addition to engaging young girls in STEM, the event inspires interest in JMU and enables undergraduate student volunteers to gain mentorship experience. "Outreach is so important to the university's mission," explains Woodruff. "These kids may have never heard about JMU — now they've been on the campus, visited the facilities, and seen what we offer."
Computer Science major, Matthew Wong, assisted with the conference. "Students got really excited to make something of their own and see what they're capable of doing in a coding workshop led by Chris Johnson, professor of Computer Science." "Programming can be a daunting thing, but the workshop allowed them to try it out and see that it's possible," adds Wong. "It gives them the confidence to continue or begin pursuing this."
"We have a massive disparity in computer science between genders," says Lam. "It's a gap that really shouldn't be there." He hopes that experiences like madiSTEM will lead to broader participation in computer science and other STEM fields.