News
ISAT student explores using mushrooms as home insulation
---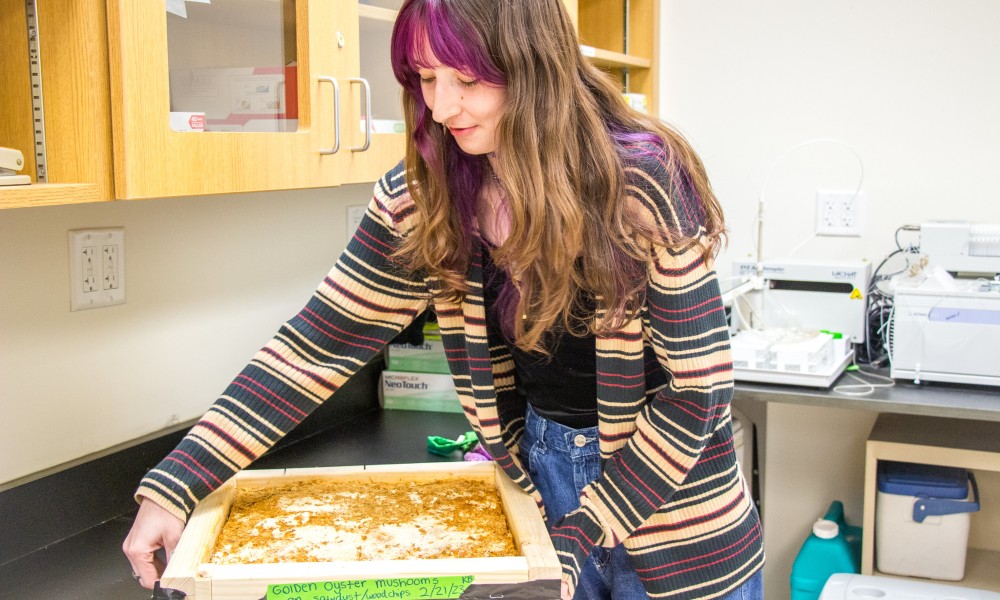 Could mushrooms be an environmentally friendly way to insulate homes? Integrated Science and Technology (ISAT) major Kaylyn Berg and professor Wayne Teel are putting fungi to the test.
While mushrooms have been used to create sustainable packaging, they have yet to be used to insulate homes successfully. However, they are an exciting possibility as a replacement for current construction materials like fiberglass and closed cell foam boards. Fiberglass materials can produce air pollutants, and it degrades very slowly.  Closed cell foam is also difficult to dispose of or reuse.  Using a compostable alternative could reduce or eliminate many environmental concerns in the construction sector.  
Mushrooms can potentially work as insulation because their fibers trap gases, preventing heat from moving through walls.
"That's the novel part of the project: looking at [mushrooms] as insulation," Teel said.
After exploring possible fungi projects and watching a documentary, Berg became fascinated with mushrooms.
"I see [mushrooms] a lot on walks and have always been curious," Berg said. "I started realizing there was much research happening that was cool."
Berg combined her interest in mushrooms and her passion for environmental sustainability for this project. She has always been interested in using biodegradable materials and finding positive solutions for the environment.
As part of the ISAT program, all seniors must complete a capstone project that focuses on a problem with a real-world component. Berg's senior capstone aims to prove that using mushrooms for insulation is possible and a better solution than typical insulation materials like fiberglass. 
"In general, I don't support using things that don't biodegrade," Berg said. "It's great we found a material we can use that can be composted at the end of life."
Currently, Teel and Berg are growing oyster mushrooms in the lab on a bed of sterilized wood waste – using materials that otherwise would have been discarded. "The wood chips used as a base for growing the mushrooms are from a local pallet business," explains Berg. "They would have been thrown away if I didn't utilize them for my project." She wishes more people were aware of the discarded resources—she's found that one person's trash truly is another person's treasure.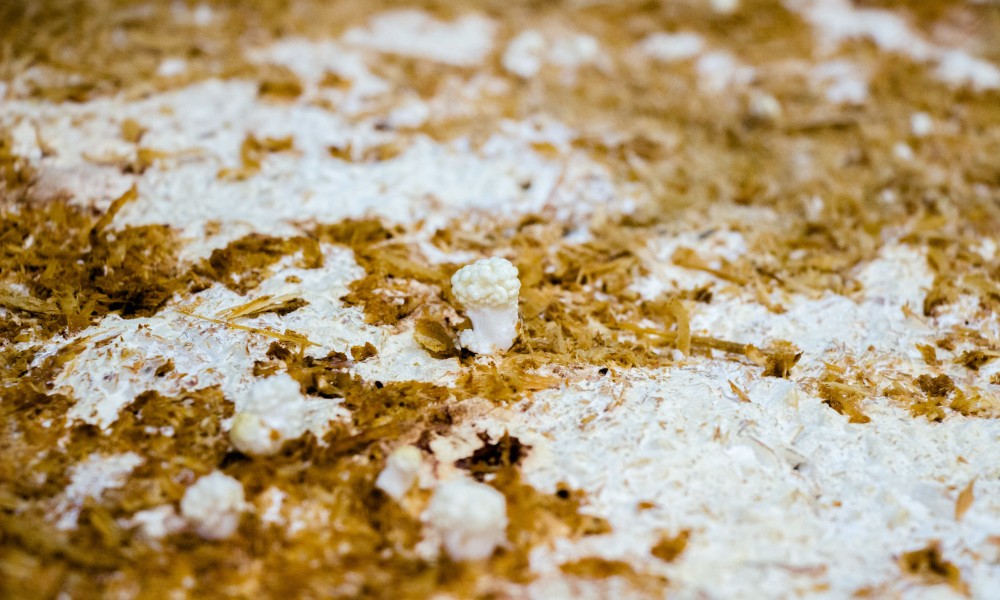 "People should get more familiar with local waste that's being made and see what we could do with that," Berg said.
Achieving ideal lab conditions for growing mushrooms has been problematic. The mushrooms are drying out due to low humidity in the lab, so Teel and Berg spray them with water at least three times per week.
"We're learning what we must to adjust procedures and provide the right growth environment," Teel said.
Teel says the project has yet to yield satisfactory results, but they are making progress and are hopeful that mushrooms can work as functional insulation for homes. In addition, both Teel and Berg are having fun along the way. Teel says Berg's enthusiasm and passion make the project a joy to explore. As for Berg, she's thrilled to be immersed in fungi.
"I've just been loving the mushroom world," Berg said.