News
ISAT students attend conference in Mexico
---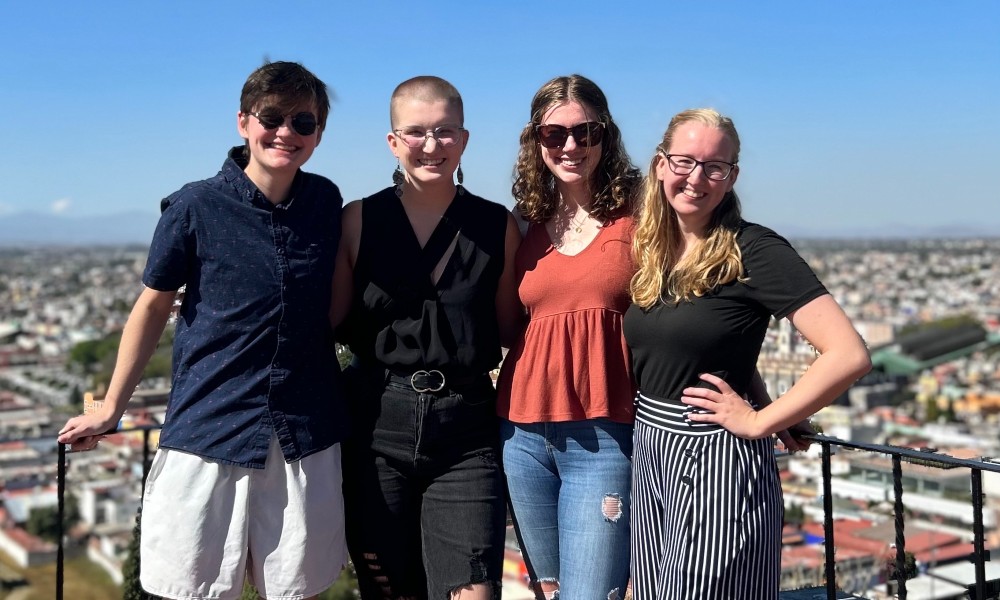 Integrated Science and Technology (ISAT) students Alexa Houck, Jessica McMasters, Charlie Thomas, and Reggie Wilcox presented their research at the Society for the Social Studies of Science (4S) annual meeting in Cholula, Mexico, on Dec. 7-10, 2022.
Under the direction of ISAT professors Shannon Conley and Emily York, the students' work revealed how interdisciplinary research and coursework are vital to students' learning by enhancing the quality of their education and their ability to make connections and create new ways of learning and knowing. It examines student roles in pedagogical research, how students act as facilitators, add to research, provide new perspectives to teaching, and how asking questions enhances pedagogy.
Their presentation, "Centering Students in Pedagogical Research: The Collective Imagining of Just Futures," involved a combination of work from two grants – Collaborative Research: RUI: Collaborative Research and Education Architecture for Transformative Engagement with STS or CREATE/STS, a $300,000 grant funded by the National Science Foundation and Ethical Reasoning in STEM Through Multi-Disciplinary Collaborative Teaching funded by the Colonial Academic Alliance. ISAT students Sydney Forman and Meghan Gelerman also worked on this project and presentation.
"I want to pursue my Ph.D. and become a college professor," says Wilcox. "Having this experience of being involved in research, presenting, and attending conferences will be very beneficial. It set the tone for a lot of my future endeavors. It definitely made me excited to continue pursuing similar work and research."
Conley noted how proud she was of the students and the hard work they put into the projects and presentations. "It was wonderful to present with them and see the final product. They put in a great deal of effort and many iterations of the presentation, which resulted in a polished and professional representation of the work we are doing at JMU. I'm so glad I could participate in this professional development experience with them."