News
Computer science professor receives two NSF grants
---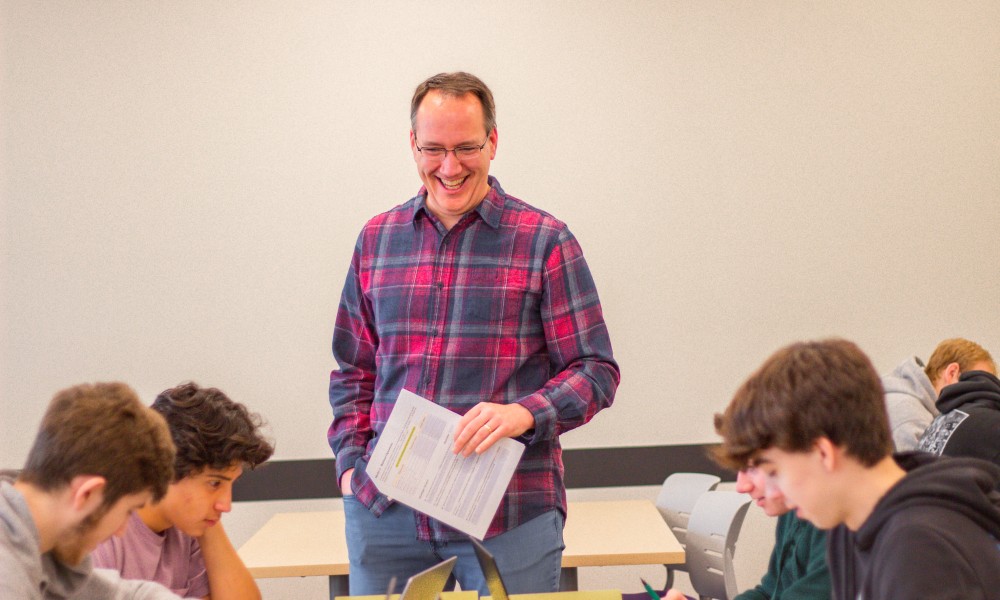 Chris Mayfield, professor of computer science, has been awarded two grants by the National Science Foundation (NSF) for projects on fostering student engagement and professional development for high school educators.  
Under its Improving Undergraduate STEM Education (IUSE) program, the NSF granted $300,000 for the development of the project Exploring the Impact of Process Oriented Guided Inquiry Learning (POGIL) on Student Engagement and Conceptual Understanding. The program is designed to study engagement and understand the effects of certain teaching strategies on student engagement using a student-focused approach to learning.
Under POGIL, students learn in small teams, and the instructors facilitate team interactions. Activities are based on a learning cycle model, focusing on exploration, concept invention, and application. Central to POGIL are process skills used in the knowledge-learning and application process, such as teamwork, problem-solving, and critical thinking. 
The Gallup-Purdue Index revealed that higher engagement leads to success and greater well-being in the classroom, academic programs, and professions. As a result, students achieve better grades and feel a greater sense of belonging in their course of study. This is especially important for computer science students. "[Students] may struggle in their major-related classes due to a lack of exposure to computer science coursework before college," says Mayfield. "We want those students to be engaged, feel like they belong, feel they can be successful, and know they're not the only ones struggling."

Mayfield received a second grant, Equipping for Praxis: Advancing Computer Science Teachers Through Endorsement. It aims to prepare teachers and improve student access to high-quality computer science education. The program is a collaboration between James Madison University and CodeVA, a Richmond-based nonprofit that provides computer science education to students across Virginia. CSforAll, a program of the NSF, has awarded the project $1 million to be distributed over the course of three years.  
The grant will be used to train and support high school Career & Technical Education (CTE) teachers through a new professional development program. The tailored training will enable them to pass the CS Praxis exam to be licensed to teach advanced computer science courses. In addition to focusing on their professional development as educators, the program will examine how the training impacts their identity as a computer science teacher and how that affects classroom learning. 
"We want the students to be more successful, and we want more students to have access," says Mayfield, who serves as Co-PI for both programs. "We want the students to be taught with effective methods, and we want the teachers to have a better experience, to be better prepared, and be more confident about their teaching." 
Learn more about JMU's computer science major.