News
CISE and COB offer Blockchain seminar series
---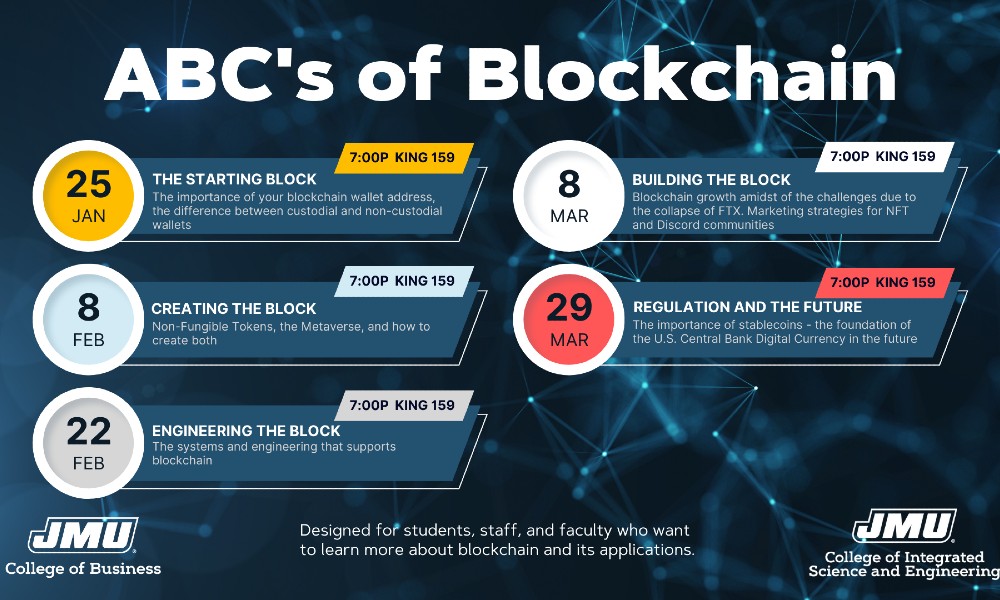 Blockchain is a technology to boost the security of internet transactions.  It sits underneath cryptocurrency, but it is so much more.  
JMU's College of Integrated Science and Engineering (CISE) and the College of Business (COB) are partnering to offer five Blockchain seminars held every other Wednesday through March. Seminars will be held 7:00 p.m. in King Hall 259.
The series, created and hosted by Marcus Griffin, a senior strategist for blockchain applications and cryptocurrency. It is designed for students, staff, and faculty that want to learn more about blockchain and its applications.
January 25
The Starting Block:  Blockchain and Wallet Literacy 
Speaker: Benjamin Ryan
Benjamin is the Business Development lead at Arculus, a leading crypto wallet and security company.
Learn about the importance of your blockchain wallet address, the difference between custodial and non-custodial wallets and storing NFTs on cold storage wallets, using the Arculus wallet, and transferring cryptocurrencies globally.
February 8
Creating in the Block:  NFT's and the Metaverse
Speaker: Francesca Bercasio
Francesca is a FinTech major at VCU, passionate about solving real-world problems with blockchain technology, and President of the VCU Blockchain Club.
Learn about Non-Fungible Tokens, the Metaverse, and how you create both. Francesca will also cover specific use case strategies and their potential in the future.
February 22
Engineering the Blockchain
Speaker: Amber Orr
Amber is an engineer with experience in the industrial and power sectors. She is the director of Engineering and Energy Services at Ion Engineering.
This session will focus on the systems and engineering that support blockchain, how the current system came about, and what it will take to build blockchain in the future.
March 8
Virginia on the Block: Statewide Agenda, Initiative and Resources
Greg Leffel, Executive Director, Virginia Blockchain Council
Learn what's happening to support Blockchain in Virginia, now and in the future. Become a part of the growing Blockchain community on campus and in the Commonwealth.
Greg is an entrepreneur and the Executive Director of the VA Blockchain Council.
March 29
Blockchain Regulation and its Future
Speaker: Ariel Gonzalez 
Ariel is a JMU alum and listed as one of the Top 100 Lobbyists in the U.S. He is the lead lobbyist for Merkle Standard.
Ariel is an expert in understanding what is happening in D.C. regarding regulation. He will discuss the importance of stablecoins, which will be the foundation of the U.S. Central Bank Digital Currency in the future.