JMU professors propose new program for students on the autism spectrum
News
---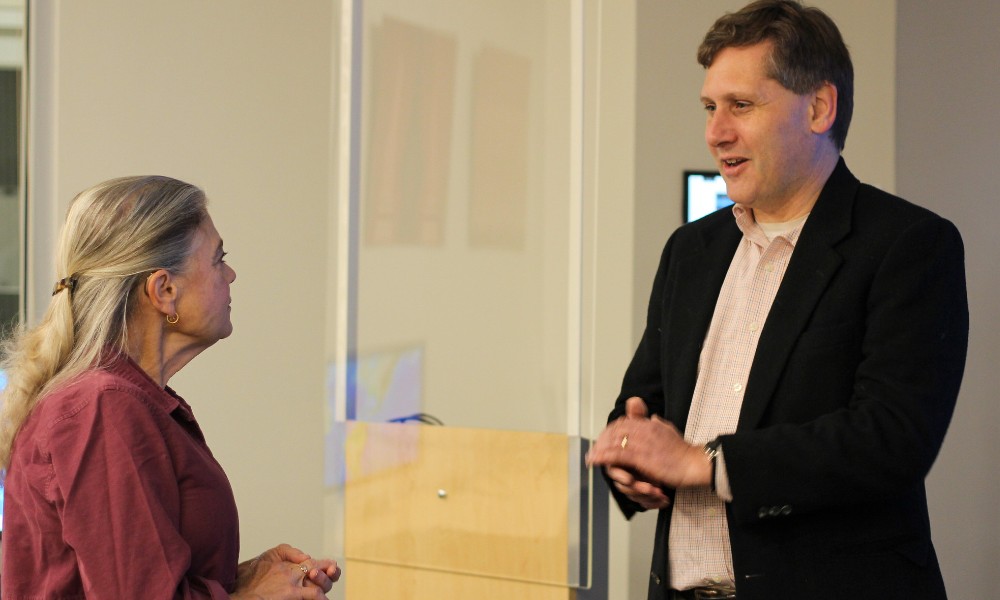 Zachary Bortolot, director and professor of JMU's Geography Program, and Laura Desportes, professor of education, team up to create a Comprehensive Transition Postsecondary (CTP) program for individuals on the autism spectrum.
"During my time as a faculty member at JMU, I have had the opportunity to work with multiple students on the autism spectrum who are very interested in satellite imagery, Geographic Information System, and other geospatial technologies and who have the potential to make significant contributions to the field," says Bortolot. Unfortunately, these students often struggle at JMU due to the lack of autism-specific supports." he adds. "In Virginia, there is a large demand for geospatial intelligence analysts, so I thought it would be really beneficial to create a program that enables people on the spectrum to gain the skills and knowledge they need to get jobs in this field."
As Bortolot explored ideas for the program, he realized expanding it to include disciplines outside of geography would be more beneficial.
He reached out to Desportes, who has been working toward creating a CTP for individuals with intellectual/disabilities at JMU for years. "Our idea now is to create a program with multiple tracks," Bortolot said.
"I hope JMU will see the benefit and allow us to become a comprehensive transition program," explains Desportes. "If that happens, it opens a lot of doors."
The program will include three tracks — one in Geography, one in Integrated Science and Technology and one in the College of Education. Bortolot hopes that once the initial tracks launch successfully, other colleges within JMU will be interested in participating in the program.
While the program focuses on serving individuals on the autism spectrum, Desportes said she hopes it will grow to include others. "That would be a great launching pad to expand to other populations and programs," Desportes adds.
The program will support students inside and outside the classroom. For example, teaching assistants (TA's) will be trained to work with students on the autism spectrum. In addition, students in the program will have the option to live in residential communities on campus. Bortolot and Desportes also hope to offer classes in professional development to teach skills necessary for those who desire to enter the workforce.
"The work of Bortolot and Deportes is coming at a critical juncture," says Bob Kolvoord, dean of JMU's College of Integrated Science and Engineering. "We are seeing more and more neurodiverse students in our society — especially those on the autism spectrum. With appropriate support, these students will earn their degrees and move on to a range of careers, bringing new insights into their work and benefiting themselves and society." 
Bortolot and Desportes are drafting their CTP proposal to the U.S. Department of Education. Designating the program as an official CTP provides access to financial aid to students, such as Federal Work Study and Pell grants.
If the proposal is approved, Bortolot and Desportes hope to launch the program in the summer of 2024.