JMU Engineering hosts second annual "Engineering a Better World" Camp
News
---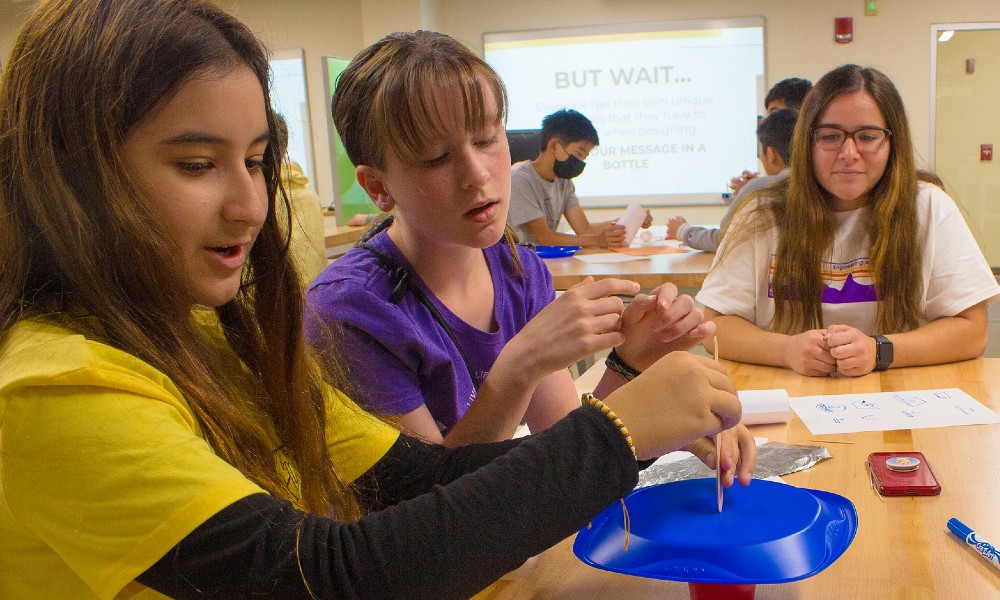 In October, faculty and students in the Department of Engineering hosted the second annual "Engineering a Better World" camp for local middle schoolers. The camp, held every Saturday from October 1-22, aims to teach young students about engineering and STEM-based disciplines through hands-on, team-based projects.
"The primary thing is to get students to see that a career in STEM-based disciplines can be very fulfilling," said Adebayo Ogundipe, Department Head of Engineering.
Each week, students from engineering student organizations – the JMU chapter of the Society of Women Engineers, Engineering Ambassadors, Madison Aerospace Club, National Society of Black Engineers, and Society for Hispanic Professional Engineers – worked on a different project using the engineering design process. For example, campers created a protective cover for an egg drop competition, designed a boat, and constructed a zip line.
"Inviting various student organizations to participate in the event is important," explains Ogundipe. "It makes our campers aware of the diversity that exists within engineering and STEM fields."
"It is rewarding to engage younger students in STEM and get them excited about their future career paths," says Megan Caulfield, engineering major and head of outreach for Engineering Ambassadors. "It's important to reach out to our community and invite middle schoolers to see what a STEM program looks like."
This is the second year the Department of Engineering has held the camp. Jamie Whisman, academic adviser and camp coordinator, said she saw an increase in the number of attendees this year, alongside repeat campers eager to attend for a second time. 
Of campers this year, Whisman says: "I hope they could look back [on the experience] and say, they had a good time, they learned something, [and] they might have gained some self-confidence."