ISAT students design hearing protection for local farmers
News
---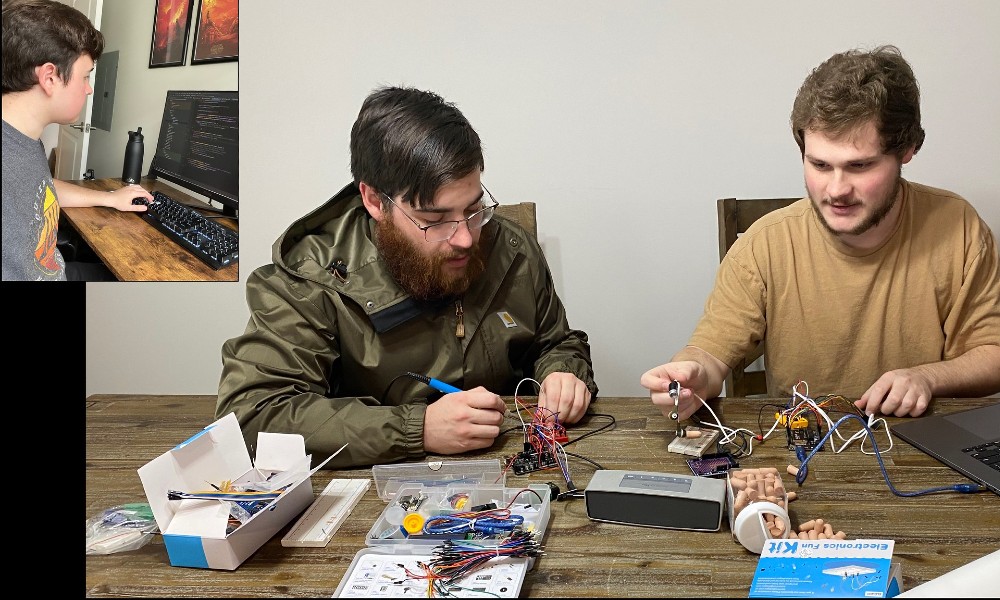 SUMMARY: A team of ISAT (Integrated Science and Technology) students design a hearing protection prototype to protect farmers in the Shenandoah Valley from hearing impairment.
---
By Sopie Edlich and Lynn Radocha
Farming is a huge source of economic activity in the Shenandoah Valley, In fact, Harrisonburg is located in the center of Virginia's top-producing agricultural region. Many in the local community work on farms and, unbeknownst to them, are often subject to excessive noise exposure that can eventually lead to irreversible hearing damage. 
Christian Bowman, Zayne Luker, and Will Sin, who have a strong connection with the local farming community, utilized their capstone project to develop a noise detection app to address the problem and take action against a preventable injury. 
"I work with a lot of heavy machinery, like tractors and forklifts," explains Zayne, who grew up in Harrisonburg and currently works in agriculture. "All of the machines make noise with  extremely high decibel readings that can damage your hearing over time." 
Integrated Science and Technology professor and capstone adviser, Chris Bachmann, lives on a farm and uses a tractor. "I've never used hearing protection or thought about using it," he admits. "My students showed me the sound intensity of a running tractor – it's definitely above the threshold that causes hearing damage."
Using farming equipment is similar to attending a concert. "At first, it sounds deafening," Bachman explains. "But after a few minutes, it doesn't because your hearing has a way of toning down the sound so that it doesn't feel excessive, even though it still is."
"I thought a noise protection solution was a really interesting idea," explains Bachmann, who drives to JMU each morning through miles of farmland. During these rides, he often observes young farmers operating machinery. "They just aren't aware of how loud that is and the damage they are causing." 
Sin developed a mobile app that detects the exact intensity (in decibels) of sound. When a phone with the app is in the presence of excessive noise, it vibrates, shows the decibel reading, indicates the length of the excessive noise, and alerts the individual to use hearing protection. In addition, the system records both the level of noise and exposure time to catalog long-term risks. 
Christian and Zayne created a noise-canceling device, allowing farmers to communicate while using their equipment and protecting them from hearing impairment. "We purchased various earplugs and speakers, set up a control board, made all of the connections, and programmed the speakers and earplugs," explains Christian. However, on a farm, the distance between workers is too far for Bluetooth to work effectively, so the team had to overcome the hurdle of helping farmers communicate. 
Knowing walkie-talking signals can keep people in contact in deserted areas when they're miles apart, the students utilized the wiring and technology behind walkie-talkies. They developed earbuds with the push-to-speak format – creating hearing protection with a noise-canceling microphone that allows farmers to communicate clearly.
When used together, the device and the app will allow farmers and agriculture workers to be more aware of noise exposure and be prepared to protect themselves.
Although designed to protect farmers, their prototype will help anyone working around loud machines or sound. "It's not limited to just farmers, even though that was the project's focus," Bachmann explains. "It could benefit a lot of people."
The students are currently testing out their prototype on farms. "It'll be good to see how this app and these earbuds will work with the farmers themselves," says Christian.
"What really impressed me was that this was all based on the student's ideas. They were the primary drivers behind every aspect of the project."  Bachmann said. "Our students have tremendous creativity, but often their ideas don't come to fruition. Through efforts like ISAT's capstone project and the Gilliam Center for Entrepreneurship, we are helping more students turn their ideas into reality."
Learn more about JMU's Integrated Science and Technology Program