News
ISAT student designs guitar for managing hand injuries
---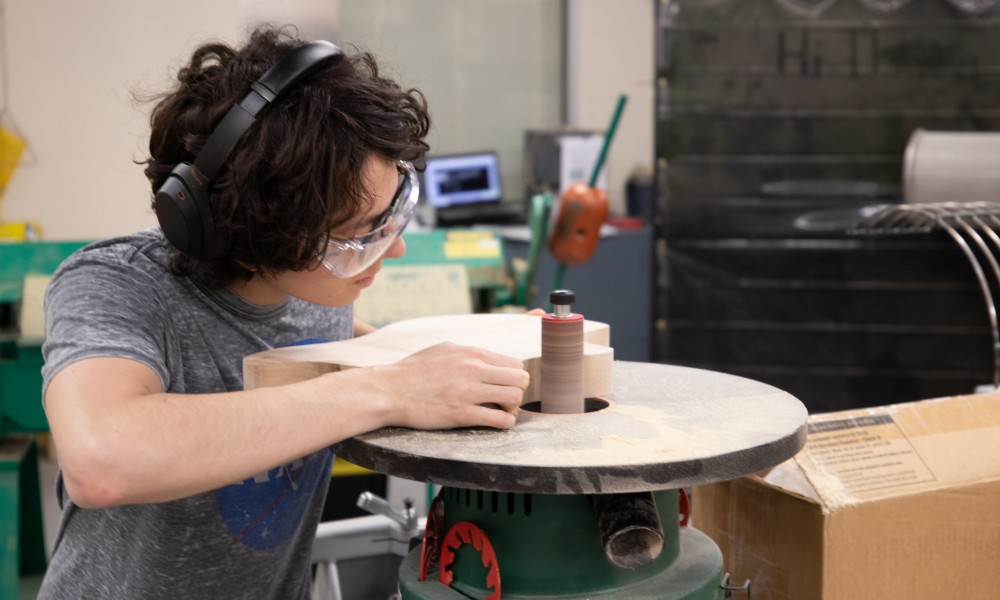 By Meghan Long, CISE student writer
Tendonitis, arthritis, carpal tunnel, and chronic pain. If you talk to someone who plays the guitar, they have likely experienced at least one of these symptoms. 
Robert Aguillen, a senior in JMU's Integrated Science and Technology (ISAT) program, has been playing the guitar since he was 15 years old. On any given day, you can find him in his room — lined with his many guitars, playing the instrument for hours on end. It's always been a hobby he's enjoyed — until one day, his doctors told him he needed to stop playing.
Aguillen was diagnosed with tendonitis — which was directly associated with his extended guitar sessions. He describes the pain as "chronic" and "severe" — acknowledging that it's something he will likely deal with forever.
Despite the diagnosis, Aguillen is determined to keep playing the guitar. "I began to look for ways I could reduce my symptoms and still play," he says.
Robert began thinking about ergonomics — designing things people use to be more safe and efficient — and applying this to guitars. "I am looking to reduce the strain on guitar player's hands. to offset the symptoms of tendonitis, carpal tunnel, arthritis, and other nagging chronic pain," he explains.
As part of his major, Aguillen has to complete a capstone project. Initially, he pursued other projects, but nothing was resonating — until he proposed the idea of an ergonomic guitar to ISAT professor Chris Bachmann.
Aguillen describes how he and Bachmann bonded over their love of the instrument. "He loves the guitar, as do I, which is a major reason why I think he took on the project," Robert explains. The two began to meet weekly —brainstorming where the project could go and how to develop a guitar that people could enjoy without symptoms of pain.
After extensive research into the market of ergonomic guitars, Robert discovered another problem — they are costly. "It's hard to afford what is currently on the market," he explains. "Many of them cost over $2,000," he says.
Now, with increased motivation — reducing pain and reducing costs — Robert has set out on a journey to formulate a cost-effective and pain-free guitar design. "I want to help not only my own longevity of playing the guitar—but everyone's," he says.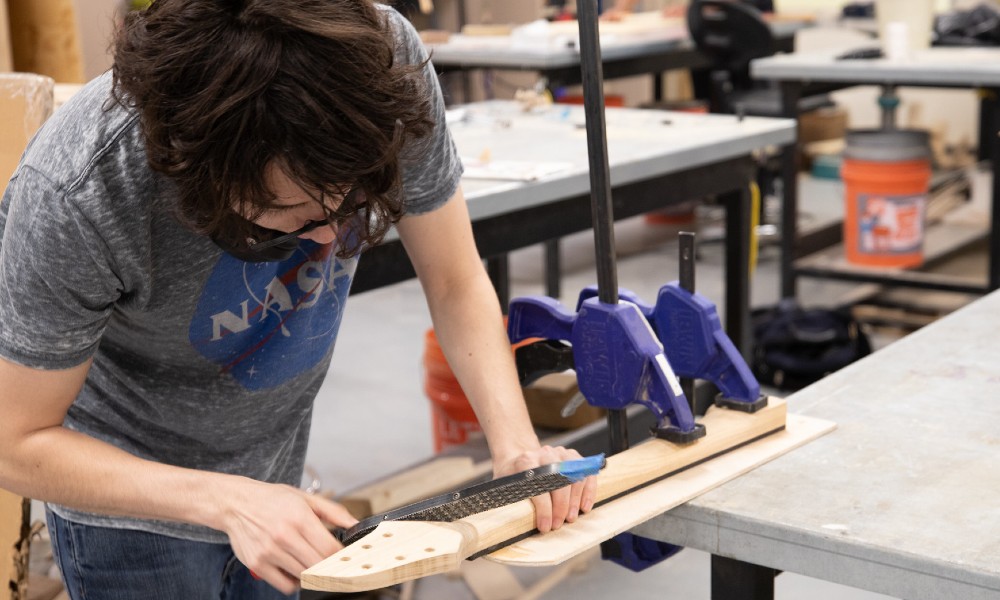 With encouragement from Bachmann, Robert also entered JMU's College of Business Fallon Challenge — an opportunity for JMU students to share their business ideas with top entrepreneurs in a Shark Tank-style competition. Winners receive significant recognition for their unique ideas and a $1,000 scholarship.
After applying, Robert was named a finalist and invited to present his work to the panel. "I was so nervous about presenting my work, but when I looked out into the crowd, people seemed interested," he explained. Robert went on to win the competition — a feat he says came as a total shock to him. "Seeing that people were interested and invested in my work lit a fire under me."
Robert surveyed guitarists to try and construct a design that has everyone's favorite aspects of the "classic" guitar. His goal is to create a finalized design and get a prototype in people's hands.
Bachmann enjoys mentoring Aguillen. "I've been really pleased watching Robert take his idea from the earliest conceptual designs to creating a full three-dimensional model — and even building prototypes out of Styrofoam for preliminary testing," he says. Robert is just as grateful for Bachmann's mentorship — explaining how he has gone above and beyond in helping him, even taking him to meet with local luthiers who make instruments.
Aguillen's ambitions for his project have grown far beyond the requirements of a capstone project. "This is now a business opportunity," he explains. After graduation, Robert hopes to build a final design and is determined never to give up until he gets it just right.
Learn more about JMU's Integrated Science and Technology Program