News
Louise Temple makes an impact on feminism, science, and the community
---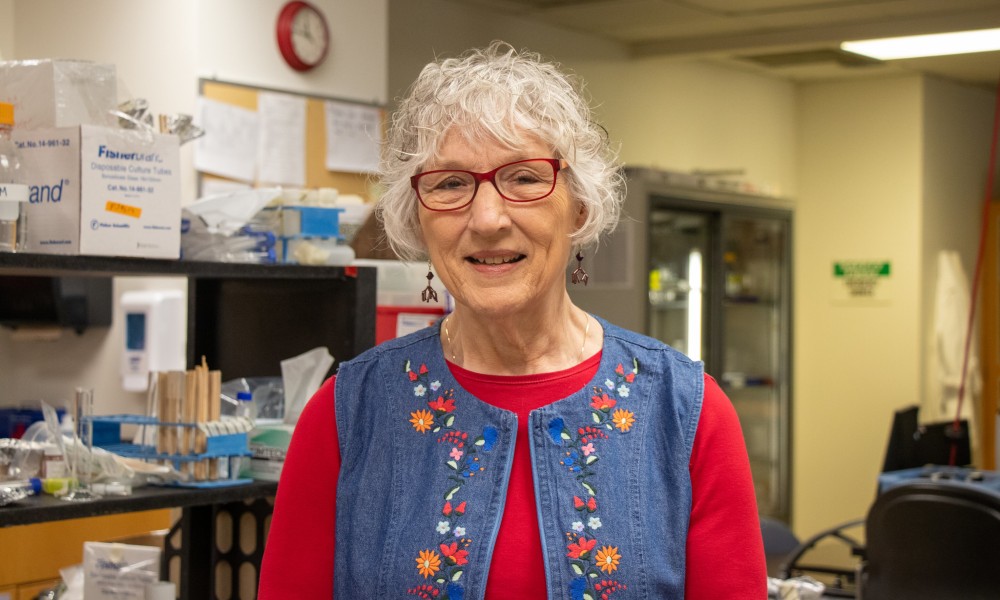 SUMMARY: As integrated science and technology (ISAT) professor Louise Temple nears the end of her career, students and faculty reflect on the impact she's made at the university.
---
By Sophie Edlich and Lynn Radocha
Louise Temple has been an ISAT professor and researcher at JMU for 18 years. Aside from teaching students, she has dedicated her research to microbiology, where she studies bacteria and viruses. In May, she will be retiring but looks back on the journey that brought her to JMU.
After receiving a biology and chemistry degree as an undergraduate, Temple went to medical school for two years. She did well in medical school but withdrew due to the challenges of being a woman in a predominately male culture. 
Temple then worked as a medical technologist before getting married. She later pursued her Master's degree in chemistry and a Ph.D. in microbiology. Five years after receiving her Ph.D., she taught at Drew University and ultimately found her career at JMU. "I like to tell that story because students feel like they've got to take a single direct path in life, which couldn't be further from the truth," Louise explains.
One of her favorite courses is "Gender Issues in Science," a course that deals with the feminist critique of science. "By teaching the course, I've learned more about how science affects society," she says. "What I love most about this course is that we read about barriers in the culture of science that impact groups of people in different ways." She notes that students have never thought about these concepts. "If that isn't the most rewarding thing as a teacher, I don't know what is."
For 15 years, Temple has taught a viral discovery course — dedicated to keeping students interested in science. "The course has been extremely successful and rewarding for many years," she says. "This is because every student in the class gets to do original and authentic research." Students bring in dirt and collect viruses – which are all unique. Students then have their very own virus to research and study. "We have a thousand or more viruses in the freezer," she adds. While Temple mentors her students, she believes it is essential for them to lead their own research. "It keeps them engaged in the coursework and encourages teamwork," she says.   
Temple doesn't consider a student's GPA when directing research. "Interest and dedication are the most important factors," she says. "By conducting scientific research, students do things that others haven't. Sometimes they fail. It's a lesson in how we make discoveries and create scientific knowledge."
Known for her collaboration and ability to reach out and drive people together, Louise not only engages with her students but encourages them to engage with each other. "Scientific and academic settings can be tough on students. Being part of a collaborative community helps everyone," she explains. "It's hard to conduct and study science when you're isolated."
Temple frequently shares her life story with her students — her struggles and juggling school as a single mother. She also tells them about her current science work and hobbies, like playing the pipe organ. "Personal stories can be profound. They always mean something and usually something different to whoever is listening — they are really valuable."
She has touched the lives of faculty members too. "Louise has had a profound impact on my career because of her generous and supportive mentoring," says Stephanie Stockwell, co-director of JMU's School of Integrated Sciences. "I have spent numerous hours in her office or on her porch over the years discussing a student I couldn't connect with, a research project that seemed to be stalling out, and how to keep going when I was so exhausted from being up all night with my babies. She has been a mentor, a role model, and an outstanding collaborator. I can only hope to pay forward what she has given to me in my career and my life." 
While this will be Temple's last semester teaching, she will still be conducting research and helping students finish out their projects. "She will be missed when she's gone," says JMU biotechnology major, Layla Abudd. "She's made huge impacts on all of the students. Everyone has learned something from her just by being around her, whether it's about science or life lessons."