News
JMU Rocketry Team competes in NASA Student Launch
---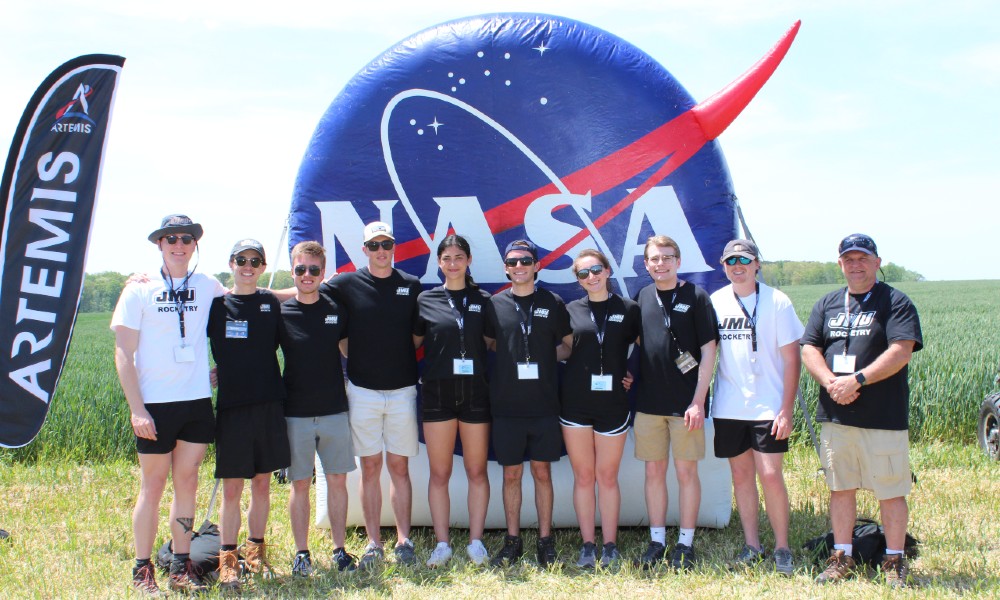 By: Meghan Long, CISE student writer
JMU's Senior NASA Student Launch Team made their way to Huntsville, Alabama on April 21st to participate in the competition with their rocket – two years in the making.
Engineering students Abigail Maltese, Ben Hoare, Brandon Carroll, Cameron Funk, Coleson Baughan, Gray Roisch, Kelly Sadel, Kris Krueger, and Trace Scordo make up JMU's inaugural team. Advised by engineering professors, Keith Holland and Jacquelyn Nagel, the team worked together to assemble their ten-foot-tall rocket—paving the way for future JMU Engineering students.
"It was the moment we had been waiting for," says Gray Roisch, Safety Officer. "It was really neat to be there with so many people with a similar passion," adds Cameron Funk, Modeling and Simulations Lead. "We got to talk to teams from all over the country. It was rewarding to look around and see that we had built something amazing and so had all of these other teams."
A windy day in Hunstville, AL—with 13mph winds—wasn't enough to get in the way of the team's hard work. Their rocket launched and rose to 4,000 feet in altitude, an accomplishment the team is proud of. "Everything went the way it was supposed to," says Kelly Sadel, Meeting Manager.
Kris Krueger, Payload Lead, describes what it was like to be on the JMU Rocketry Team. "This was the most fulfilling thing I have done at JMU. We did everything together," he says. "This was the first team that I've ever been on where everyone pulls their weight."
The team credits a large part of their success to the overwhelming support from JMU and the Harrisonburg community. During the team's launch, students and other supporters gathered to watch the launch on the big screen during the Madison Engineering xChange. "They weren't even there, and they were there for us," says Sadel. "It was an absolute blast—an unforgettable experience," adds Funk.
Now that the launch is over, the group has had time to reflect on the gravity of their work. They hope they have inspired future groups of JMU Engineering students. "If you are interested in something—just go for it," urges Sadel. "If the opportunity isn't there, you can go and make it. You can do that here at JMU," says Kreuger.
Abby Maltese, the team's STEM Engagement Leader, led the group in creating an impressive following for their project. She describes the legacy they hope to leave behind. "We wanted to create an aerospace legacy here at JMU, and I think we've gone beyond that. Yes, there will be more aerospace capstones, but we have gotten people excited about JMU Engineering and the project-based learning that we do. People have reached out to us saying that they are transferring here because they want to do hands-on learning. It's exciting to see that we've had that impact," she says.
As the students get ready to trade in their safety glasses and materials for caps and gowns, they are grateful for everything they have accomplished. "The JMU Engineering department has been incredible. The way they have supported us is what made this possible. We can't wait to see the future of JMU Rocketry," says Sadel.