News
Engineering steel bridge team competes at regional competition
---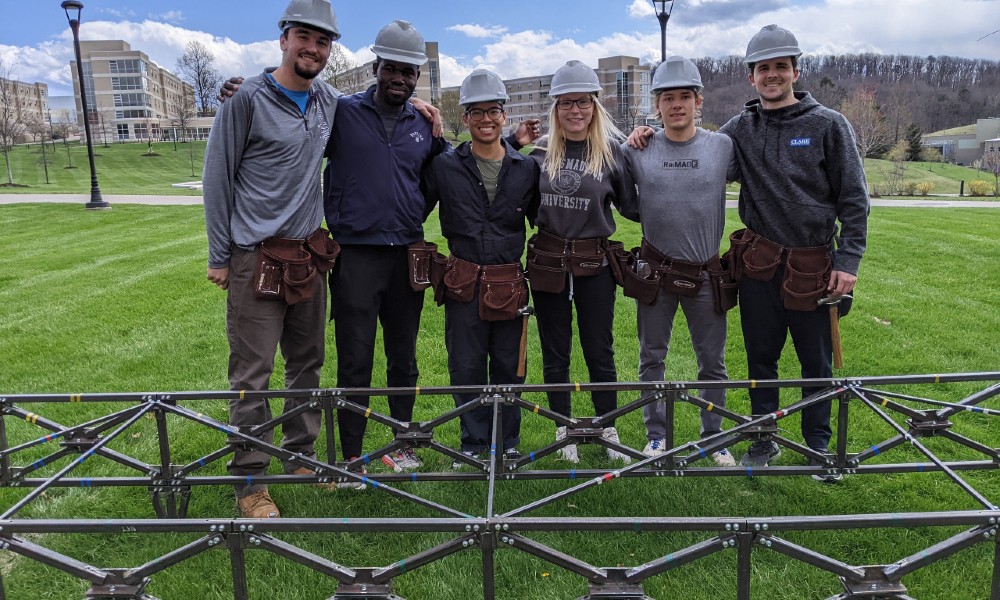 By: Meghan Long, CISE Student Writer
JMU's Steel Bridge Team traveled to the American Society of Civil Engineers (ASCE) Virginias Symposium, hosted by the Virginia Military Institute (VMI) in Lexington, VA, to compete against Marshall University, Old Dominion University, Virginia Military Institute, Virginia Tech, and West Virginia University on April 9th.
William Ahorsu, Michael Allsop, Jack Lochary, Andrew McHale, Jadon Rabon, and Katie Smith are the six engineering seniors who make up JMU's inaugural Steel Bridge Team. The students joined together in the Fall of 2020 to participate in the Student Steel Bridge Competition (SSBC) through the Engineering program's 2-year-long Capstone project.
The Student Steel Bridge Competition is supported by the American Institute of Steel Constriction (AISC) and the American Society of Civil Engineers (ASCE) since 1987. The competition challenges engineering students to design, fabricate, and assemble a pre-fabricated scale-model steel bridge at the competition site.
In the Fall of 2021, the group secured sponsorship from Shickel Corporation, located in Bridgewater, VA. Shickel donated steel materials and offered their support and mentorship to the students.
Considering it was the team's first time at the competition, the group competed as "guests," which made them ineligible to formally receive any awards. Despite this technicality, the JMU Student Steel Bridge Team was among only three teams to comply with all competition constraints. Christina Ammens, ASCE Region 4 Governor for the Commonwealth of Virginia, witnessed the team's performance at the competition and later shared that the team "did a fantastic job on the bridge and your students should be very proud of their accomplishments."
Following their strong performance at the competition, the team presented their work at JMU's Engineering xChange. The group was awarded the Technical Analysis Award, judged by a panel of Engineering faculty. In reflecting on their feelings at the end of this 2-year-long effort, Jadon Rabon said, "I was ecstatic participating in the first-ever steel bridge competition for JMU, and the by end of it I was left with a sense of pride and accomplishment." 
Daniel Castaneda, Professor of Engineering, advised the team. He explains what the group's strong performance means for JMU Engineering. "The inaugural team's strong performance reflects the JMU Engineering Program's strong emphasis on project-based and hands-on learning. Our interdisciplinary approach to engineering education prepares our engineering students to demonstrate their structural engineering knowledge and construction engineering skillset, matching the capability of civil engineering students at other institutions in the Commonwealth of Virginia," he says.
The JMU Steel Bridge Team's success is just getting started. Seven junior students plan to pursue the Student Steel Bridge Competition in Spring 2023. "They are looking forward to building on the inaugural team's success," says Castaneda.
Learn more about JMU's Engineering Program