News
Former head of CIA's analysts speaks to IA students
---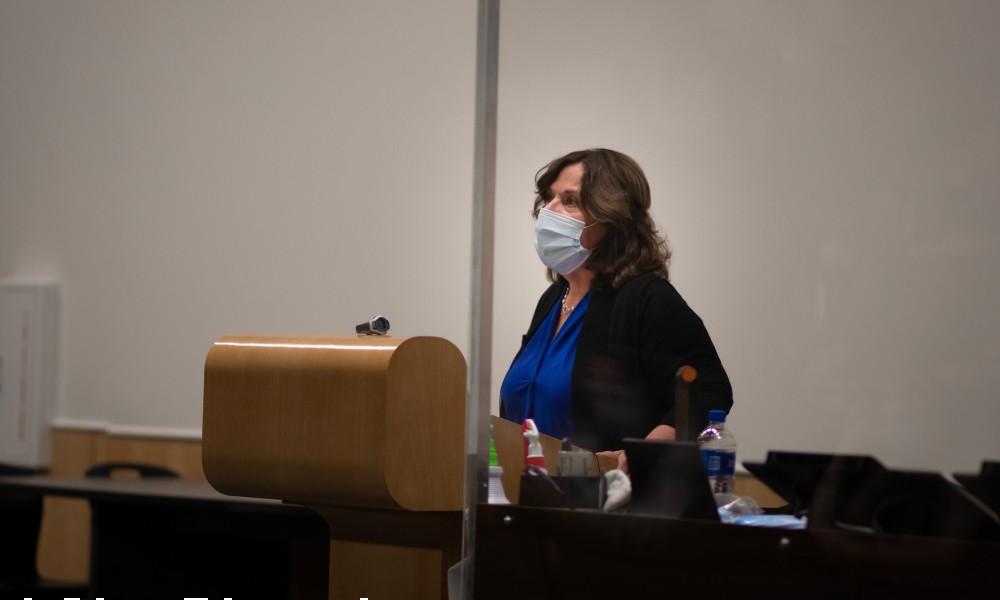 SUMMARY: Intelligence Analysis (IA) students gathered to learn more about work in the IA field from Fran Moore, an intelligence analysis leader and expert who has 32 years of experience in the field.
---
By: Meghan Long, CISE student writer
Throughout her time working in the IA field, Fran Moore has built an impressive resume that includes time working for the CIA. As Director of Intelligence, she ensured timely and accurate intelligence insight for the President, senior policymakers, Congress, warfighters, and law enforcement. Prior to that work, she led analysis in CIA's Counterterrorism Center.
Moore's daughter is a graduate of JMU. Eager to offer her experiences to JMU IA students, Moore reached out to Stephen Marrin, Program Director and associate professor for the IA program. 
"Due to the fact that the program is named 'Intelligence Analysis', students tend to view intelligence analysts—especially those at 3 letter agencies—as somewhat aspirational. The value of a speaker like Fran Moore with decades of experience at CIA is that it gives the students a view of what it is like to succeed in that field, how to overcome challenges—both lessons learned and best practices—and contribute to the mission of protecting national security and advancing national interest," Marrin explains.
Theadora Roberson is the social chair for JMU's IA Club. She helps support events that promote speakers, professional development, and overall program development. "Having guest speakers such as Fran Moore allows us as students to develop our academic and professional mindsets," she explains. "We are able to understand what the profession demands while networking with intelligence professionals," she says.
Moore's talk included extensive background about her time in the field, as well as key lessons she has learned. "I am hoping that students came away with a better understanding of the Intelligence Community and the CIA's core missions. I hope they have a better sense of the care the IC and the CIA take to provide rigorous, well-sourced, timely analysis to policymakers—and also a sense of how satisfying a career in intelligence can be," she says.
Fran Moore isn't the only IA professional JMU students have connected with. Three IA faculty members are actually former CIA analysts themselves. "We try to supplement the experiences these faculty members offer with guest speakers who bring additional knowledge and experience," Marrin says. At talks dating back to 2014, JMU students have heard from a former National Intelligence Officer for Warning, an Assistant Director of Central Intelligence, and a Deputy Director of the Defense Intelligence Agency—to name a few.
Moore says she was impressed with the level of engagement offered by the students, and the quality of questions asked. "I was impressed with the Intelligence Analysis program," she explains. "The questions demonstrated a sophisticated understanding of some of the key challenges of intelligence analysis," Moore says.
"The strength of our IA program is its combination of theory and practice," notes Bob Kolvoord, Dean of JMU's College of Integrated Science and Engineering. "Speakers like Fran Moore connect our students with the challenges that come from putting IA skills and knowledge into practice."