News
JMU engineering students bring STEM to local community
---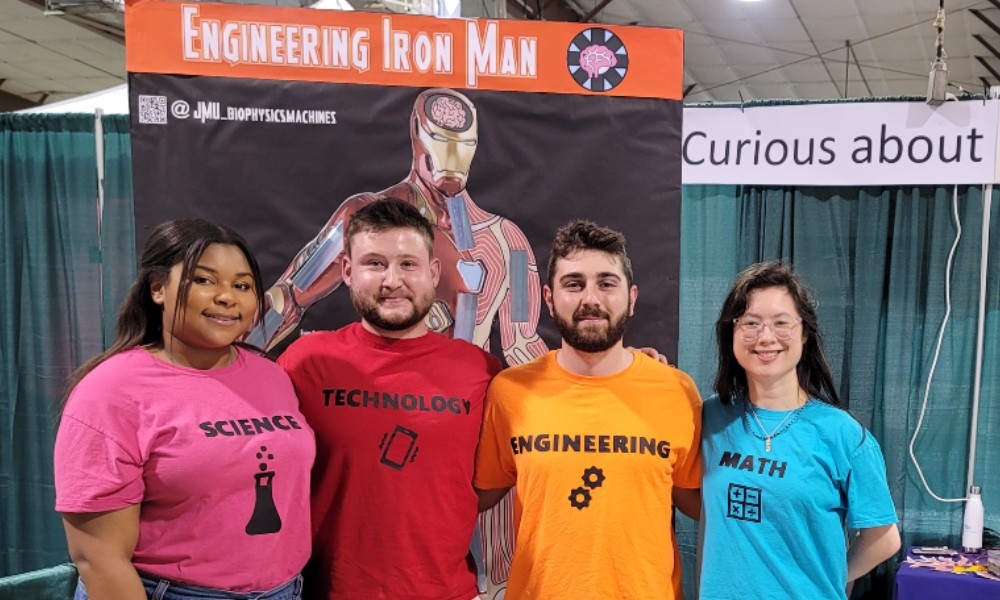 SUMMARY: JMU Engineering students create an interactive learning experience for students in grades 4-6.
---
By Haley Huchler, CISE Student Writer
The Rockingham County Fair had a surprise guest in August - Iron Man. 
JMU engineering students Lauren Dargan, Ryan Motta, Jenna Lindsey, and William Sullivan, the four members of the Interactive Biophysics Machines Capstone team, presented their capstone project "Engineering Iron Man" at the Rockingham County Fair. The engineering capstone project is an essential part of their undergraduate education at JMU. Projects begin in their junior year and conclude at the end of their senior year. Teams present their projects at the annual Engineering Exchange.
The team created an interactive learning experience for students in grades 4-6. Using a familiar superhero, Iron Man, as part of the display, the team hopes to impact the community by teaching young kids about the human nervous system. At the same time, get students interested in science, technology, engineering, and math (STEM). 
"We worked to try to tailor the best experience possible for the kids, and we thought Iron Man was the best way to do that to get them interested and enjoy the activities," said Sullivan. 
"You could see them from 30 feet away, pointing, grabbing their parents' shoulder, pointing at Iron Man, and then coming over and just lighting up," said Motta. By using a familiar character, the team immediately captured the kids' interest.
The team split their project into three lessons. In lesson one, the kids interacted with a life-sized image of Iron Man. Then, with tubing laid behind him, the participants were able to act as Iron Man's brain and send brain signals - represented by ping pong balls, throughout his body by pressing a button. 
"They get to watch as the brain signal goes all the way down from his brain to his arm to his hand, so they're getting the visual representation of how your brain sends signals to your body to communicate," said Motta. 
During lesson two, the team used a cell model. Using electromagnets, participants were able to turn on and off a brain signal and cause a pseudo chemical reaction. 
"It was really exhilarating just seeing the kids' faces light up as soon as they see...those chemical ions pass," said Dargan. 
William Sullivan was a part of the display in the final lesson. Hooked up to a display monitor, he wore a sensor on his arm. As Will flexed his arm, the monitor indicated a wave signal that spiked and allowed participants to see the electricity inside his body.  
Their interactive display at the Rockingham County Fair was a huge success based on student reactions and participant surveys. However, it was a test run of their alpha-level prototype. The team is working on their beta-level prototype, which they hope to display at a local school in the spring. 
"There were a lot of teachers at the Fair asking us if we could come to their school," said Lindsey. "People from around the county said, 'we like this idea, we want this idea to be implemented at our school.'" 
By bringing the display to the Fair, the team also reached numerous homeschooled children. 
"The energy that they [the students] were giving back showed us that what we were doing had serious value in these kids' lives," said Motta. 
"I am impressed with what this team accomplished this past year, and how they used engineering to excite pre-college kids about learning STEM, says Jacquelyn Nagel, engineering professor and capstone advisor.  "I visited their booth at the fair and it was great to see the lessons in action.  It was clear that the kids were motivated by what they created."