News
JMU hosts solar virtual workshop with Al-Mustaqbal University in Iraq
---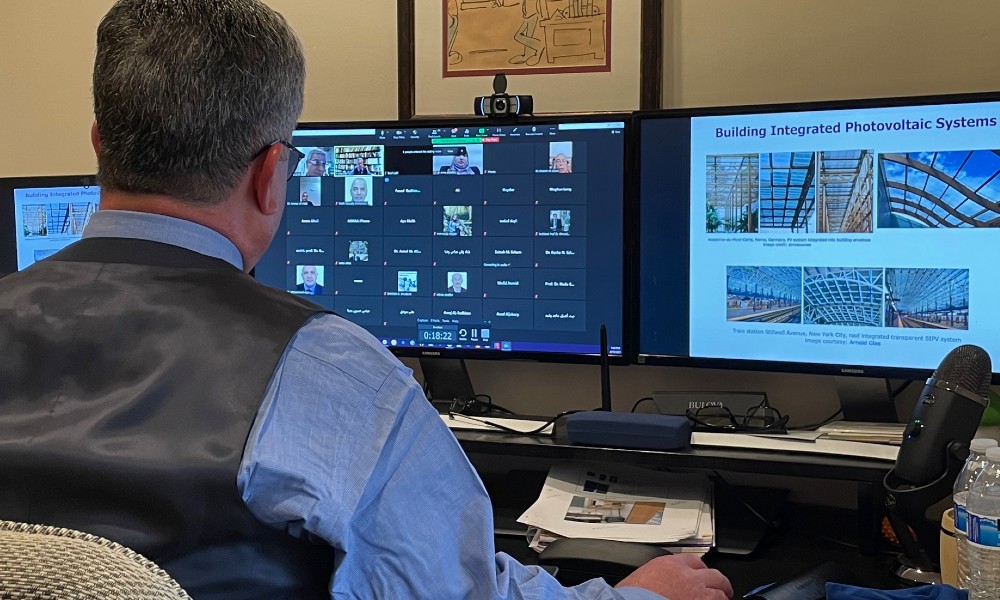 By Meghan Long, CISE Student Writer
JMU's Integrated Science and Technology Program (ISAT) is capitalizing on new ways to connect—collaborating on a joint workshop with scholars and professionals across the globe at Al-Mustaqbal University in Babil, Iraq.
The joint workshop, held April 10, 2021, focused on the need for solar energy in Iraq and was led by ISAT professor Karim Altaii and Malik Mustafa Mohammed from Al-Mustaqbal University.
Over 50 participants joined as Karim and Malik shared their knowledge of the significance of solar energy in Iraq. "We might not need it here in Harrisonburg, but Iraq is a different story," said Altaii. "Iraq faces electricity shortages.  At the same time, Iraq receives a great deal of solar energy. I hope we planted a seed for participants to think about how they can make their lives better."
Beyond providing a depth of knowledge on the topic, Karim and Malik also demonstrated the invaluable advantages of connecting with universities on a global level. Thanks to an increased prevalence and awareness of mediums like Zoom, participants gathered together seamlessly—sharing questions, ideas, and information.  After many years of isolation, universities in Iraq are eager to connect with other universities.
Karim explains how vital collaboration is, especially with universities across the globe. "As an educator, my mission and duties do not stop in the classroom. They extend to my community, both locally and globally." He sees great value in outreach efforts and says it brings new opportunities to grow as a university. "I look at connections as a two-way learning experience. It is beyond the technical and scientific exchange. It has many social components from cultural, historical, economic, political, and social justice. It helps me diversify my understanding." 
Altaii hopes this joint workshop can inspire and demonstrate a need for outreach and collaboration for years to come. "We need more human connections," he explains. "It's all about building a better understanding."
"We're excited to join with Iraqi colleagues to share our expertise and learn from them," says Bob Kolvoord, Dean of JMU's College of Integrated Science and Engineering. "Dr. Altaii continues to be a leader in engaging with our students and colleagues around the globe to explore and implement technologies that improve the quality of life and foster a more sustainable planet for all"