News
JMU partners with Virginia Tech to offer students new graduate level opportunity
---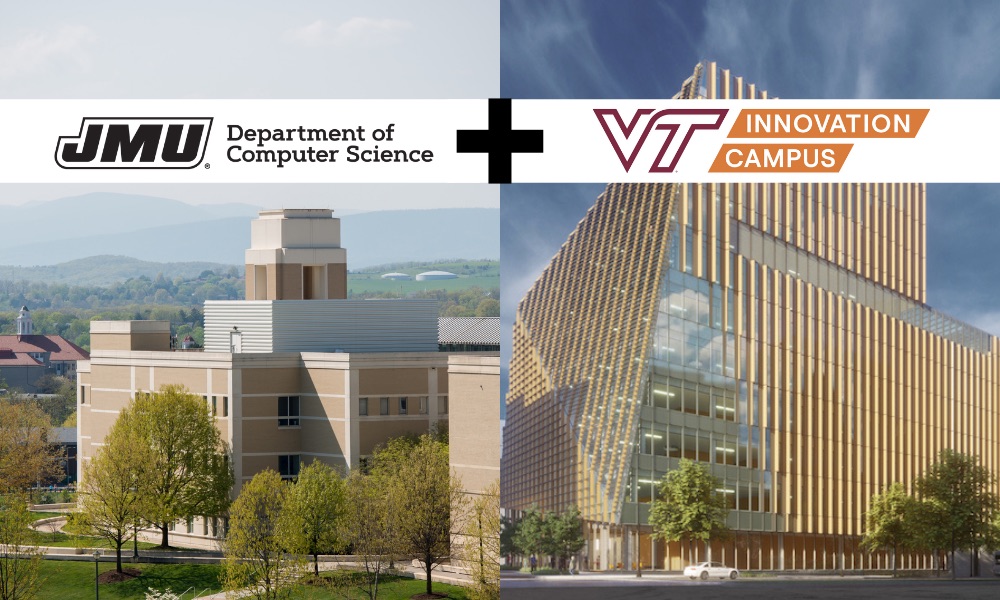 SUMMARY: JMU computer science undergraduate students are getting a head-start on their graduate education through an exciting new partnership with Virginia Tech.
---
By: Meghan Long, CISE Writer
This new partnership program enables JMU computer science students to apply early and earn graduate credits in master's degree programs based at the Virginia Tech Innovation Campus in Northern Virginia and the Blacksburg campus. The goal is to create a more robust graduate program with students equipped to become leaders in the field.
JMU participants in this program will be on the path to secure graduate admission to Virginia Tech as soon as the spring of their junior year.  For many, this opportunity could mean their graduate education coursework may only take up to one additional year.
A key goal of this partnership is to address the state's Tech Talent Investment Program. JMU and other universities have committed to graduate approximately 31,000 new computer science graduates over 20 years to help fill a critical workforce need in Virginia.
"This new partnership is a wonderful opportunity for our JMU students," says Sharon Simmons, Computer Science Department Head. "They can complete their CS Bachelor of Science degree at JMU and transfer up to 12 hours of upper-level courses to VT's graduate program.  Our students will be prepared to complete their 5th year at VT to earn a master's degree. Establishing this partnership with VT has happened at an important time for the Commonwealth. The need for more computer scientists in the state continues to grow, and with the universities working together, we can help fill in this gap."
Computer science undergraduates can expect to meet many of the perquisites necessary to apply for the accelerated program at Virginia Tech. Many students are prepared to begin the program as early as this Spring 2021.
For more information on the partnership or JMU's Computer Science Program, visit their website.