News
Improving water quality in Virginia
ISAT students and faculty partner with local firms and Virginia DEQ
---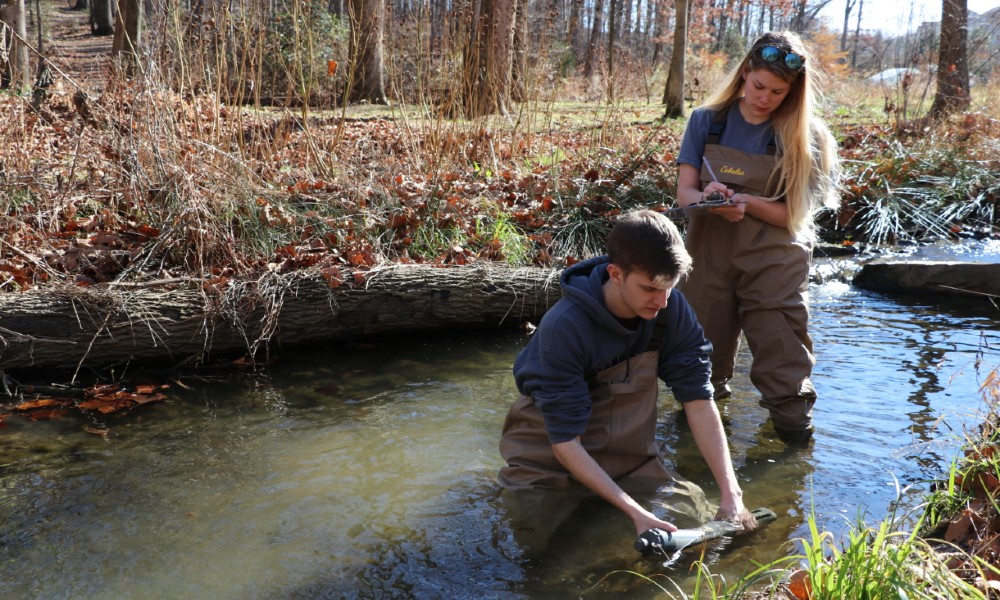 By Lianne Boxley, CISE Student Writer
JMU Integrated Science and Technology Professor, Robert Brent is partnering with two engineering companies, EEE Consulting and Brudis and Associates, to identify and reduce sources of impairment in bodies of water across Virginia. The trio recently received a grant of $5 million over the next five years to work with the Virginia Department of Environmental Quality.
This is Brent's second public-private partnership with EEE Consulting and the Virginia DEQ. Last year, JMU and 3e joined forces to complete a yearlong study of the North Fork Rivanna River in Albemarle County. The study successfully identified sources contributing to the impairment of streams within the watershed.
Also joining the project are JMU ISAT undergraduate students, Madison Hagen and Nick Saraceno. They are working alongside Brent to determine the cause of impairments and stressors that are adversely affecting Virginia's streams and aquatic life.
"I still can't believe I have been given this opportunity as an undergrad. The experience and skills I gain during this project will be extremely beneficial to my future career because this is exactly the type of work I want to pursue after I graduate. Not only will the knowledge I obtain throughout the project be useful when applying to jobs or graduate school, but the connections I will make will lead me to new opportunities that I could have never imagined," says Hagen. "I'm so grateful for the [JMU] ISAT program, Dr. Robert Brent, and the [Virginia] DEQ for allowing me to be a part of something that is so important to our local ecosystems."
"One benefit [of partnering with private companies] is the relationships that JMU can make with the private sector. Those are places where future students will likely be employed, [and] they can be potential partners on other projects in the future," says Brent. "[Private-public partnerships] benefit students as well. It gives students hands-on experience with real-world projects, so they are better prepared for graduate school or the job market. Likely, the students will be able to gain some internship-like experience in the companies we're partnering with as well." 
To learn more about the JMU ISAT program, visit their website.
Learn more about our CISE partner program.