College of Integrated Science and Engineering
Employment prospects and student talent merge at CISE career fair
---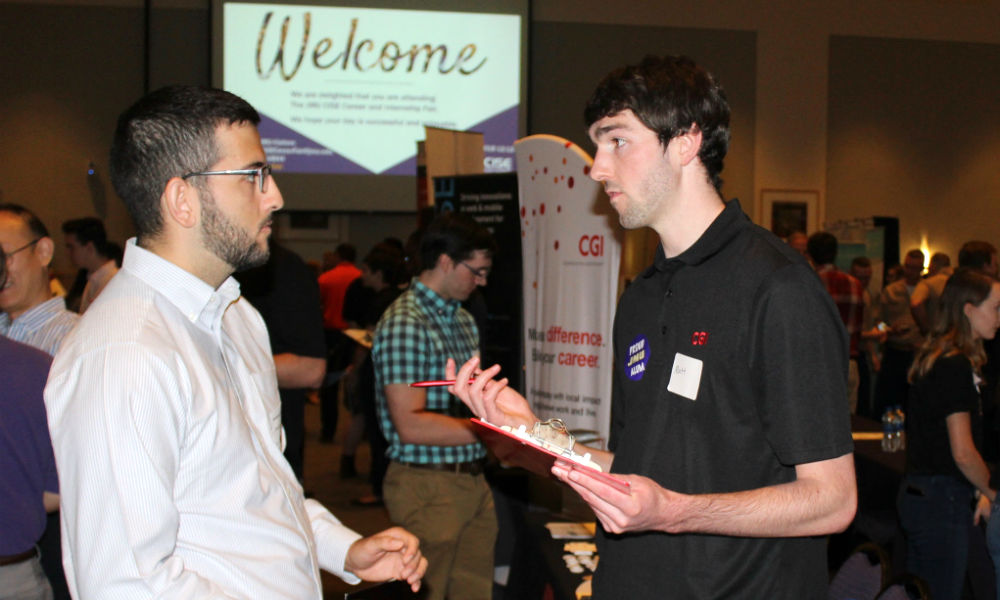 By Caleb Ayers
JMU's College of Integrated Science and Engineering (CISE) hosted more than 50 employers at their second fall career fair. Held September 19, in the Festival Conference and Student Center, the fair connected over 500 students with employers seeking to fill positions in science, technology, and engineering fields.
Students had the opportunity to research companies through JMU's new recruiting software, Handshake, beforehand. During the fair, students stood in long lines to speak to representatives from nationally recognized powerhouses such as The MITRE Corporation, to national companies on the rise such as CapTech, and to growing, local startups like Chiedo Labs.
Lee Wilkinson, Head of Intelligence Technologies at Mitre—a CISE Industry Partner—speaks highly of the CISE students they have hired because of the fair. "I have a close relationship with the Intelligence Analysis Program," he said. "We hired two of the seniors last year, and they're fantastic. We've also hired other majors from CISE, and we find that the students here are special. They come to us and they're really mature. It's almost like they've already been out in industry for a couple years."
Prissie Nguyen ('94), Talent Acquisition Coordinator with CapTech, appreciates the way that the fair consolidates majors, simplifying the process of finding high-quality, qualified candidates. "Coming here where it's all technical majors has been huge for us," she said. "We hired three interns specifically from this career fair, as well as at least six or seven full-time hires."
While the employers benefit from the fair, having such a concentrated group of high-quality employers in one place is invaluable for the students. David Heishman, a senior computer science major who attended the fair, said the fair aided him in his job search. "The fair has given me an opportunity to learn about new opportunities that I hadn't considered and allowed me to hear the personal experiences of several representatives in the field that I am pursuing," he said.
Chiedo John ('13), the founder of Chiedo Labs, attended the fair for the first time this year, seeking candidates for several internship positions. "While my company is growing more and more and we are doing more work for outside communities, cities, and states, we want Harrisonburg to be where we get the majority of our talent," he said. "It's great to be able to invest in the community by building tech talent through our internship program, and it's great to invest into JMU by helping to give more guidance to the students."
The event also provided an opportunity for employers to learn more about the new CISE Industry Partners Program. A program that provides an opportunity for companies to develop a deeper relationship with the CISE— to build a relationship that will be of mutual value. "The fair gives our students a chance to interact with firms specifically looking for potential employees with their skills and experiences," says Bob Kolvoord, dean of CISE. "Employers benefit by having a focused group of students and by building a stronger relationship with the departments in CISE."
The number of companies participating has more than doubled since the first year. "The 250% growth rate tells us that we've found a great way to match talent to opportunity," said Kolvoord.
Published: Wednesday, September 26, 2018
Last Updated: Monday, August 5, 2019