College of Integrated Science and Engineering
JMU researcher recognized with award at IMBES 2016
---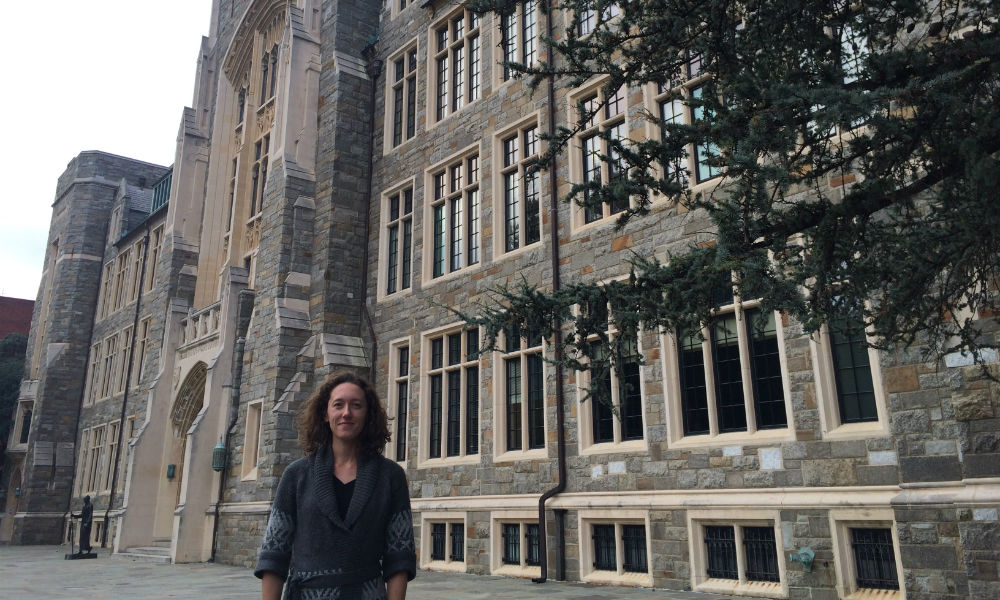 By: Stephen Roddewig
Dr. Emily Grossnickle Peterson, a post-doctoral scientist at James Madison University, was awarded the Outstanding Poster Award at the 2016 International Mind, Brain and Education Society (IMBES) Conference. The conference was held from Sept. 15 to Sept. 17, during which Peterson presented her poster "Spatial thinking in the high school classroom: Cognitive and neural effects of the Geospatial Semester." Her poster was one of four selected from over 80 entries.
In collaboration with Peterson, Dr. Robert Kolvoord, Dean of the College of Integrated Science and Engineering (CISE) at James Madison University; Drs. Dan Goldman and Adam Green at Georgetown University; Dr. Dave Kraemer at Dartmouth College; Dr. David Uttal at Northwestern University and Ms. Emily Hollenbeck at Northwestern University presented preliminary findings exploring the impact of the Geospatial Semester, their current research project, at the IMBES conference.
The Geospatial Semester course developed by Kolvoord and colleagues, according to Peterson, focuses on developing spatial thinking skills in high school students. In the course, the students use spatial thinking by creating maps with Geographic Information Systems (GIS). The researchers administer psychological tests and surveys in addition to brain scans to determine the effects on the students' abilities to do tasks like mentally rotating objects. "There is robust evidence that performance on tasks like mental rotation predicts students' success in STEM fields," Peterson said.
According to Peterson, in terms of spatial processing, "females often lag behind their male peers." However, the initial findings of the researchers show that Geospatial Semester course may offer a method to improve spatial skills. "The effects were larger for females," said Peterson, "suggesting that the Geospatial Semester might help females to catch-up." In addition, the course had physical effects on the brain. "Geospatial Semester students, compared to students in other courses, showed changes in regions of the brain associated with spatial processing," Peterson said.
"This project is my first venture into the world of cognitive neuroscience, and I am extremely humbled to receive recognition for this work," said Peterson, reflecting on the Outstanding Poster Award. "This project has been a truly collaborative endeavor, blending Dr. Kolvoord's expertise in GIS and geoscience, Dr. Green's expertise in neuroimaging, Dr. Uttal's expertise in spatial thinking, and Dr. Kraemer's expertise in analysis." In addition to the honor, Peterson received a $250 cash award.
"Peterson's interest and experience were the best fit for the job," said Dr. Kolvoord. "The award is validation that Emily's work is of the highest caliber." According to Kolvoord, Peterson handles the day-to-day work of the research project, including recruiting students, testing students, and analyzing portions of the data. "The award recognizes that hard work."
Peterson and her fellow researchers will continue to study the effects of the Geospatial Semester through 2017. "We are following students currently enrolled in the Geospatial Semester and comparison classes," said Peterson, "and these students will complete the study next summer." Both Peterson and Kolvoord expressed their hope for future successes. "I think [the award] is an indicator that we're onto something interesting," said Kolvoord.