College of Integrated Science and Engineering
Students compete in Bluestone Hacks innovation competition
---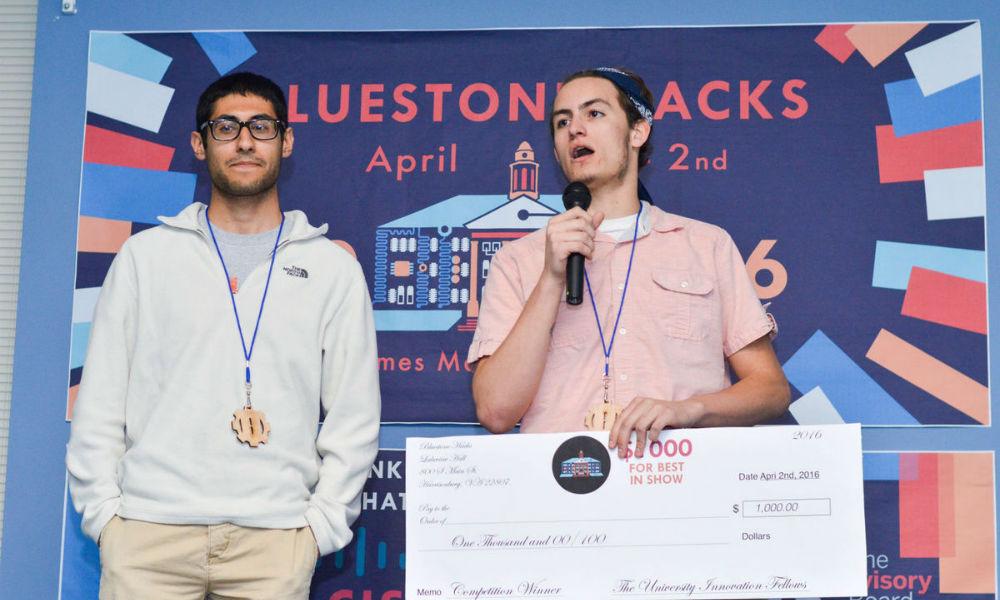 SUMMARY: For 24 hours, on April 1 and 2, students from all majors came together to compete in the second annual Bluestone Hackathon. An event in which students have access to resources that enable them to construct solutions to make a positive impact in our communities through the scholarly and entrepreneurial world.
---
Kate Abbott Hawkins | The Breeze
JMU partnered with University Innovation Fellows to host the second annual Hackathon on April 1 and 2. For 24 hours, students of all majors came together to compete and create innovative solutions. This year's theme was "Life Hacks," which focused on producing visionary software and hardware projects to help people with various everyday problems. Bluestone Hacks focuses on creative collaboration between students.
"Most people don't know what a hackathon is. It no longer means nefariously breaking into computer systems and trying to hack your way through security precautions," Chris Ashley, a junior economics major said. "Now it means leveraging your experiences, your technical skills, and your creativity to create innovative solutions to a theme that's presented at the event itself."
The UIF uses Bluestone Hacks to provide an event in which students of all disciplines have access to resources that enable them to construct solutions to make a positive impact in our communities through the scholarly and entrepreneurial world.
"It's really just the idea-to-action mindset focused around bringing together a variety of people," Nahom Fissaha, a junior engineering major, said.
Around 600 students are involved, spanning 143 colleges nationwide. When accepted to UIF's program, students go through a six-week training program and gain access to a national network of students who take action to make an technological initiative on their campus. Bluestone Hacks takes place in JMU's X-Labs, the only "maker-space" available to students of any major; a lab designated for cross-disciplinary research in the generation of new software and hardware innovations.
The panel of skilled judges, including both JMU professors and community experts, evaluate the hack projects for technical skill and the potential impact the project could have in helping people. The $1,000 grand prize went to Connor Bergeron, a freshman management major; Zaki Samady, a freshman engineering major; and Dennis McDermott and Colton LaLima, both freshman accounting majors. They designed an otoscope phone attachment in which the camera turns into a magnifying lense and the flash turns into a flashlight to check vitals and figure out if someone needs medical attention. Parents could shine the light into their child's ear to figure out if they have an ear infection.
Both the $250 "Crowd Favorite" and $500 "Most Impactful" awards went to Skylar Wolen, a junior finance major, and senior computer science majors Garret Carr and Michael Peters for their utilization of virtual reality technology as therapy for various phobias.
"We came up with the idea to have people overcome their phobias by immersing themselves in virtual reality. We're doing that by creating different examples for various kinds of phobias. In this case we did claustrophobia where you have the goggles on and the walls will get smaller and smaller and close in on you. As you wear the goggles, your heart rate jumps up and other vital signs go off the walls. By doing this, we hope to have people keep doing it until they get to that state of mind where they're okay with claustrophobia, where they're okay with heights, arachnophobia," Wolen said.
The $500 "Top Software" award went to senior computer science majors Abishek Luthra and Ananya Dhwan for their augmented reality app. With this app, someone could take a picture of their bedroom and use the picture to help locate their missing phone or backpack. It shows users what's out of place. Read the full story in The Breeze.
Published: Sunday, April 10, 2016
Last Updated: Thursday, January 4, 2018