College of Integrated Science and Engineering
Students Aim to Connect Science and Culture
---
By: Dina Manco
In October 2014, an Innovative Diversity Efforts Award (IDEA) grant funded the travel costs for Isabel Jimenez-Bush '15 and Kristen Castilleja '15 to attend the Society for Advancement of Hispanics/Chicanos and Native Americans in Science's (SACNAS) annual national conference. Jimenez-Bush won an undergraduate presenter award at the conference for her work on epigenetics and asthma. Both students are the first students to represent JMU, and if their efforts succeed, they will become the founders of the first SACNAS university chapter in Virginia.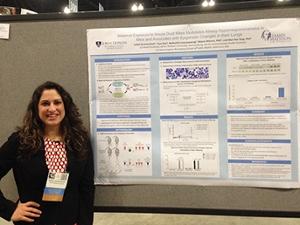 The two were given the idea to start a chapter at JMU by assistant professors Dr. Kyle Gipson (engineering) and Dr. Elizabeth Berkeley (biology). Jimenez-Bush explains the organization is one-of-a kind: "There are cultural organizations [at JMU] like Latino Student Alliance and professional organizations like Pre-Physical Therapy Society, but nothing that both links culture and science." SACNAS is available to students in all disciplines with the intention of bringing culture into their collegiate studies and overall experience. The chapter the students are working to establish will involve all ethnicities. Castilleja adds, SACNAS is built on fostering the potential to create and discover amazing things in science when people from different backgrounds, cultures, and disciplines are involved.
Jimenez-Bush and Castilleja plan to encourage community outreach and professional development in the JMU chapter. They also hope the organization will encourage children and teenagers in the area to consider college. "Some students think, 'there is no place for me at JMU,' but there is. The Harrisonburg community is seventeen percent Hispanic, but JMU is four percent; the potential [to bridge the gap] is there." JMU SACNAS would aim to connect the two populations through community involvement, such as tutoring Harrisonburg students in science. Castilleja states the chapter will also have professional development opportunities for members. They will provide faculty advising on JMU programs, guest speakers, promotion of graduate school with networking opportunities, and resume and personal statement workshops.
Still, Jimenez-Bush and Castilleja are working to make SACNAS an official chapter at JMU. Jimenez-Bush says, they have applied to be an organization and are currently undergoing the club recognition process. If all goes well, JMU will have a SACNAS chapter in mid-February. As of now, they are attracting members through word of mouth and handing out flyers in the HHS building. Once the club is recognized, they will have access to send out bulk emails to the JMU population. "We don't have the necessary communication clubs usually get since we're so new… [but] we're not backing down, nothing is going to stop us. Not a matter of if, but when," Jimenez-Bush comments.
The two currently have ten students committed to joining SACNAS and have selected an executive board. Dr. Erika Collazo (health sciences) is set to be the main advisor for the chapter with Dr. Gipson and Captain Diana Cruz (military science) as co-advisors. Castilleja and Jimenez-Bush encourage students to join them in getting involved with SACNAS, not just for the professional opportunities, but their personal and cultural development as well.
For students and faculty interested in SACNAS, inquire by email (jmusacnas@gmail.com) or through their Facebook page (Facebook.com/sacnasjmu).
Published: Friday, February 13, 2015
Last Updated: Thursday, January 4, 2018