News
In Memory of Dr. Iona Black
---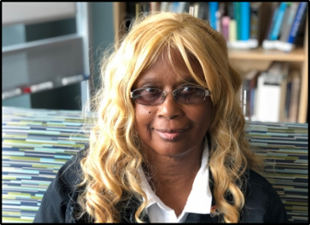 From the office of the Provost:
It is with a heavy heart that I write to share the news that our colleague, professor Iona Black,  died on Tuesday of this week. Dr. Black touched the lives of so many of us at JMU, and we mourn her passing.
Dr. Black came to JMU in 2013 as a lecturer in the Department of Chemistry and Biochemistry, where she served as instructor and coordinator of the department's student support program. She was a dedicated educator and mentor to JMU students, and a staunch ally in the ongoing work to create a learning environment for all students to feel seen, be heard, and have the opportunity to succeed. To so many JMU faculty and staff she was a valued colleague, friend, "truth teller," and pioneer, laying a critical foundation for all of us dedicated to pursuing racial justice and equity in the classroom.  Her influence was broad on campus, and she counted the Sisters in Session and CFI communities among her many campus homes.
An internationally known STEM educator and activist, Dr. Black began her training at Marymount College in NY, earning a BS in Chemistry and Mathematics. She completed her MEd in  Biochemistry Education at Boston University and her PhD in Physical/Inorganic Chemistry at Duquesne University. Prior to JMU, she had an appointment in Chemistry at Yale University where she conducted research on transition metal complexes in cancer therapy. For many years, she coordinated the Yale Medical School SMEP summer program, where she mentored hundreds of minority students to pursue careers in biomedical research. In addition, Dr. Black held positions at Georgetown University, University of the District of Columbia, Hampton University, Duquesne University, and Northshore Community College. She published widely in chemistry and education journals, and she was highly sought as an invited speaker at national and international conferences. Over the course of her career, her work and professional connections took her to hundreds of universities in over thirty countries around the world.
This travel expanded her network and deepened her commitment to social justice work in the context of global academic science. Dr. Black was an active member of the American Chemical Society, holding many leadership positions including most recently Councilor for the Division of Chemical Education. She was a lifelong member of the Society for the Advancement of Chicano and Native American Scientists and served on the board of the American Indian Science and Engineering Society and the program committee for NACADA, an international organization for academic advising in higher education. Last year, she was recognized for her efforts to advance STEM educational opportunities in the American Indian community as a Sequoyah Fellow by AISES.
For the past seven years, Dr. Black graced JMU as the home base for her work, and our campus was better for her presence and her contributions. Her legacy here and around the world is carried by the hundreds of scientists of color whose development she supported and the colleagues who learned from her example how to bring compassion to our work. We celebrate her many gifts and talents with gratitude and remembrance.
From the Department of Chemistry & Biochemistry
Dr. Black's colleagues and friends in the Chemistry department are devastated by this loss. Her impact on our department is nothing short of monumental. We loved her, and the students loved her. She never did anything for the glory; her reward was the success of the hundreds of students she strengthened and nurtured across the world. She changed us and we are all better people because of her presence in our lives. Her legacy will last forever.
A public remembrance will be scheduled in the near future. Please share your memories of Dr. Black on Instagram or Twitter. We will create a memory book and share it with her family.