College of Health and Behavioral Studies
Lewis creates independent study opportunity through Professors in Residence program
---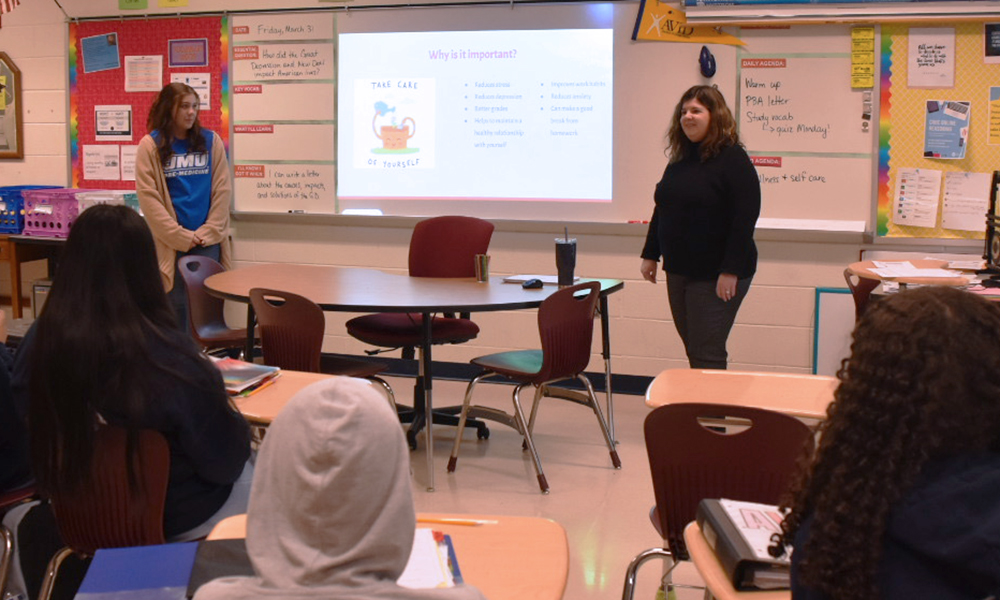 "This is another opportunity for JMU students to do something beyond the classroom," Health Sciences professor Kristi Lewis said. 
Lewis is part of JMU's Professors in Residence program, which places professors in underserved middle and high schools throughout Virginia. While in these schools, professors teach the students about what it means to go to college.
For the past five years, Lewis has been at Lucille Brown Middle School in Richmond, but this year she was placed at Skyline Middle School in Harrisonburg. With this being a local school, Lewis decided to provide an opportunity for Health Sciences students to complete an independent study with the PIR program.
For the independent study, students were tasked with creating educational programs related to helping middle school students prepare for college. Each program contained a lecture component and an activity to engage the middle school students. 
Lewis said getting Health Sciences students involved in opportunities in the community like this is important because it allows them to learn skills that they won't learn in the classroom, such as how to interact with younger students and how to create a lesson for a certain population and present information on a level so that it makes sense to everyone listening.
"I want to give students the chance to be creative," Lewis said. "While this was a pilot program this semester, I hope to be able to offer it in the future. Many of the students who participated expresses an interest in working with children as health care providers. I think they gained some experience with developing a program and delivering it to an audience that they were not used to working with previously."
When Lewis and her students visit Skyline Middle, they present to students who are part of the Advancement Via Individual Determination program. AVID is a voluntary college preparedness course that teaches the students the skills they need to take higher level courses in high school with the hope that it will prepare them to apply for and attend college. 
Since PIR is geared to mostly underserved and underrepresented students, Lewis said that one thing that she and her students try to convey to the middle school students is that going to college is possible and that there are people and resources to help them get there. 
"I think it's important for students to come to college feeling like they're prepared and that they're meant to be there," Lewis said. "We try to show the middle school students that anyone can go to college and that they can be successful."
Health Sciences majors Caitlin Mayer and Maddie Roberts are both in Lewis' independent study and have presented to the students at Skyline on topics such as self-care, how to effectively study and what going to college is like. 
Mayer said that the students in AVID enjoy learning about college and want to know more about how they can best be prepared for a future college career. She said when she and her classmates present, their faces light up and they are engaged with the presentation. For Mayer, doing these presentations is all about showing the middle schoolers the different options available to them.
"I want to advocate for these kids," Mayer said. "They're interested in learning about college and are asking really good questions, not only about majors and minors, but also about college life." 
While this opportunity is optional for Health Sciences students, Roberts said she believes that independent studies benefit all students. She said participating in PIR has allowed her to work closely with and learn from Lewis, and it has allowed her to ask questions and have experiences that she wouldn't normally get in a larger classroom setting.
Both Mayer and Roberts agree that participating in this project allows them to be part of a group that is passionate about a certain topic. Roberts said in college, you're often in group projects where the members don't care about the work they're doing but with PIR, everyone was passionate about passing on their knowledge to the students at Skyline.
"Any opportunity to work in your local community is huge," Roberts said. "A lot of students don't know how to get connected in that way so doing an independent study is a great way to work with a small cohort of students who are interested in the same field as you. My independent study was the best group project that I've ever been a part of."
Roberts said that during her time working with the PIR program, she grew as a student and a person. Although it was just for a semester, she said she will take the communication skills she learned with her through the rest of her career.
"It gives me a lot of confidence to be able to give back to the community one day through my profession and passions. It felt really good to be able to be a role model, even if just for a short period of time."