CARS allows A&M students to gain field experience   
College of Health and Behavioral Studies
---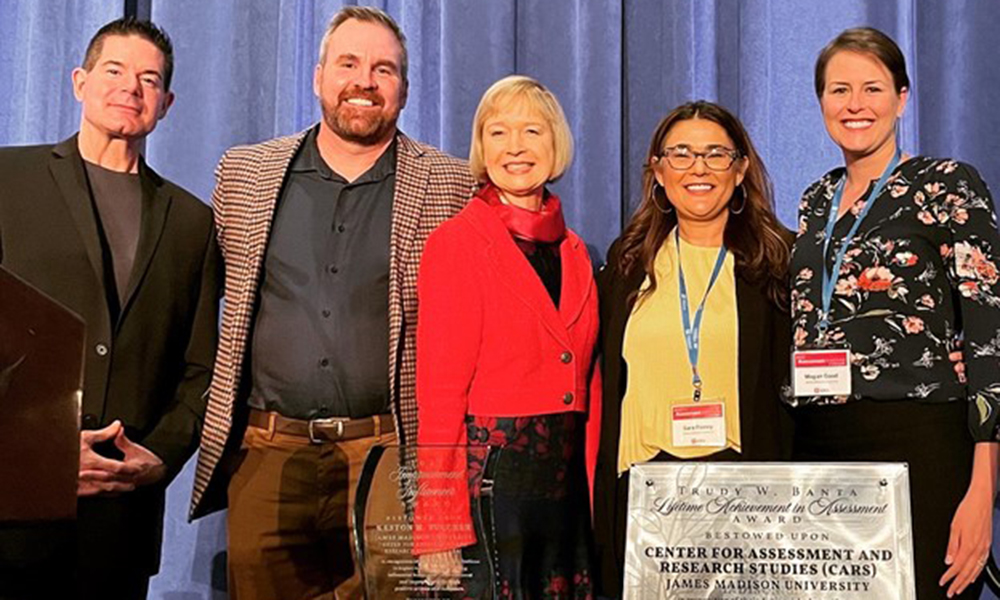 Last fall, the Center for Assessment and Research Studies (CARS) was awarded the Trudy W. Banta Lifetime Achievement in Assessment Award at the Assessment Institute in Indianapolis. This award is given to organizations that have distinguished and sustained leadership for assessment.  
CARS interim executive director and Assessment and Measurement (A&M) professor Megan Good ('12M, '15Ph.D.) attended the conference and was part of the group that accepted the award. As an A&M alumna herself, she said she was honored to receive this award. She said that honors like this continue to cement CARS as a national leader in assessment. 
"Our national visibility supports recruitment of students into the A&M program," Good said. "The students that come into the program help us execute our work at the frontier of assessment, further enhancing our national presence."   
CARS has been a national leader in assessment for more than 30 years. Part of what makes the center so successful is its work with doctoral psychology students who are in the A&M program.   
This partnership between CARS and the A&M program has existed since the creation of the program in 1998. This relationship is possible because A&M faculty have joint positions in the academic program and the center.   
Good said students are critical to CARS, and the students get hands-on opportunities. She said that students work with a real assessment clients and data, and then go into the workforce with more experience than their peers.  
"Our students have highly technical skills and are great employees," Good said. "They can talk to people, they can consult, they can do project management, they can write and present. A lot of these skills are gained through their experiences with CARS."   
Because of the skills that doctoral students learn while working in CARS, many A&M alumni have gone on to get prestigious jobs such as Javarro Russell, senior director of the Medical College Admission Test (MCAT)  at the Association of American Medical Colleges; Daniel Jurich, associate vice president of the United States Medical Licensing Examination (USMLE) at the National Board of Medical Examiners; Bozhidar Bashkov, manager of research at IXL Learning; K. Rebecca Marsh Runyon, director of Learning Sciences and Instructional Design at Educational Testing Services (ETS) AI Labs; Katie Busby, the Director of Institutional Research, Effectiveness Planning, Accreditation Liaison, and Instructional Assistant Professor of Higher Education at the University of Mississippi; and Robin Anderson, the Academic Unit Head of JMU Graduate Psychology.   
After getting his undergraduate degree in psychology, Jurich ('09, '11M, '14Ph.D.) decided to stay at JMU and pursue his master's Psychological Sciences with a concentration in quantitative psychology. Once he was on that track, he applied for the A&M program. During his time in the A&M program, he helped with CARS with assessment day, JMU's general assessment program. Through his experiences, he said he was able to learn how statistical analyses work in the real world.  
He said one of the best parts of CARS is that the opportunities to help with assessments aren't simulated and controlled like they would be in a classroom setting. He credits his career to his time in the A&M program and working with CARS.    
"Working with CARS allows you to reinforce the concepts you've learned in class by applying them in authentic circumstances," Jurich said. "I think this is a great way to make the education experience more concrete. Since you're out doing real work, you get to see the complexity involved with assessment in practice."    
Jurich said that he would encourage any student who is curious about the A&M program to pursue it. He said the program provides an excellent opportunity to discover and enhance their skill sets before entering the workforce.    
"For those who pursue the program, take as many opportunities as your life work balance will allow," Jurich said. "That'll help you identify your strengths and weaknesses, as well as your passions. It also helps reinforce that the skills you're gaining are transferable across many fields and can open doors to a diverse array of careers post-graduation."