Assessment & Measurement program attends NCME and AERA
College of Health and Behavioral Studies
---
Assessment and Measurement students and faculty recently traveled to Chicago, Illinois, to attend the annual meetings of the National Council on Measurement in Education (NCME) and the American Educational Research Association (AERA). Below, students share a bit about their experiences:
Sarah Alahmadi (third-year doctoral student in the Assessment and Measurement program) was awarded the Center for Measurement Justice (CMJ) Travel Scholarship for Minoritized Professionals in Educational Measurement to present at the NCME 2023 conference. This CMJ scholarship supported her to attend two pre-conference, expert-led workshop  — an opportunity not often affordable by students. She attended a workshop titled "Demystify Amazon Web Services (AWS): Cloud Computing, and Psychometric Applications", where she learned how to store, manage, and analyze big data using AWS' wide range of services. She also learned about an innovative technique for standard settings in another workshop, "Embedded Standard Setting in Practice". She selected the latter session to prepare herself for the new role she is starting this summer with ACS Ventures, LLC., where she will be facilitating standard setting sessions with multiple state assessment programs.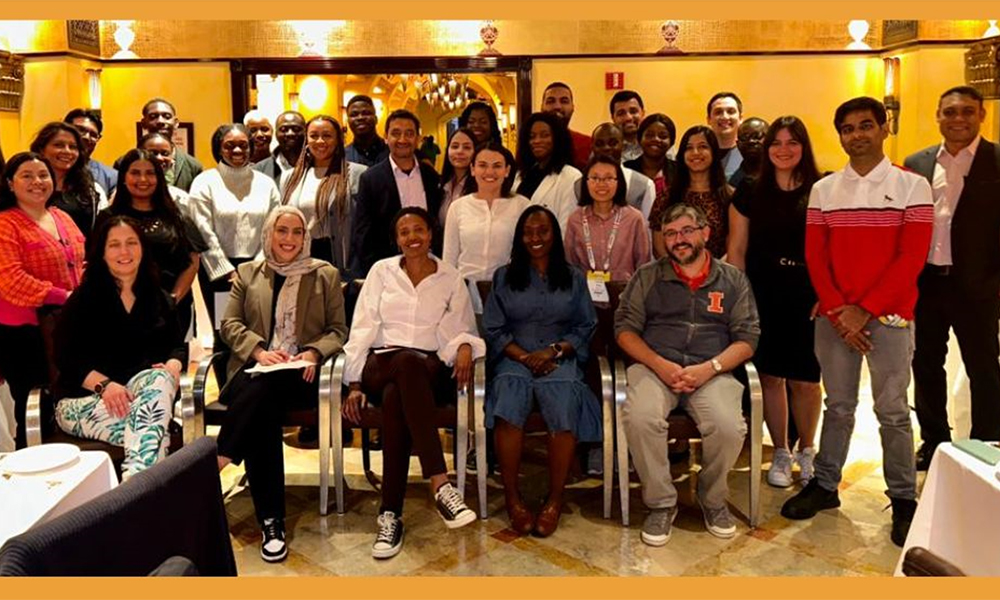 The CMJ scholarship also connected Sarah with other minoritized scholars in the field. Sarah was grateful for the CMJ's recognition and support: "to be surrounded by national and international scholars with kindred values, diverse perspectives, and fervent ambitions was so inspiring." At NCME, Sarah participated in a panel titled "Internships in the Measurement Profession: A Discussion Among Organizers, Mentors, and Students", moderated by Dr. Brian Leventhal, where she described her internship experiences and provided advice on how to be a competitive candidate. Sarah ended her NCME experience with a successful presentation of a project she completed during her last internship at the American Board of Surgery, which investigated the performance of drift detection methods for stable Rasch equating. About this presentation, Sarah said: "it was so exciting to see many familiar and unfamiliar psychometricians in attendance for whom this project bears relevant recommendations, and some asked me to share the paper which was published just three days before this presentation!" Sarah described this year's NCME experience as "evidence that her hard and consistent work has impact, and there's nothing more reenergizing than seeing that in action."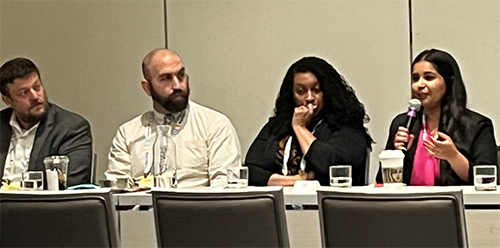 Kate Schaefer (first-year doctoral student in the Assessment and Measurement Ph.D. program) attended her first in-person NCME. She attended many sessions covering topics such as modeling item difficulty, methods to detect noneffortful responding, and historical perspectives on measurement in education. She also presented a poster and took part in a paper session. Her poster focused on the work she has conducted alongside Dr. Brian Leventhal as part of her Bayesian Statistics course. This project focused on addressing test-taking disengagement using an IRTree model. Furthermore, she was able to discuss the research she conducts with Dr. Sara Finney and Mara McFadden (Second-year Quantitative Concentration, Psychological Sciences MA) during her paper session focused on using priming examinees to increase their test-taking motivation. Finally, during the conference Kate had the opportunity to speak with many employees at HumRRO, where she will be interning this summer.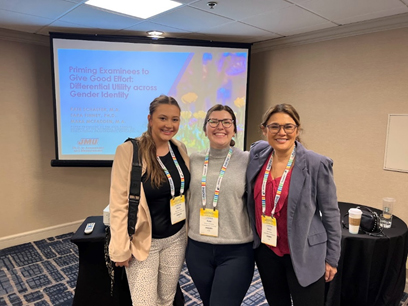 Chris Patterson (fourth-year doctoral student in the Assessment & Measurement program) attended both AERA and NCME for the first time. He attended many sessions spanning his research interests, which include culturally responsive and antiracist assessment, critical race theory and statistics, and the interaction between language and machine learning. Besides connecting with other researchers who share the same interests, he presented part of his dissertation on a poster titled "Observing how College Students Process Culturally Responsive and Antiracist Test Items." Chris was very excited that over 40 people stopped by his poster, and many of them asked engaging questions to guide future research. For Chris, the 2023 AERA and NCME conferences were the perfect way to close out his time at JMU, as he graduates in May.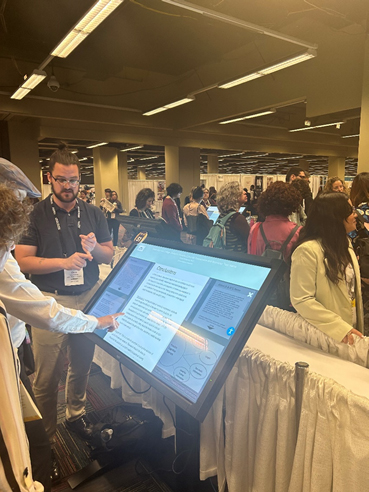 Nick Mireles (second-year doctoral student in the Assessment and Measurement PhD Program) had an impactful experience attending both NCME and AERA sessions this year. At the conference, he was able to network with professionals in the field, specifically meeting colleagues at Human Resource Research Organization (HumRRO), where he is interning over the summer. Furthermore, he presented his research titled "How rapid guessing affects Diagnostic Classification Models." While connecting to the field and presenting his work, he attended various sessions, including newly proposed Diagnostic Classification Models, response processes, reception for researchers from historically marginalized groups, and others. Overall, attending the conference contributed to his meaning-making process in research, development as a professional in the field, and personal identity.
This was Mara McFadden's (second-year student in the Quantitative Concentration, Psychological Sciences MA program) first time attending NCME. She attended with her research team, Kate Schaefer and Dr. Sara Finney, where Kate presented on their most recent research. Mara had the opportunity to attend sessions focusing on the niche areas of research that she is interested in. Her favorite sessions were those that focused on capturing effort in a testing environment and response time processes. Mara had the opportunity to connect with researchers in the field whose work she admires. All in all, Mara is grateful for this opportunity and looks forward to applying what she learned to her work moving forward.
Kathryn Thompson (third-year doctoral student in the Assessment and Measurement PhD program) had a wonderful experience at NCME. She presented in two different sessions and contributed work to a session on revisions of The Standards for Educational and Psychological Testing. In her first session, Kathryn presented her internship research on developing an item difficulty modeling framework for algebra items. She was excited to see that others were interested in this area of research, and she had insightful conversations following the presentation on future directions and new studies on the use of item difficulty modeling. She also enjoyed seeing her fellow interns and mentors from Cognia at dinner and throughout the conference. In her second session, Kathryn presented her dissertation research as a poster. She enjoyed the more conversational style of the poster presentation and meeting others with similar research interests. Finally, Kathryn has been a student member of the NCME Standards and Test Use Committee for the past three years. Recently, the committee collected and grouped responses from NCME members on chapter-level revisions for the new edition of The Standards for Educational and Psychological Testing. She thought it was insightful to see what areas NCME members believed needed revisions and new areas that needed to be included for the next edition. Overall, Kathryn had a great experience at NCME, from presenting research to meeting and chatting with others who share similar research interest. She is especially thankful to have support from Cognia and JMU for funding her trip to NCME.
Yelisey A. Shapovalov (second-year doctoral student in the Assessment & Measurement PhD program) recently attended the NCME 2023 conference, marking his first time at the event. The experience proved to be immensely rewarding, with opportunities for learning and networking with professionals in the field. Yelisey presented his research on the Assessment Literacy Screening tool, which he developed during his summer internship at the National Center for the Improvement of Educational Assessment. The session was met with encouragement and positive feedback the discussant, Thanos Patelis (and a special shout-out to Dr. Christine DeMars for attending the session in support). In addition to his presentation, Yelisey enjoyed connecting with other professionals, including past and future internship mentors, JMU alumni, students from other programs, and prominent thinkers in the field. He attended sessions that he found intellectually stimulating, particularly those that delved into issues of validity, fairness, and equity in assessment, as well as the integration of AI in assessment practice. Yelisey noted the supportive and welcoming environment of the conference, particularly towards graduate students like himself. He expressed gratitude for the financial support that allowed him to attend and present his research, considering it a highlight of his academic career. Overall, Yelisey's experience at the NCME 2023 conference was an opportunity for growth and engagement in his field, providing valuable connections and insights that will continue to benefit him in his academic and professional pursuits.