Audiology students conduct free hearing screenings
College of Health and Behavioral Studies
---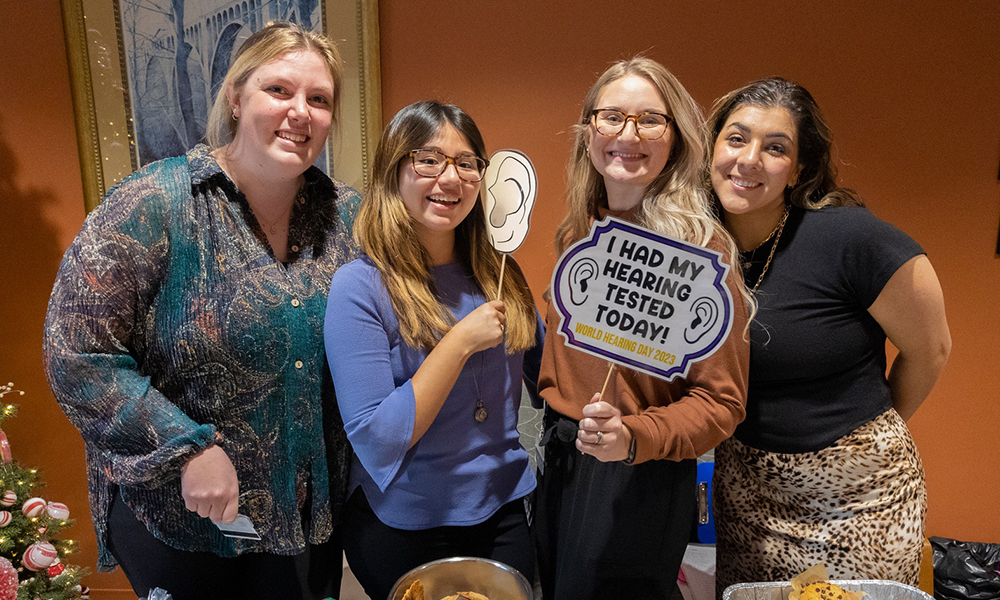 "As members of the Student Academy of Audiology, we wanted to celebrate World Hearing Day and bring awareness to hearing healthcare," treasurer and second year audiology (Au.D.) student Sydney Brown said. "We hoped to promote this year's theme and help make ear and hearing care a reality for all."
World Hearing Day (WHD) is held each year on March 3 by the Office of Prevention of Blindness and Deafness in order to raise awareness about hearing loss and to advocate for universal hearing care. The theme of this year's WHD was 'ear and hearing care for all, let's make it a reality.' To celebrate this theme, JMU's Student Academy of Audiology (SAA) offered free hearing screenings to students, faculty and staff. 
These screenings provided quick assessments of the frequencies that are most important to speech. Participants would be played three different frequencies and in order to pass the screening, they would need to hear at least two of them. SAA also had their otoscopy set up where attendees could see their own eardrums if interested. 
People who participated in the event left with their screening results and information regarding JMU's audiology clinic and hearing healthcare. Second year Au.D. student Joanna Goedeke said many people were surprised to learn about the hearing resources that are available to them on campus but that attendees were interested in learning about hearing health. 
"Everyone who came was excited about the opportunity to have their hearing screened," Goedeke said. "We had a number of people say they didn't know we had an audiology clinic and a lot of people were surprised by how quiet the sound booths were. Since this is something we are used to and do on a regular basis, it was fun to see people's different reactions." 
After the event ended, SAA National Representative and second year Au.D. student Hannah Richardson said she and the other SAA members agreed that their favorite part of the event was being able to teach others about audiology as well as see so many people who have an interest in the field.  
"We all agreed that our favorite part was meeting undergraduate Communication Sciences and Disorders students who were interested in audiology," Richardson said. "We're a small field, so it's always exciting to meet someone who wants to pursue audiology."
Since the theme of this year's WHD was 'ear and hearing care for all,' Brown said the goal of this event was to show students and faculty the audiology resources they have readily available to them right on campus. She said today, almost 50 million Americans over the age of 12 have some degree of hearing loss, so being aware of your ear and hearing health is crucial.
While many people don't regularly check in with their hearing health, Richardson said it's necessary because audiology helps maintain quality of life and allows you to communicate with the world around you. In the future, SAA is hoping to have more hearing clinics so that their services can be available to all JMU staff, faculty and students. 
"We begin to hear before we're born, it's something that comes naturally to us," Richardson said. "It isn't until people start noticing hearing problems that they start paying attention to their auditory systems. There's currently no way to reverse hearing loss, so any damage that has been done is permanent. Recognition days like this are important to bring awareness to topics that are often overlooked like hearing healthcare."