Morrison Bruce Center offers Healthy Kids program
Area children learn about healthy eating and exercise through fun, engaging activities  
College of Health and Behavioral Studies
---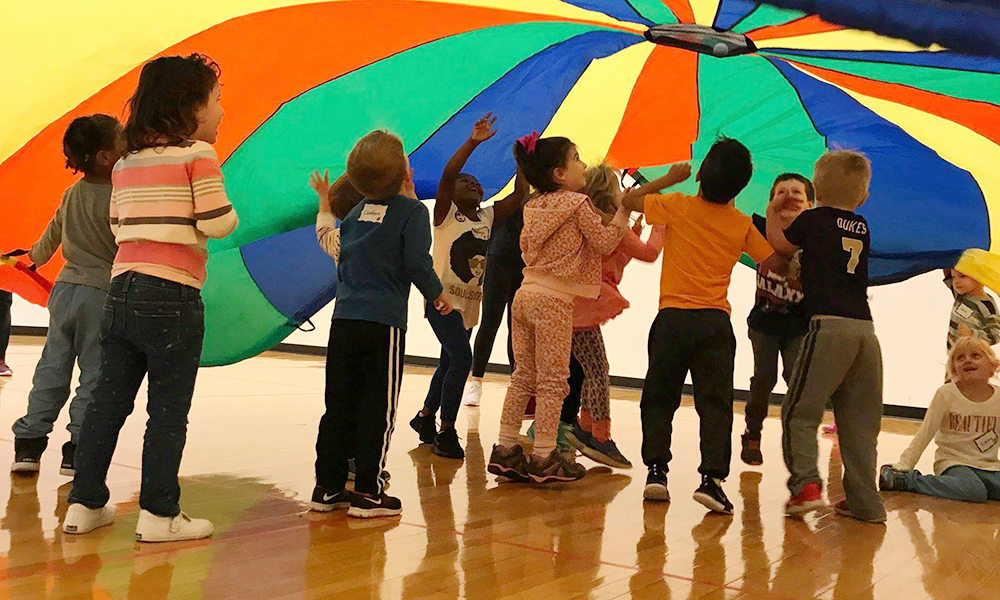 Running, jumping and eating nutritious foods — these are skills that the Healthy Kids program teaches to preschool children. The program, offered by JMU's Morrison Bruce Center, has been constantly evolving since its creation in 2010. One significant change came two years ago when the program partnered with JMU's Young Children's Program, which is a preschool on campus. 
Healthy Kids visits the classrooms at YCP once a week for 10 weeks. MBC Director Liz Edwards said the goal is to teach three- and four-year-olds basic motor skills so that they learn to be physically active.   
The program also teaches nutrition. Edwards said the children aren't taught complex lessons, but instead are introduced to basic nutrition that can be gradually improved upon.  
"We're planting seeds with the kids," Edwards said. "We're hoping they go home and ask about fruits and vegetables. I think the more we can give evidence-based messages [to the kids] at a young age that are focused on behaviors and daily choices, the more they can be built on over time."   
Edwards oversees all Morrison Bruce activities, but JMU graduate student Carolyn Ludwigson specifically runs the Healthy Kids program with the help of JMU Kinesiology undergraduate students.   
Ludwigson's role as Director of the program is to assist in developing appropriate games and lessons for the kids at YCP and to make sure those lessons fit their schedule. She also helps train the undergraduates to develop programs, so that they can go to YCP and teach the kids themselves.  
Fifth-year Kinesiology major, Josh Taylor has been working with Healthy Kids since fall 2022. One of his favorite aspects has been seeing how enthusiastic the kids are about the program. He said whenever they hold a family night, the parents always share how much their children come home and talk about what they did in class on Healthy Kids days.  
Although there is a primary focus on teaching kids motor skills and healthy eating, Taylor said that he and the other instructors make sure that the kids also have fun. He said they are trying to introduce the children to the topics of healthy eating and activity, while realizing that they're not going to understand everything.   
"We know the kids don't understand everything we teach them," Taylor said. "But we want them to have fun and take away simple lessons like what foods are good all the time and what foods are good only sometimes."  
Both Taylor and Ludwigson said that the kids really enjoy Healthy Kids which makes their job of teaching easier. 
"You start building habits when you're a kid," Ludwigson said. "With nutrition and motor development, it's crucial to enforce and to make sure the kids learn how to do things correctly when they're young so their knowledge can be developed over time."   
Along with teaching the children new skills, Edwards said the JMU students should be learning a lot about themselves through Healthy Kids, even if they don't plan on pursuing a kinesiology related career.  
"Almost all of the Kinesiology students are considering a career where they'll be working with a wide range of people," Liz Edwards said. "Our programs are team-based, so [the students] have to work with others while learning how to communicate their own needs. They also have to learn how to adapt their messaging to different groups as [Healthy Kids] is one very specific population." 
Taylor said he's planning a career in biomechanics. While this is different from the work he has done as a Kinesiology major, he said he has learned some valuable skills through working with Healthy Kids that will help him in the future.  
"Through Healthy Kids, I've been exposed to more motor development and the different mechanics of a child versus an adult," Taylor said. "Kids are smaller so they can only move in certain ways and that they're less coordinated than adults so they trip more often. So, knowing those kinds of things is very useful in biomechanics."  
For Ludwigson, working with Healthy Kids has made her more confident in her own teaching abilities. She got her undergrad degree in physical education, and became used to being the only coach in the classroom. Ludwigson said it was difficult not to step in and correct when it came to training the undergrad students as they all work as a team to teach the children. But during her time with the program, she has learned how to delegate and how to become more of a mentor to both the undergrad students and the kids. 
"I love the program," Ludwigson said. "In the beginning it was way harder because I had never done anything like it before and I had never had to teach others how to teach before. But I've learned how to do that and how to let them develop their own ideas, it's like planting a seed and watching it grow."