Assessment & Measurement PhD Students and Faculty Present at AAC&U Conference
College of Health and Behavioral Studies
---
By: Graduate Psychology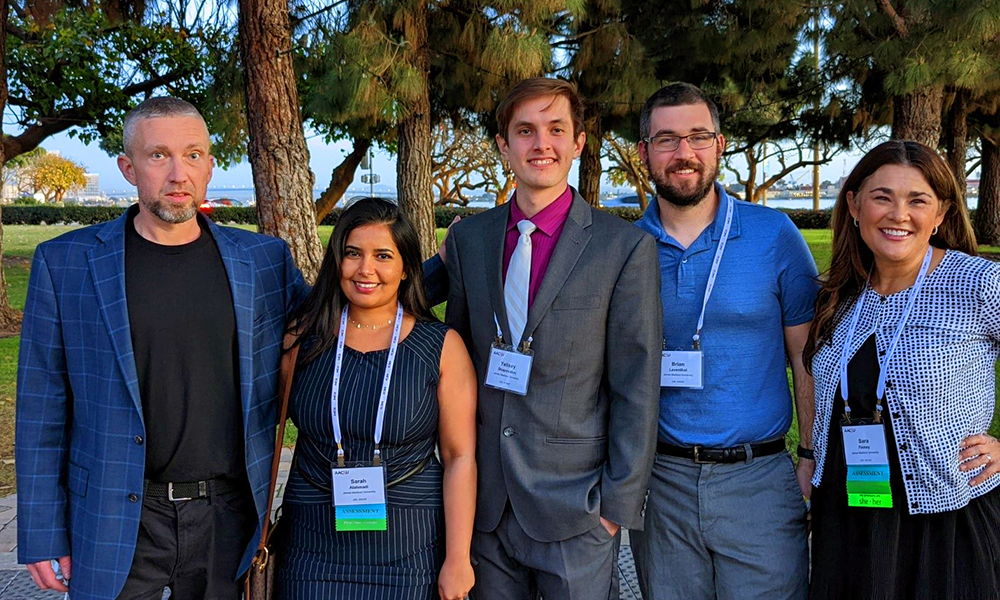 Doctoral students Sarah Alahamadi and Yelisey Shapovalov joined Drs. Sara Finney, John Hathcoat and Brian Leventhal to present at the AAC&U's conference on General Education, Pedagogy and Assessment in San Diego. Their presentations, described below, advanced the vision of The Center for Assessment & Research Studies "to improve higher education by inspiring and empowering faculty and staff to make evidence-based decisions to enhance student learning and development."
 Finney, S.J. & Alahmadi, S. (2022, Feb). Repositories of evidence-based educational programming & outcome measures. Theory-to-Practice Workshop presented at the annual AAC&U Conference on General Education, Pedagogy, and Assessment, San Diego, CA. 
In this session, Sara Finney and Sarah Alahmadi share resources to locate and use repositories of evidence. First, they model the use of systematic review repositories to locate effective evidence-informed educational programming. Knowing where to find summarized high-quality research regarding the effectiveness of strategies, activities, and experiences across different student populations allows equity to be intentionally built into programming and assessment. Second, they provide resources to find high-quality existing measures of common student learning and development outcomes. They showcase several measurement repositories and organize them by utility. They highlight measurement repositories that not only provide the measure or rubric but also experts' reviews of the measure's properties. They also identify the Council for the Advancement of Standards in Higher Education (CAS) student learning outcomes that are addressed by each measurement repository.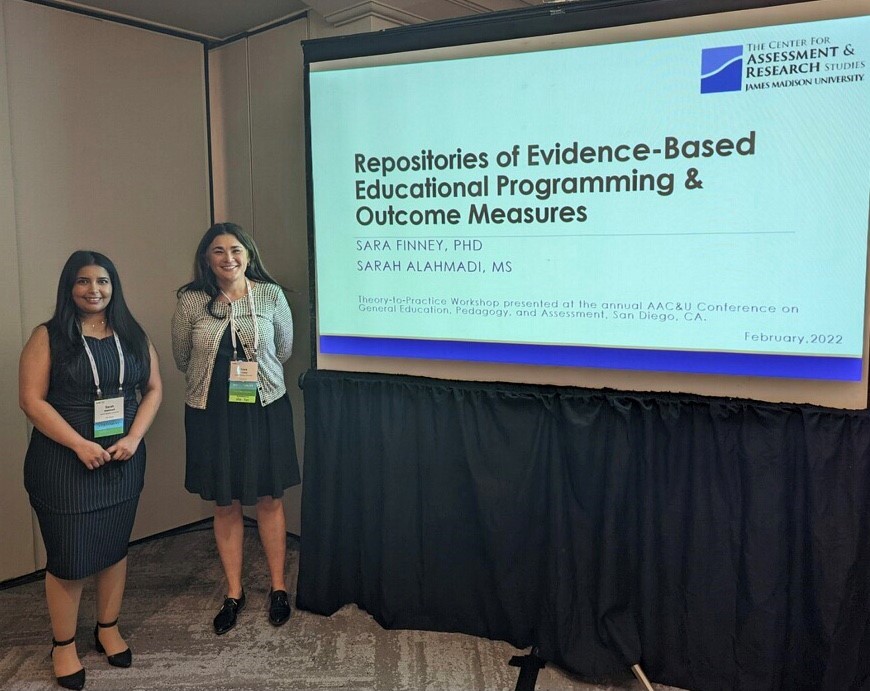 Hathcoat, J.D. & Shapovalov, Y. (2022, Feb). Using item-level statistics to improve assessment instruments. Theory-to-Practice Workshop provided at the annual AAC&U Conference on General Education, Pedagogy, and Assessment, San Diego, CA.
What items on an assessment instrument are ideal for detecting differences among students? What items are better at detecting educational interventions? The characteristics of items designed to detect differences among students are not necessarily the same as those for detecting quality interventions. John and Yelisey introduce participants to how one can use basic, item level statistics in both situations to improve assessment instruments. Participants are introduced to the concepts of item difficulty and discrimination for cognitive assessments and provided general guidelines for non-cognitive items. John and Yelisey then discuss how similar concepts can be extended to select items that are sensitive to the quality of educational interventions. Upon completion of this session, participants will be able to interpret basic item-level statistics to evaluate which items are better at achieving valued aims of inquiry and to inform decision-making regarding their instruments and instruction.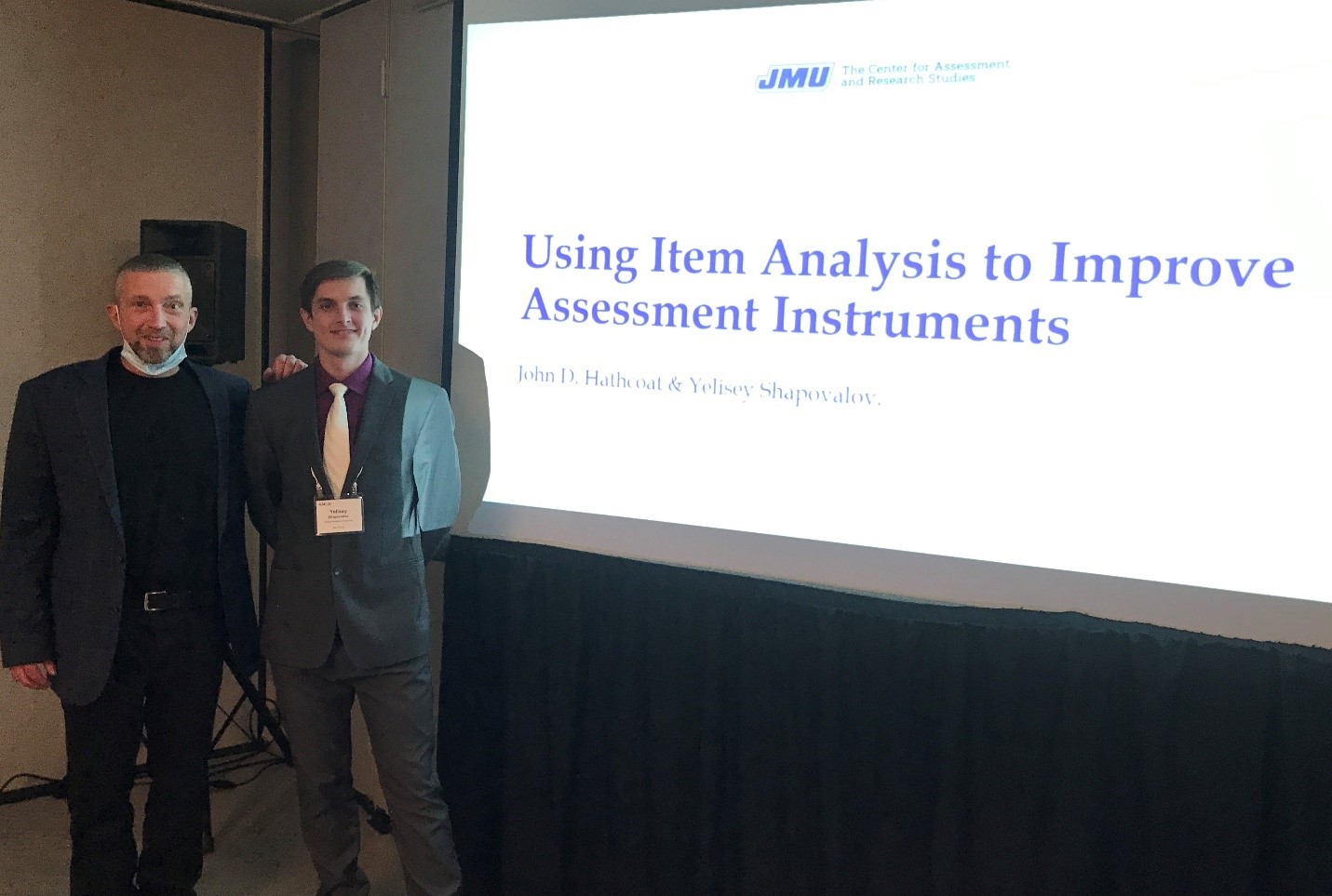 Leventhal, B. C. (2022, Feb). Shifting an in-person university milestone requirement during the pandemic. Poster presented at the annual AAC&U Conference on General Education, Pedagogy, and Assessment, San Diego, CA.
At James Madison University (JMU), all first-year students are required to complete the Madison Research Essential Skills Test (MREST). As a result of many students requiring multiple attempts, there are nearly 9,000 testing occasions in an on-campus proctored assessment testing center each (typical) academic year (AY). As AY 2020-2021 was anything but typical, in-person proctored testing was not possible. In this poster presentation, Brian Leventhal tells the story of how representatives from the University Libraries, the Center for Assessment and Research Studies, and the General Education program leveraged their enduring partnership to re-imagine this university milestone. During the presentation, he highlights how the partnership among these groups, unique infrastructure at JMU, and expertise of professionals in these three groups turned this shift into an enhanced learning opportunity for students, resulting in significant learning as evidenced through assessment.